What I love about this chilli non-carne potato tray bake is how simple it is to create yet how it delivers so much on taste! It's like the perfect baked jacket potato packed full with your favourite filling and all squeezed into one pot.  There's something so comforting about a chilli isn't there?  It must have something to do with the heat of the chillies plus the richness of the sauce that makes for such a fulfilling dish.  A chilli con-carne also feels wonderfully retro doesn't it?
I remember as a kid visiting the now sadly lost Spud-U-Like and ordering one of their 'so giant you could wear them as a shoe', baked potatoes, smothered in melting butter and drowning in chilli.  All topped off with handfuls of grated cheese and lashings of sour cream, which felt so extravagant in the 80's!
a veggie version
Of course, my dish is now a vegetarian version (easily made vegan too.) But I don't think it lacks in flavour.  I'm using some incredibly strong Ajo chilli powder which has something of a kick but it's mellowed out by the addition of some sweet smokey paprika.
olive oil and butter
1 red onion – roughly chopped
2 garlic cloves – finely grated
1 carrot – chopped
1 stick of celery – finely chopped
1/4 fennel bulb (optional). – chopped
1 tsp ground cumin
1 tsp dried oregano
1/2 teaspoon chilli flakes
500g veggie mince – I'm using Quorn Mince
1 tsp skimmed paprika
1/4 teaspoon ground ajo chilli (if you can't find or find this too string use 1/2 teaspoon more chilli flakes)
1 x 400g tins chopped tomatoes
1 tbsp tomato purée
a glass of red wine
1/2 litre good quality vegetable stock
1 x 400g tin red kidney beans
1 large bunch fresh coriander leaves, roughly chopped
salt and freshly ground black pepper
5 or 6 medium potatoes – thickly sliced – skin on.
200g strong cheddar cheese – grated
100ml sour cream or Greek yoghurt
I'm using my Denby 30cm cast iron shallow casserole for this but any heavy-based pan will work.
Heat the oil (and a little nob of butter if using) in a large pan and gently sauté the onion on a medium heat until softened. Add the carrot, celery and fennel and sauté for another 5 mins, then stir in the garlic, cumin, oregano and chilli flakes.
With the heat on medium add the mince, cooking quickly until browned, then stir in the paprika and ground chilli, if using.
Stir in the tomatoes, tomato purée and red wine, followed by the vegetable stock.  Let it gently bubble away for about 15 mins before adding the tin of kidney beans. Add a little pinch of salt, turn the heat down to it's lowest and let it bubble away for at least 50 mins until the mixture is rich and thickened. Turn it off the heat and set aside.
Cut the potatoes into thick slices and par boil in a large pan for 3 mins.  You don't want them too soft but softened enough that they yeald easily when forked.  Drain well and set aside.
I'm using a 30cm x 20cm cast-ironed baking dish for the next stage but any oven-proof baking tray would work.
Start to layer up the dish, staring with a layer of the chilli non-carne, followed by potatoes (which you should drizzle with a little oil and season with salt and pepper.  Then a layer of cheese.  Repeat until you've used up all the ingredients or your tray is full.  You want to end with a layer of potato on top. I actually had a little of the chilli left which is perfect for the freezer and will keep for up to a month.
Cover the dish with foil and bake on 180C fan for 30 mins, then remove the foil, add a final flourish of grated cheese and bake for a further 20 mins or until it's golden and bubbling.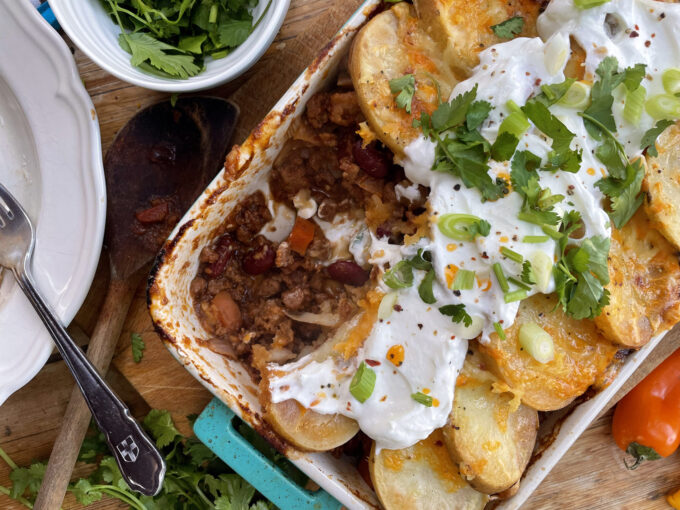 TIPS:
This dish tastes so much better the next day so my advice would be to make this the day before you want to eat it and take it to the first 30 mins in the oven with the foil on.  Allow the dish to cool, still wrapped in the foil, then the next day, remove the foil, scatter with cheese and bake for 20 mins.
For more meat-free dishes, check out Dom in the Kitchen
Eat and of course, enjoy!