I'm proud to say that this recipe for Chestnut Cream Chocolate Roulade appears in the 2021 GUYLIAN FESTIVE FINISHING TOUCHES ebook. This post is a paid partnership with Guylian Chocolates.
Wonderful moments, every day.
If the past 18 months has taught us anything, I think it's that we should be celebrating wonderful moments everyday rather than just waiting for a special occasion like Christmas or a birthday. Obviously, we'll celebrate those too, it's just that this festive season I'm going in hard and plan to add a little touch of joy and sparkle to every day in December.  In fact, this year I'll probably start early because our annual 'friendsmass' celebration will be on the last week in November and I will be elevating this special occasion by adding a festive finishing touch to my classic Chocolate Roulade with some wonderful Guylian Sea Shells Belgian Chocolates.
a roulade
I know a roulade may seem daunting to some but in fact this roulade is unbelievably easy to make and totally failsafe.  Every time I make it, I always surprise myself at how easy it is but also how impressive the finished dish it. It's also my most requested dessert, which tells you a lot! It's a recipe passed down to me from mum, so it has a special place in my heart, and I love sharing it with my friends, whatever the occasion.
for the roulade:
4 large free-range eggs – separate the yolks and the whites
150g good quality dark chocolate (at least 75% cocoa)
125g caster sugar
Butter or margarine for greasing
 for the filling and topping:
300ml tub of double or whipping cream
1 x 250g tin of Crème de Marron (sweet chestnut spread)
Pre-heat your oven to 150C (fan)
Line a large Swiss-roll tin with tin-foil which you should then grease well with butter or vegetable spread
In a large bowl, beat the yolks with the sugar until soft and light.
Melt the chocolate (I do this gently in the microwave but if that idea sends shivers up your spine, then use the classic bowl over simmering water method.) At this stage add 1 ½ tablespoons of hot water to the choc mix, then stir it gently into the egg and sugar mix.
Beat the egg whites till stiff and then carefully fold them into the chocolate and egg mixture.
Pour the mixture into the prepared tin and bake in the oven at 160C for 20 minutes then a further 10 minutes at 90C.
Whilst it's baking, grease another large sheet of foil and place it on a flat surface where it won't have to be moved for a while. (Up to 8 hours)
Now the tricky bit. Once baked, take it out of the oven. Immediately turn it over onto the greased foil and leave it. With the baking tin still on top for at least 8 hours. I tend to bake it in the morning and get on with life. Or bake in the evening and leave it overnight.
assembly
Now you're ready to assemble – In a large bowl, whip the cream to a soft light whip. Stir in the chestnut spread so it's evenly distributed
Remove the baking tin and carefully peel off the foil that lined the tin.
Spread 2/3rds of the cream mixture evenly onto the surface of the roulade. Then, using the excess foil, roll the roulade into shape.  It should be able to be slipped neatly onto a plate. Don't worry about any cracks or breaks, this is all part of the look.
Spread the remaining whipped cream mixture onto the top of the roulade.
For the ultimate festive finishing touch, place your divine Guylian chocolates on top of the icing. I prefer a random pattern but feel free to be as expressive and creative here as you like.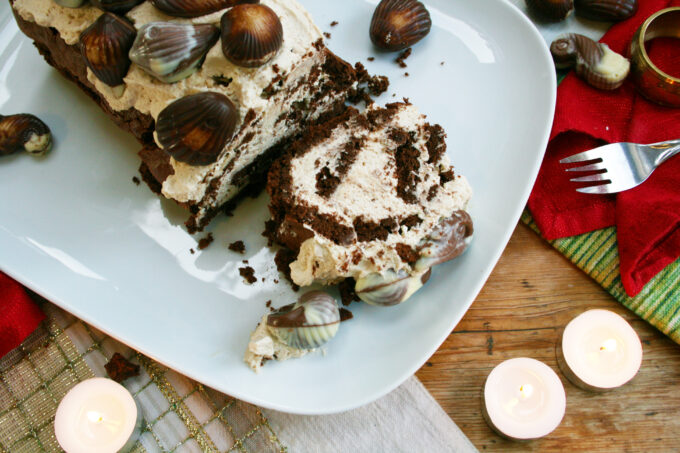 Check out Dom in the Kitchen for more festive recipes
Eat and of course, enjoy!