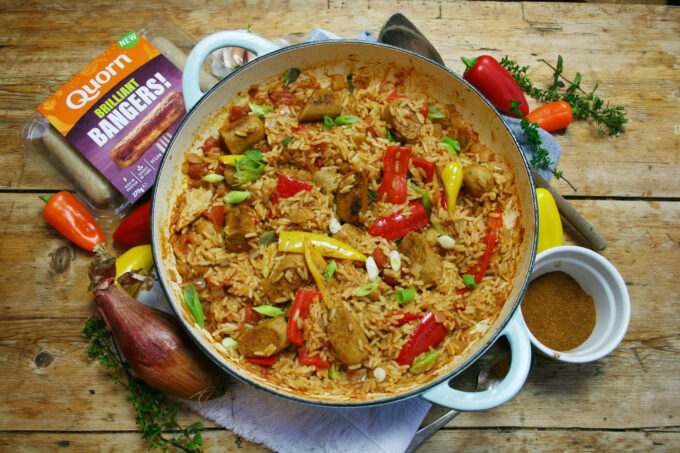 This recipe for Vegan Sausage Jambalaya is part of a series of recipes I've developed with the lovely people at Quorn.  You can see this and more of the recipes I've worked on over at Quorn.co.uk
Jambalaya is a Creole and Cajun dish of French and Spanish influence, traditionally created using spiced sausage and vegetables mixed with rice. This dish is all about the spices; smoky paprika mixed with cayenne pepper, oregano, thyme and garlic and it's capturing this flavour combination that allows us to easily create a vegan version, especially when we use the wonderful new Quorn Brilliant Bangers.
Much like its Spanish cousin the Paella, it can all be made in one pot which makes this dish a big hit at for all the family at mealtime.
For the cajun spice mix
1 teaspoon salt.
2 teaspoons garlic powder.
2 ½ teaspoons paprika.
one teaspoon ground black pepper.
1 teaspoon onion powder.
one teaspoon cayenne pepper.
1 ¼ teaspoons dried oregano.
one and a ¼ teaspoons dried thyme.
For the Jambalaya
A little olive oil
6 Quorn Vegan Brilliant Bangers – each sausage chopped into 4 pieces
1 teaspoon smoked paprika
one onion – finely chopped
1 pointed red pepper – thinly sliced
one yellow pepper – thinly sliced
2 garlic cloves – crushed
1 tbsp Cajun seasoning
250g long grain rice
1 x 400g can chopped tomatoes
350ml vegetable stock
Cajun Spices
Let's start with the cajun spike mix.  You can buy a ready-made spice mix but it's so easy to put together with spices that most people will already have in their cupboards. I like to make up a small batch and then store it in an air-tight container so it's always ready to use! Simply mix it all together in a bowl and then decant into a container.
Jambalaya
Now, let's make the Jambalaya! I'm using my 30cm cast-iron shallow casserole dish with a lid, but any large frying pan will work. (If you don't have one with a lid you can use a little foil to cover.)
Gently heat a little olive oil in your cooking pot and throw in the chopped Brilliant Bangers and a teaspoon of smoked paprika. Saute the bangers until their golden brown all over.  Use a slotted spoon to remove them and set them aside on a plate.
 Add the chopped onion to the pan and gently cook for 3-4 mins until soft and beginning to colour, then stir in the red pepper, garlic, and 1 tbsp of the Cajun seasoning. Cook the whole thing for a further 5 minutes.
 Stir the Brilliant Bangers back in along with 250g long grain rice. Add the chopped tomatoes and the vegetable stock. Cover and simmer for 20-25 mins until the rice is tender. Serve in the pan.
For more sausage recipes check out these on Dom in the Kitchen
Eat and of course, enjoy!