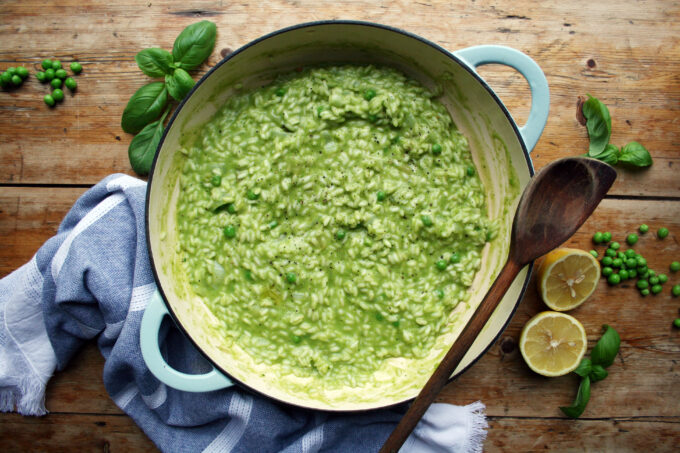 Pea and basil risotto.  Pure, green, comfort food. As regular readers will know, we've been away from the cottage for what feels like an eternity. Prior to returning home this time I thought I'd be super-clever and do a supermarket delivery the morning after we got home.  It meant I wouldn't have to bother leaving the house hone I knew I'd be knackered.  Often I wing it with a supermarket home delivery.  What do we need?  Who know, just go with some favourites and some comfort food. For some reason this time I also added a basil plant and a bag of frozen peas to the list.
basil and peas
Why basil and peas I hear you ask?  Well, peas because you can never be without a bag of frozen peas.  They work so well in so many dishes and make a pasta dish or rice dish pop with colour and flavour. (They also work well for reducing the swelling on a swollen ankle but we won't go into that here…) As for the basil, I knew that we already had a basil plant in the kitchen at home but had assumed that it would be shrivelled and dead.  I couldn't be more wrong.
fed and watered
Little did I know but our lovely friend Trisha had come in and watered the plants.  Bless her.  They were all fed and watered and the basil was plump and verdant.  So with an abundance of basil and a lovely bag of frozen peas I thought there would be no better way to bring a last touch of summery flavour to mealtime than with this pea and basil risotto.
for the pea and basil sauce
a large bunch of basil – nearly a whole basil plant
50g frozen peas – defrosted in the microwave
1 tablespoon olive oil
the juice and zest of half a lemon
100g strong hard cheese – finely grated
for the risotto
3 large salad onions – finely chopped
2 cloves of garlic – finely grated
500g arborio rice
1 glass of white wine
fresh lemon thyme
1lt vegetable stock – maybe a little more
Place the basil, oil, lemon juice and zest, cheese and the defrosted peas into a nutribullet and blend to a thick paste. (Would work well in a bowl with a stick-blender.) Set aside
Start the risotto by gently melting a little butter in a pan with a dash of olive oil then sauté the onions and garlic until soft.  Stir in the rice until all the grains are fully coated with butter and are beautifully glossy.
Stir in the glass of wine until fully absorbed.  Then slowly, one ladle at a time, add the stock and stir well between each addition until the liquid absorbs into the rice.  This should take about 25 mins.
Once the risotto is at a consistency you like (I like mine quite wet) pour in the sauce and stir well.  Take it off the heat and set aside for 5 mins.
Stir in a nob of butter just before serving.
Check out Dom in the Kitchen for more risotto inspiration.
Eat and of course, enjoy!