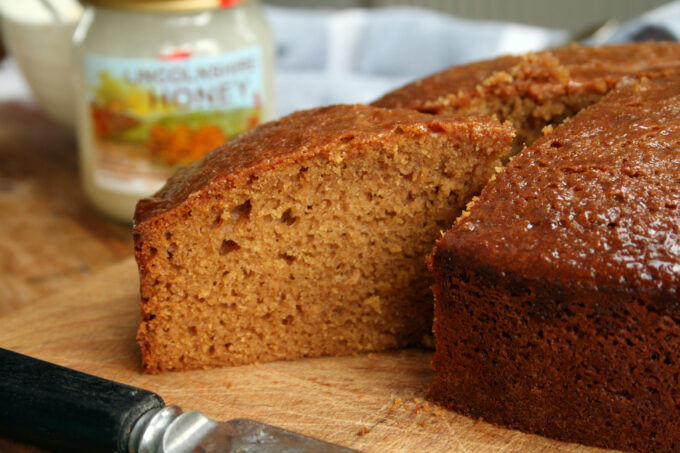 Mid September will be Rosh Hashanah or Jewish New Year and like most Jewish festivals we celebrate with food. The honey cake is a traditional cake eaten at this time of year to represent a symbol of hope and sweetness for the new year. For me it's one of those simple cakes that just tastes comforting.  It's sweet enough to not need any sickly icing or frosting and spicy enough to bring some wonderful autumnal warmth.  I think it's quite a mature cake, if there's such a thing.
I'm using a wonderful local set honey.  There are some amazing honeys around at the moment and if you can hunt down your local honey maker then all the better. The original recipe called for runny honey but believe me the set honey worked just fine.
250g honey – I used a set local Lincolnshire Honey but any honey will do.
225g butter – diced
100g dark muscovado sugar
3 large eggs – beaten
1 teaspoon ginger
1 teaspoon cinnamon
300g self-raising flour
a little extra honey and a pinch of ginger for the glaze
Preheat the oven to 140C fan
Butter and line a 20cm round loose-bottomed cake tin.
Place the butter into a pan with the honey and sugar and melt gently over a low heat. When the mixture has fully dissolved, increase the heat under the pan and boil for about one minute.
Leave to cool for 15 minutes before beating in the eggs.
Sift the flour into a large bowl and pour in the egg and honey mixture, beating until you have a smooth, quite runny batter.
Pour the mixture into the tin and bake for 50 minutes – 1 hour until the cake is well-risen, golden brown and springs back when pressed. A skewer pushed into the centre of the cake should come out clean.
Place 2 tablespoons of honey in a bowl with a little pinch of ginger and melt in the microwave for a few seconds. Brush over the top of the cake to give a sticky glaze, then leave to cool in the tin for 10 mins then remove from the tin.
For more cake recipes check these out from DomInTheKitchen.Com
Eat and of course, enjoy!