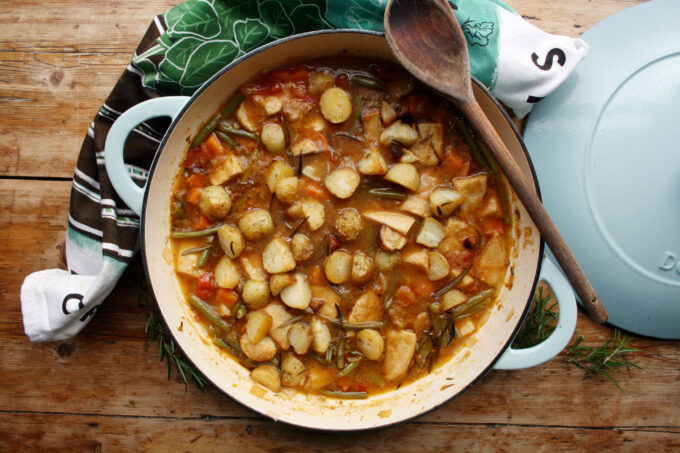 This is NOT a left-over meal, this is when you simply can't bring yourself to make the whole meal.  This one pot wonder, Sunday Roast Stew is the answer. It's basically the whole roast meal swimming in its own luscious gravy.  I mean what's not to love about that?  I've used my favourite Sunday roast veg, potatoes, onions, carrots and green beans as well as some lovely Quorn Vegan fillets.  You could use your own favourite meat or meat alternative items.  Sausages would be great too.
It's all about the gravy…
To be honest what really makes this stew exceptional is the wonderful rich and luscious gravy that the veg and meat is swimming in.  It's very simple to make and really quite fast too. I will be honest with you and say that as well as creating a traditional thick gravy with wine, stock and flour I also add one of my favourite 'go to' ingredients which is Bisto Best Caramelised Onion Gravy Granules.  They're not for everyone but I like the flavour they add and the dark rich colour they bring too.
To get that really wonderful roast flavour I have roasted the potatoes first, along with some rosemary and a whole bulb of garlic.  I add half to the stew during the cooking process and then added the remainder almost like croutons on top of a soup.
for the veg
250g new potatoes – halved
1 whole bulb of garlic – sliced through the middle
rosemary and olive oil
one medium onion – chopped
1 large carrot – chopped
100g cherry tomatoes – chopped
120g green beans – chopped
rosemary and thyme
6 Quorn Fillets – chopped
salt and pepper
for the gravy
1 tablespoon plain flour
100ml white wine
800ml vegetable stock
2 teaspoons gravy powder
Par boil the potatoes until nearly soft, drain well and then drench in olive oil.  Season with salt and pepper and fresh rosemary and bash against the pan with the lid on.  Place into a roasting tin alongside a bulb of garlic sliced through the centre.  Roast for 20 mins or so on 200C until golden and the garlic is soft.  Set aside.
In a large pan warm some olive oil and sauté the onions and Quorn fillets (or any meats you're using) until browned. Stir in the carrots and green beans and sauté well, then add the tomatoes and stir well. Squeeze out the soft garlic bulb into the stew. Stir in half the potatoes and then sprinkle over the plain flour and stir in well so it coats all the vegetables.
Pour in the wine and then the stock and stir well.  Stir in the 2 teaspoons of gravy granules. Turn down the heat to low and let the whole thing gently bubble away for at least 40 mins.  It's even better if you have time to let it go cold and then re-heat.
Serve in large bowls with the remaining pasties sprinkled on top like croutons. Heavenly!
For more stew ideas check out these recipe on Dom In The Kitchen
Eat and if course, enjoy!