I think real coffee ice cream is my all time favourite ice cream flavours but sometimes it's hard to get that coffee flavour right.  You want an intense hit of flavour but very often coffee ice cream uses instant coffee granules and I get that, it makes it simple and gives you that intense flavour but I much prefer using real coffee, starting with coffee beans that are freshly ground and then brewed.
Two Chimps Coffee
We only ever have 'real' coffee here at Belleau Cottage.  The Viking simply won't have it any other way, so fortunately for me I've recently been sent some glorious coffee from Two Chimps Coffee .  Two Chimps is an independent roastery based in Rutland, which is not too far from me here in Lincolnshire. They hand-roast the very best speciality coffees and share them in a way that is fun and jargon-free. I love that all their coffees have quirky names like The Waving Goldfish and Canoeing in a Cornish Pasty.
They offer a subscription service on their site which is brilliant for lazy arses like me who are always forgetting top put coffee on the weekly shop and forever running out!
Don't Poke the Bear
The guys at Two Chimps Coffee sent me a pack of a rich Don't Poke The Bear which is a single origin washed coffee from a small association of farmers in South Huila, Colombia. High elevation and rich soil create a bright coffee that's sweet like brown sugar, while crisp red apple and melon keeps your tastebuds on their toes. Which I think will give me that perfect intense hit I want for an ice cream.
I'm being totally lazy again with the ice cream and going for a shop-bought tub of vanilla custard, plus some single cream.  To be quiet honest life is too short to go to the bother of making my own custard and this is such a simple way to do it and get it right.
1 espresso shot of strong coffee – left to go completely cold
1 x 500ml tub of ready made vanilla custard
2 tablespoons single cream
a dash of coffee liquor (optional) to serve
1 espresso shot of coffee to serve
I'm using my smeg ice cream maker which is a 'churn' ice cream maker.  You don't need to use this.  I have outlined both methods below.
In a large bowl, whisk together the coffee, custard and cream until nice and frothy. Add a dash of coffee liquor if you'd like to give it an extra buzz!
If you're using an ice cream maker, ensure the bowl is frozen and switch it on to churn. Pour in the whisked mixture and let it churn for 15 minutes or until it reaches a soft set.
It's ready to serve at this stage but will last in a sealed container in the freezer for 1 month
No Ice cream maker – no problem
If you don't have an ice cream maker simply pour the whisked liquid into a large freezer-proof container with a lid and freeze for at least 4 hours.  Every hour take it out of the freezer and stir well to dissolve the ice crystals.  It should be set after 4 hours but could take slightly longer.
Discount Code
The wonderful guys at Two Chimps have been so lovely and given me a 10% off code for their website.  Simply use the code dom when you check out and you'll be able to get 10% off their lovely Coffees, Coffee Subscriptions, Teas and Hot Chocolate flakes. The code will be valid until 30th September 2021.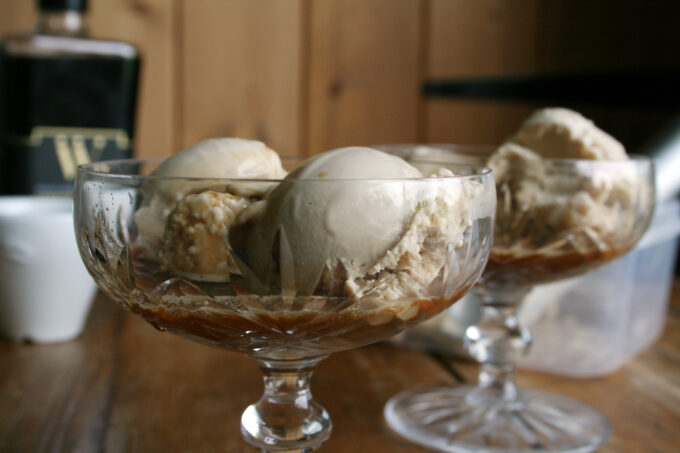 For more ice cream recipes check out these on Dom In the Kitchen
Eat and of course, enjoy!