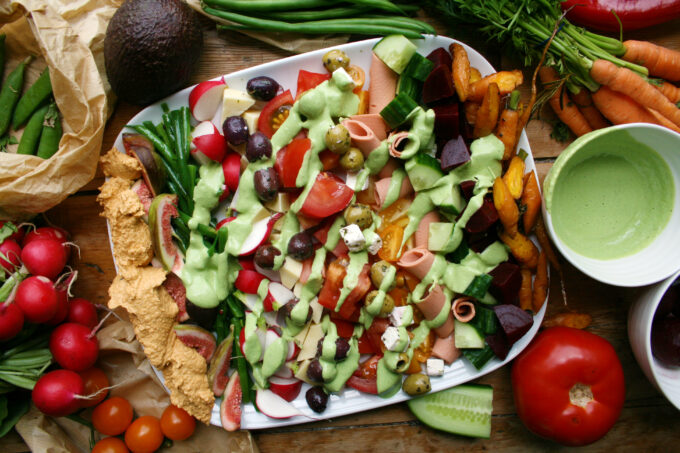 Nutritionists suggest we eat a 'rainbow of food' on our plates and so I thought I'd create this rainbow salad to show how wonderful, diverse and beautiful that can be. The idea behind 'eating the rainbow' is that the multi-colours of the fruit, vegetables and proteins ensure you're getting a good balance of nutrients, antioxidants, vitamins and roughage. The most simple way to do this is to add different colours to the plate.  Such a simple concept really.
think pink
I love the idea that you can choose your favourite foods and add them to the plate.  Because it's the summer I've gone for more of a salad concept and used raw or roasted veg but I've added in some cheese and some  Quorn Vegetarian Ham Slices too for the pink colour.  You could of course go crazy and use fruits or cheese and fruit, the variations are endless and I think great fun to build with kids too… maybe even a fun way to get them to eat vegetables!
ingredients
The ingredients are pretty basic but there's also a wonderful pea and basil mayonnaise and I've also roasted some carrots with some rosemary and chilli oil, just for some different textures and tastes.
for the pea and pesto mayo
100g fresh or frozen peas
a handful of fresh basil
1 tablespoon lemon oil (or EVOO and a squeeze of lemon juice)
1 tablespoon mayonnaise
2 tablespoons greek yoghurt
for the roasted carrots
3 or 4 long carrots – roughly chopped
a little chilli oil
salt and pepper
fresh rosemary
for thee rest of the salad
red and yellow tomatoes – roughly chopped
strong cheddar – cut into cubes
radishes
ham slices
cucumbers
green beans (lightly blanche them in hot water and drizzle with olive oil and salt)
beetroot
figs
red pepper humous
Start with the pea and pesto mayo. Boil the peas in hot water until tender and then blitz all the ingredients in a nutribullet or hand-blender.  Set aside in the fridge until needed.
For the roasted carrots, place all the ingredients into a roasting tin and roast on 180C for 20 mins until beginning to caramelise. Set aside until you build the salad.
Use a large white plate as it sets off the colours of the veg really well and start in the middle by building rows of coloured veg.  I followed the old 'I can sing a rainbow' nursery rhyme to create the layers but quite frankly you can do what you like.
Once it's all on the plate as you like it, drizzle over with the pea and basil mayo and serve.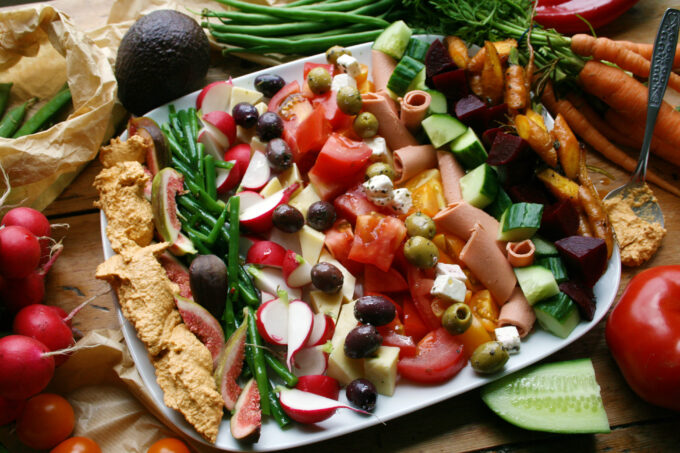 For more salad ideas, check out the recipes on my blog.
Eat and of course, enjoy!