I'd seen a hot cross bun loaf on instagram last week and I thought it was such a good idea.  Essentially it's a sort of 'tear and share' tea-loaf but with buns and a cross on top.  Such an obvious concept but a fun way to make this particular Easter classic. It's not that Hot Cross Buns are particularly fiddly, it's just nice to try something new once in a while.
I'm using a 1.5lb wide loaf tin from Divertimenti but I think this would work squeezed into any loaf tin or even a round cake tin as it's basically a batch-loaf. This tin one of my favourite tins for a loaf cake and it's nice and wide and things cook slightly faster and more even in it.
I'm using my classic hot cross bun recipe which is quite traditional except it has 100g of wholemeal flour in it which adds a slight nuttiness to the flavour, which I love.  If you don't have any to hand just use more strong white instead, it will still be delicious.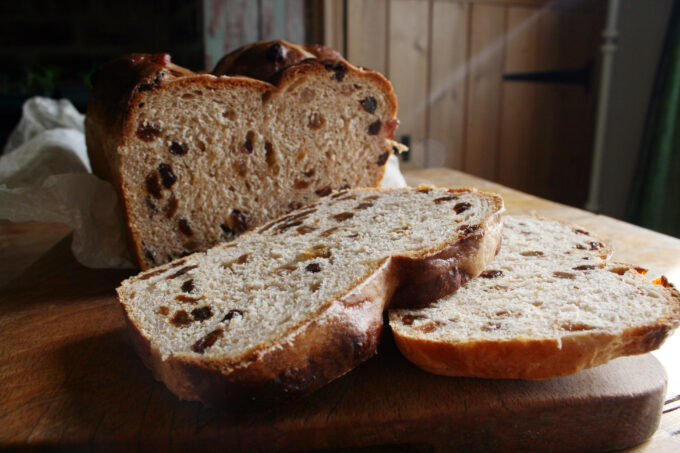 for the loaf
400g strong white flour, plus extra for dusting
100g wholemeal bread flour (use any combination of flours, as long as you use 500g total)
75g caster sugar
2 tsp mixed spice powder
1 tsp ground cinnamon
a lemon, finely grated zest only
1 teaspoon salt
one teaspoon / pack fast-action dried yeast
40g butter
300ml milk
1 free-range egg, beaten
200g sultanas or mixed dried fruit with candied peel
oil, for greasing
for the cross and glazing
75g plain flour plus a little cold water
2 tbsp golden syrup, marmalade or honey, for glazing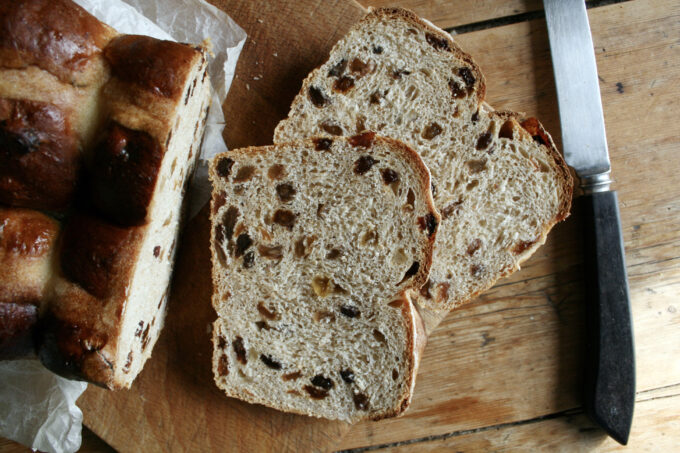 Warm the milk in a pan, then remove from the heat and add the butter so it melts. Set aside to cool slightly – you don't want hot milk killing the yeast. It should be just warm.
Put the flour, sugar, spices and lemon zest into a large bowl and mix together. Then add the salt and yeast.
Add the buttery milk to the dry ingredients, followed by the eggs and bring it all together incorporating the flour from the edges of the bowl as you go. The dough will be very wet, which is right for an enriched dough.  It probably won't come together into a tight ball of dough like a regular loaf.  Mine was more of a doughy mass.
Once all the ingredients are well combined, add the mixed fruit and then knead for 10 minutes, I use my stand mixer with a dough hook but it can be done by hand on a floured surface.
Oil a bowl and place the dough in a bowl, cover with cling film and leave to rest in a warm place for about 1½ hours or until doubled in size.
Knock back the dough and then turn it out on to a floured surface and divide into 6 balls. Line your loaf tin with baking parchment and place the balls in the tin. In my tin, as it's wide, I'm doing two buns across and 3 buns down. I place them fairly close together and flatten them slightly. Cover the tray with oiled clingfilm and set aside for the second rise for at least 60 minutes.
Preheat the oven to 180C Fan
For the cross topping, add the flour to a bowl with 100ml/3½fl oz water. Mix together to make a paste and spoon into the icing bag. (I actually don't bother with an icing bag, I just use a spoon.)
When the bun loaf has risen for it's second prove, remove the clingfilm and pipe a cross on each bun. Bake for 25-35 minutes until pale golden-brown, turning the baking trays round halfway through if necessary.
Melt the golden syrup, honey or marmalade in a pan and while the buns are still warm, brush the loaf with a little syrup to give a nice shine, before setting aside to cool on a wire rack.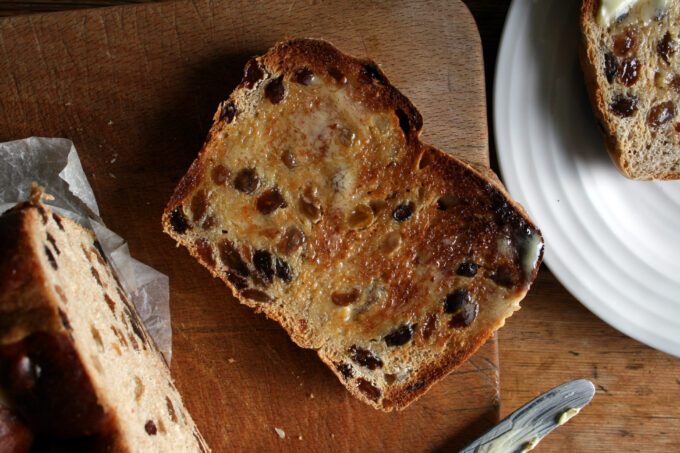 Eat and of course, enjoy!