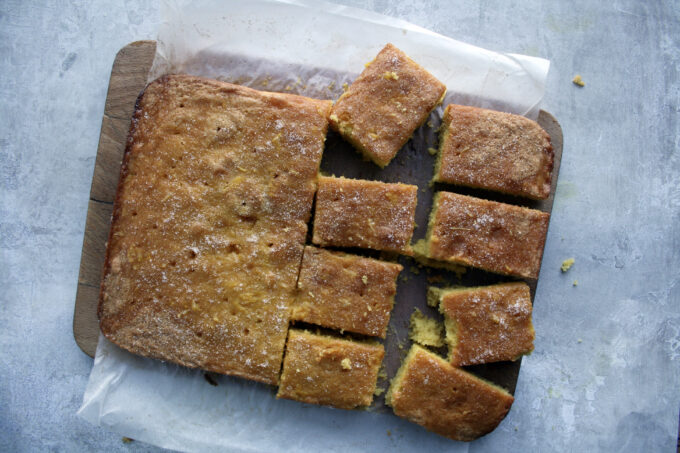 The thing I love about this lemon and orange olive oil polenta traybake is that it makes the perfect antidote to all this Easter sweetness. There's not only no dairy and no gluten but there's no chocolate either, yet the whole traybake is bright yellow so it's very much on trend for this long weekend. It's also got the right ratio of tartness to sweetness from the lemon and orange zest.

Olive Oil cake
If you've never baked with olive oil in a cake before it's rather wonderful.  You can definitely taste it but it somehow works so well. I use an extra virgin olive oil which is strong and nutty but that compliments the ground almonds and polenta perfectly.  It's a very Mediterranean-style cake.  You can imagine eating it sitting on a sun-drenched deck. The light dappled with shade from an olive tree, the cicada's chirruping in the long grass as it sways in the gentle breeze off the sea.
Oh wow!  I miss travelling and this cake has instantly transported me to Spain.
for the cake
160ml good quality extra virgin olive oil
200g caster sugar
150g ground almonds
100g polenta
50g gluten free flour – I use the one by Doves Farm but you could use plain flour
1 ½ teaspoons baking powder
3 large free-range eggs
zest of 1 lemon and 1 orange (save juice for syrup)
for the syrup
juice of 1 lemon
50 grams icing sugar
Pre-heat the oven to 180°C (fan). Grease and line the base and sides of a brownie tin – I used my 23cm x 15cm roasting tin – with baking parchment.
In a large bowl beat the oil and sugar with an electric whisk until pale and frothy – roughly 5 mins
Mix together the almonds, flour and baking powder, and beat some of this into the butter-sugar mixture, followed by 1 egg, then alternate dry ingredients and eggs, beating all the while.
Finally, beat in the lemon zest and scrape the mixture into your prepared tin.
Bake in the oven for about 30 – 40 minutes – the cake is cooked if a skewer comes out clean. The edges of the cake will begin to shrink away from the sides of the tin. Remove from the oven to a wire cooling rack, but leave in its tin and prick all over with a skewer.
Whilst it's baking, make the syrup by boiling together the lemon juice and icing sugar in a smallish saucepan or microwave and then once the cake is out of the oven and pricked all over, pour the warm syrup over the cake.I like to sprinkle it all over with a little more caster sugar to give it a crunchy top. Leave it to cool before taking it out of its tin, then slice into squares.
Eat and of course, enjoy!