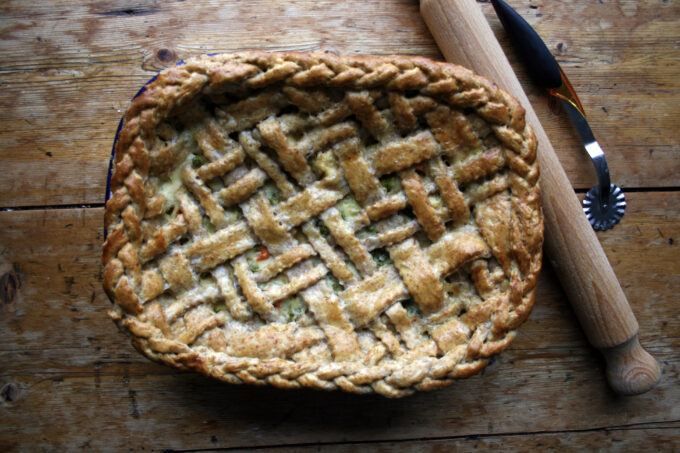 Is there anything finer than pie season? For me the start of October is the perfect excuse to start baking proper warming, hearty pies and this chicken, pea and fennel pie with a cheesy Pernod sauce is my absolute favourite. There's something about the warming depth of flavour of the Pernod and fennel that make this pie particularly scrumptious and also give it a rather sophisticated taste for such a humble dish.
I'm using a suet pastry with half wholemeal for this dish.  Suet pastry is fast becoming my favourite pastry as it's both light and crumbly but also quite robust.  It reminds me of old-fashioned pastry and is really great for a savoury pie.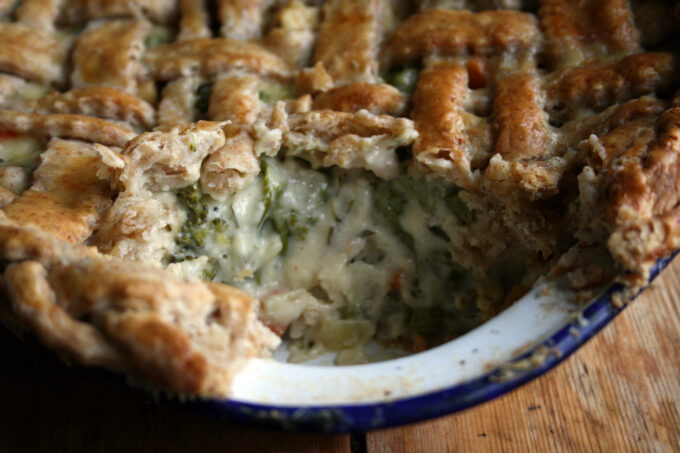 for the suet pastry (enough for a base and a lid for your pie)
200g plain flour
200g wholemeal flour
100g vegetarian suet
100g butter
cold water to mix
for the filling
a little butter and olive oil
1 medium onion – chopped
1 medium carrot – chopped
half a fennel bulb – chopped
2 cloves of garlic
fresh herbs – I used rosemary and marjoram
250g Quorn chicken pieces (or use real chicken if you prefer – 3 breast chopped)
3 or 4 stalks of tenderstem broccoli – chopped
100g frozen peas
salt and pepper
for the cheesy white sauce
500ml milk
4 tablespoons plain flour
50g butter
100g strong Cheddar cheese
a dash of Pernod (this is optional)
I'm using a 15cm x 25cm enamel pie dish which I've buttered liberally.
Start with the pastry.  Place the flour, butter and suet in a large bowl and rub together with your fingertips until they resemble breadcrumbs.  Add a dash or two of very cold water and again, using your hands in a claw shape, bring the pastry together into a dough.  You may need to add a little more water to ensure all the bits come together.  The bowl should be completely clean when you're done. (This whole process takes seconds in a mixer.)
Divide the dough into two equal pieces (one for the base and one for the lid) and wrap each in clingfilm and pop it into the fridge for 30 mins. (It will last in the fridge for 24 hours, or can be frozen for 1 month.)
Now we can commence with the filling.
Place a large shallow pan (with a lid)  on a medium heat and melt some butter with a little olive oil.  Add the onion, carrots and fennel and sauté gently for about 8 minutes until the veg begins to soften. Season well with salt and pepper.
Throw in the garlic and fresh herbs along with the chicken and cook the chicken through until it begins to brown slightly.  Stir in the peas and broccoli and place the lid on and let the whole thing sweat for another 8 minutes.  Stir well and set aside whilst you make the sauce.
To make the cheesy Pernod sauce, place the milk, flour and butter into a pan and gently begin to heat.  As the butter begins to melt, start to whisk the sauce.  Continue to whisk as the sauce bubbles and it will begin to thicken.  If you're at all worried, just take the pan of the heat for a few moments.  Let it bubble away for 5 mins with regular whisking.
Stir in a dash of Pernod and then stir in the cheese.  Pour it all over the vegetables and chicken and stir well.
Flour your work surface and roll out the pastry for the base and ease the pastry into your pie dish and trim the edges.
Pour the cheesy chicken filling into the pie dish.
Pre-heat your oven to 170C
Re-flour your work surface and roll out the pastry for the lid.  It can either go on in a single sheet, crimped at the edges, or you can get fancy like me and do some lattice work.  I love doing the lattice but it's the kind of thing you need to have time for.  It can't be rushed.  There are loads of videos on YouTube that I'm not going to bother with explaining how it's done but it will work in your favour if you've allowed your filling to cool down before you weave!
Brush the top with beaten egg and bake for 35-40 mins or until the top is golden and glorious.
Eat and of course, enjoy!