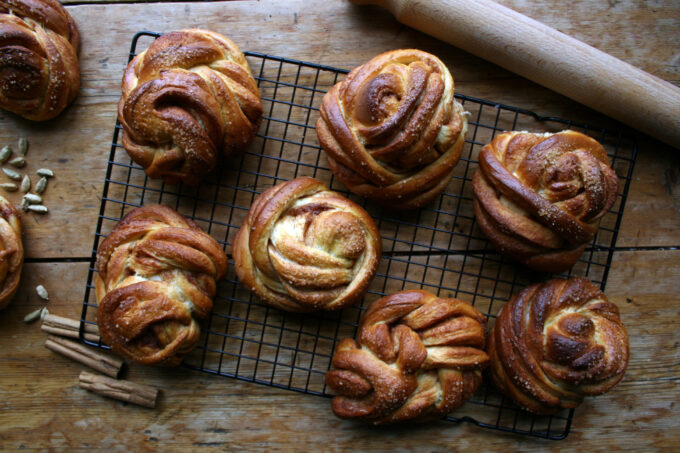 One of the things I love about my social media family is how much we share.  A couple of weeks back I saw some these incredible cinnamon and cardamom knots, or Kanelsnurrer as their known in Norway, on the lovely Tommy's twitter and I was immediately inspired to bake them.  He very kindly sent me the recipe which is from the amazing Bakery in Lom.   I've always had an affinity to Scandinavia and particularly with Norway where my paternal Grandmother was born.  I've only ever visited once, for a special friends wedding which was utterly glorious and I have many superb memories of that trip but of course food will always take me back to a special time and place.
For me cinnamon is the fragrant scent of autumn and winter.  Much like ginger, it has a warming quality that works well in both sweet and savoury dishes. It works particularly well in these buns and whilst they may seem a little complex to make they're actually really rather simple.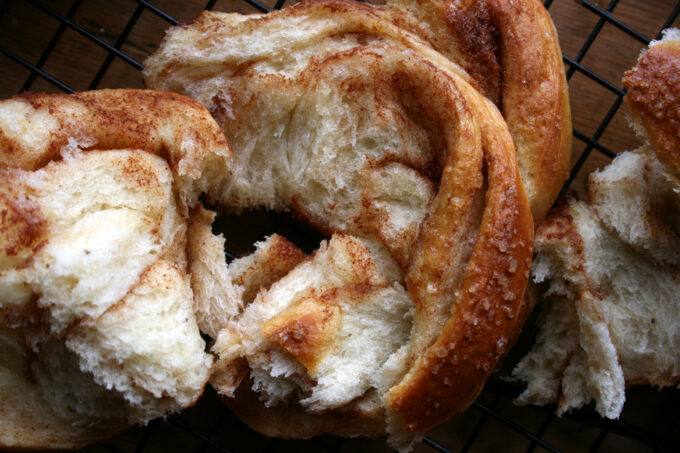 1 kg white flour
500ml whole milk
150g sugar
1 teaspoon salt
1 teaspoon ground cardamon
1 large egg
3 sachets (21g) fast action dried yeast
150g butter, diced
for the cinnamon filling
125g soft butter (room temp)
125g sugar
2 tablespoon cinnamon
for the decoration
1 egg
sugar (pearl sugar is nice if you can get it, or I just use Demerara which has a nice crunch)
Combine all the ingredients in a bowl except for the butter, and knead for 15 minutes. (I'm using my stand mixer with the dough hook but you could do this by hand if you have very strong arms!)
Add the butter in small dices and continue to knead the dough for another 15 minutes. Make sure all the butter is combined well into the dough –  a stand mixer makes very slight work of this. Transfer to a large bowl, cover with clingfilm and leave to rise for until doubled in size – roughly 1 and a half hours.
Knock it back onto a well floured surface and using a rolling pin, roll the dough into a rectangle measuring roughly 40 x 50 cm.
In a bowl, mix together the soft butter, sugar and cinnamon for the filling and then spread it out evenly over the rectangle.
Fold 1/3 of the rectangle over towards the middle and the other 1/3 up over to cover the first. You should now have three layers. Roll the dough out again to a rectangle measuring roughly 30 x 50 cm
Cut the rectangle of dough into 16 long pieces. You can now create the knotted shape.  The simple way is to twist each length and tie them into a bunched knot. Or you can partially slice each length into two or three 'strands' and plait the strands before knotting. This will give you a more elaborate knot.  (I've found a number of videos on-line on how to do this but check out my insta stories highlights for how I did it.)
Place the knotted buns onto a baking tray and leave to rise again for roughly 1 hours. Wash with egg and sprinkle sugar on top. Meanwhile pre-heat the oven to 175C
Bake in the oven for 20 – 30 minutes, until the buns are risen and gloriously golden.  Set aside to cool before devouring!
Eat and of course, enjoy!