September is always a month where I feel torn about the seasons and the turning of the year.  It's my birthday month (I'll be 50 on the 24th just in case you want to send gifts…) and Autumn is also my favourite season but we've had such a tumultuous year and I'm worried for the winter for obvious reasons, that I'd quite like the summer to stretch a little further if it can, just so we can enjoy some more sunshine before the gloomy months ahead.  September is also a great season for tree-fruit, which is why I've made this victoria plum upside down tray cake.  The plums are still luscious and the apples and pears and about to drop.  So much promise of tarts and pies and cakes.
This is a very simple cake but with a divine sponge with added ground almonds.  The sponge is simple as it allows the plums to really sing and the almonds really soak up all the wonderful juices.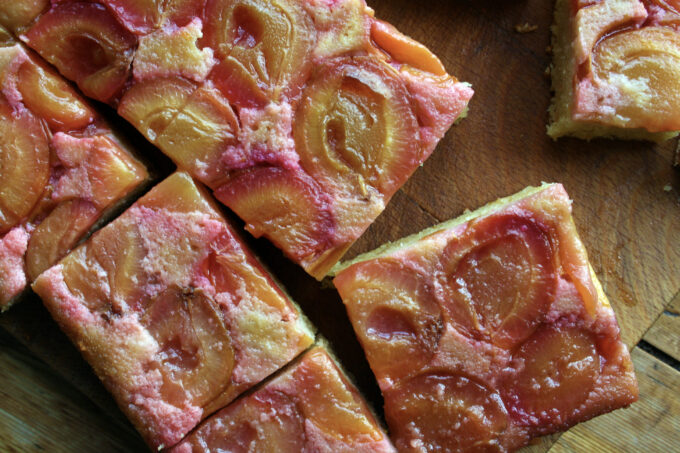 I'm using my 23cm x 33cm oblong baking tray for this but it would work equally well as a round cake.
roughly 800g plums – halved and de-stoned
250g butter – at room temperature
150g caster sugar
100g soft brown sugar (plus a pinch or two more for sprinkling)
125g self-raising flour
125g ground almonds
4 large free-range eggs
the finely grated zest of 1 large orange
1 teaspoon ground ginger
1 teaspoon vanilla essence
Grease and line your baking tray and then grease the top of the paper / parchment with butter, followed by a sprinkling of roughly a tablespoon of soft brown sugar
Place the halved plums face down onto the sugar in any pattern or randomly, whatever suits your mood.
Place the sugars and butter into a large bowl and beat well until pale and fluffy.  This will take 4 or 5 minutes in a stand mixer but can be done by hand with a wooden spoon.
Add half the beaten eggs and half the mixed flours, along with the grated orange zest and the vanilla essence and beat in well, followed by the remaining flours and eggs.  Beat well until you have a loose but smooth batter.  You may need to add a dash of milk or even a tablespoon of plain yoghurt to get a smoother 'dropping' consistency.
Spoon the cake batter on top of the plums and then smooth down with the back of a spoon.
Bake on 170C for 35 – 40 mins or until the top of the cake is golden and a skewer inserted halfway comes out clean.
Take it out of the oven and allow the cake to cool entirely in the tin, then invert the cake onto a platter and carefully peal back the parchment to reveal the plums on top!
Eat and of course, enjoy!