This rainbow mash has been inspired by my good friends over at Oh Mumma who asked me to develop some recipes that would encourage kids (big and small, I'm finding out) to eat more vegetables.  I adore vegetables, of all kinds.  I have done ever since I was a kid.  Mum says I was never particularly a fussy eater (no surprises there) but my brother was.  I guess this just goes to show that you can never tell who's going to like what.  Apparently there are people out there who still don't have such a great relationship with veg.  My mum thinks that what encouraged me to love food was that she fed us what they were eating, they didn't make us anything special 'for the kids' and if we didn't like it, we didn't eat.  So we very quickly learnt to like what was put in front of us.
However, I do understand and sympathise with those that struggle getting some healthy vegetables into their kids faces, so this rainbow mash is my attempt to make eating veg a little more fun. I've made a base of my classic cheesy cauliflower mash.  This mash is epic on its own, served with any kind of protein or just eaten straight from the pot, but I've divided it into 4 and added some other brightly coloured veg to each quarter.  All the colours come from natural colours found in vegetables and spices so there's no nasty ingredients to worry about.
for the cheesy cauliflower mash
1 medium cauliflower – chopped
5 medium potatoes – chopped
1 medium onion – finely chopped
seasoning, olive oil and fresh herbs
50g cheese – I used a strong cheddar
butter
for the green mash
100g frozen peas
olive oil
salt & pepper
basil or mint
for the red mash
for the orange mash
2 carrots – chopped
1 teaspoon turmeric
butter
salt and pepper
I make my cauliflower mash by steaming the potato and cauliflower in my old-fashioned 2-tiered steamer.  The cauliflower takes about 4 mins and the potato takes about 6 mins.  You can of course boil them but I find that steaming keeps more of the flavour and goodness.
Once they're soft, place them into a large bowl, add a few nobs of butter on top and then cover with a tea towel and set them aside for at least 20 mins.  The tea towel will draw out any excess moisture and give you truly soft and fluffy veg.  I do all my mash this way.
Meanwhile, sauté the onions in a frying pan with a little butter and olive oil, season well and let them gently sauté for about 9 mins until they are soft and golden. Add them to the potatoes and cauliflower.
Blitz the veg with a stick blender but do it in short bursts rather than one long blend or you'll end up with a gluey mess.  Stir in the grated cheese and a pinch of salt and pepper to taste. Divide into 4 separate bowls and set aside.
To make the green mash, steam the peas (if you're making orange mash too, then steam your chopped carrots at this stage too.) Then when they're soft blend them with some fresh mint or fresh basil, salt and pepper and a little olive oil until you have a puree.
To make the orange mash, blend the steamed carrots with a teaspoon of turmeric and plenty of butter.
Stir each of the purees into the cauliflower mash.  To make the pink mash, stir in the brilliant beetroot powder.  The more powder you use the darker it becomes but watch it as the mash will start to become very 'beetrooty' if you use too much.
You can now store the mashes in separate containers in the fridge for up to 48 hours or in the freezer for 1 month. Or if you're eating them soon, place them all into a roasting tin and roast them for about 15 mins on 170C until they're hot.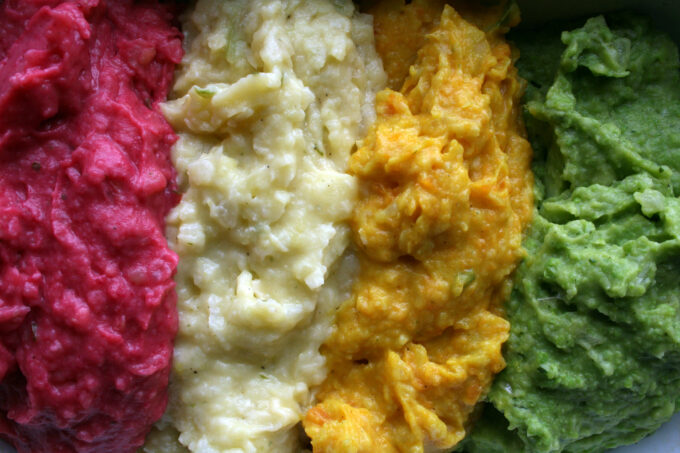 Oh Mumma is an amazing subscription box full of beauty products for new mums.  It's run by my dear friend Kyra and it's utterly brilliant.  They haven't paid me to work with them, I've done it out of love for them and what I consider to be a genius business.  Go check them out!
Eat and of course, enjoy!