Lincolnshire Wolds Food Trail – a staycation picnic – article originally published in the August 2020 copy of Lincolnshire Life Magazine
One of the most delightful things about living in the heart of the Lincolnshire Wolds is the abundance of food producers on my very doorstep.  We're surrounded by a fabulous feast of food fecundity.  So grab your picnic baskets and follow me, if you will, as I take you on a Lincolnshire Wolds food trail, that is sure to tickle your taste-buds as we gather all the goodies for the ultimate local produce staycation picnic!
Most of the producers listed below either have an on-site shop or a 'buy at the gate' policy. Many prefer you to call ahead, particularly during these testing times but if you're passing it's always worth popping in to say hello and receive a little lovely Lincolnshire hospitality.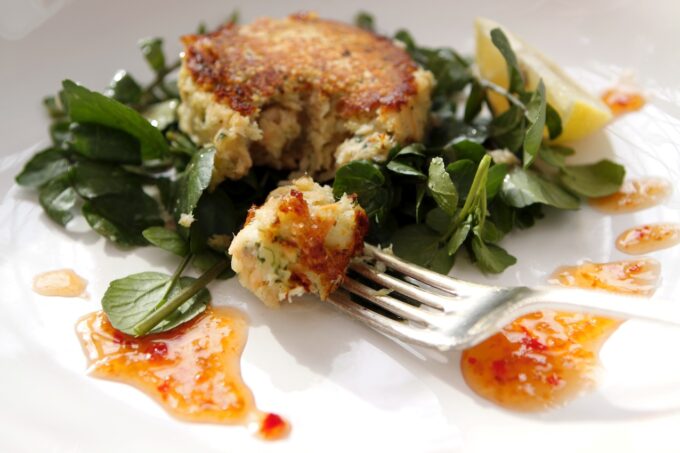 Our first stop has to be the Belleau Bridge Trout Farm.  I can literally walk there from my front door.  The crystal clear waters of the River Eau, that feed into their fish stocks runs down at the bottom of the track opposite our cottage and whilst they're no longer making their fabulous trout pate, they still provide trout for wholesalers in Grimsby and the wonderful Ginny Harrop will provide you with fresh trout if you call ahead on 01507 480406
Try my Hot Smoked Trout Mac n Cheese recipe
Up the road from the trout farm is the wonderful Lincolnshire Poacher Cheese, nestled in the little village of Ulceby, just south of the market town of Alford. They've been producing award-winning cheeses for over 20 years and have created a renewable-energy, bucolic haven for their 230 Holstein Fresian cows. Whilst you can't actually pick up cheese from their gate, you can buy on-line and arrange delivery. Visit www.lincolnshirepoachercheese.com. Or for something more instant you could visit the local Lincolnshire Co-op, on Church Street in Alford who not only stock a range of Lincolnshire Poacher cheeses and butter but also a pretty decent range of other local food too.  I happily mention them here as a number of local producers I spoke to whilst researching my food trail mentioned how brilliant they've been during the Covid-19 pandemic, reaching out a lifeline to local producers. There are Lincolnshire Co-ops in most market towns in the county and they all stock their 'Love Local' range, including succulent Grasmere Farm pork pies and sweet treats and cakes from Gadsby's Bakery, so well worth a visit.  For more information check out their website www.lincolnshire.coop
Try my Lincolnshire Poacher Scones recipe
If you're a cheese fiend like me, you'll be glad to know there's another delicious local cheese-maker not far.  The Cote Hill Cheese Farm is over in Market Rasen. Another family run business, with marvellous Mary at the helm. Their cows roam freely across the green rolling fields of the Wolds and make for some very tasty cheese, their Cote Hill Blue is a particular favourite and makes a delicious addition to quiches, pizzas and risottos. You're welcome to visit their on-site Cheese Shed which is open 7 days a week, or you can order via their 'click & collect' service on their website, for which they need two days notice. www.cotehill.com or call Mary on 01673 828481
Try my Nettle and Cote Hill Blue Quiche recipe
Whilst we're on cheese (and let's face it, there can never be enough cheese) you'd be crazy not to go visit the wonderful cheesemakers over at Lymn Bank Farm in Thorpe St Peter.  They have a gorgeous shop on the farm where you can pick up their signature Lymn Bank Barrel cheeses as well as sample their Nibble Nose or artisan range.  It's basically a haven for cheese-lovers, you may never leave! Check out their website for opening times:  www.postacheese.com
Not too far from my door is the stunning market town of Louth.  The capital of the Lincolnshire Wolds, it is packed to the brim with produce for our picnic basket and lots of independent grocery stores selling locally grown fruit and veg, such as Stevensons on Eastgate – 01507 602293, The Cheese Shop, one of the best-stocked cheese shops I've ever shopped in – www.thecheeseshoplouth.co.uk 01507 600407 and a number of wonderful butchers selling an array of local poultry, venison, pork and beef, including Lakings of Louth – www.lakings.co.uk who make their own Lincolnshire Sausage sausage rolls on site.  However if you'd like to visit a farm to see the cows before you buy you can do no better than a visit to the lovely Amy and her cattle of Lincoln Reds at Lincoln Russet Beef just outside Louth in South Elkington.  She will pack up a box of meat for you in no time, ready for delivery or collection. www.lincolnrusset.co.uk 07977 476892
I feel like we need a little fresh fruit for our basket so the next stop on our food trail is the Galley Hill Fruit Farm in Saleby. It's a pick-your-own farm that has produce from early spring through till late autumn. All kinds of soft fruits and berries as well as apples and pears.  They even have a small collection of home-made jams and chutneys that are a delight.  It's a day out for me and I know my young nieces and nephews love it here too.  The delight on a child's face when they pick their first ripe strawberry is a sight to behold! Check out www.galleyhillfarm.co.uk for what's in season.
Try my Raspberry and Blackberry Pavlova recipe
OK, so we've got an array of meats, fish, cheeses, fruits and vegetables, now we'll need some bread to make our sandwiches and you could no better than Myers Bakery in Horncastle. Myers have been baking the traditional Lincolnshire Plum Bread since 1901 and their bakery has been in its current location for 50 years.  It's packed full of all kinds of bread from the traditional artisan to a more basic sandwich loaf and everything in between. They also have a deli on site stocking many of the local produce mentioned in this article so if you're feeling super-lazy you could go there for everything and they'll even make up your sandwiches too! Check out their website for opening times www.myersbakery.co.uk
To top it all off let's complete our meal with something sweet. The award-winning Dennetts Ice Cream in Spilsby is the place to visit. They've been making fresh, traditional ice cream with milk from their own dairy cows since the 1920's.  They have a bewildering array of over 30 flavours on sale including some that are limited edition 'guest flavours' that are only around whilst stocks last. They can be purchased from many stores across the county but a visit to the adorable Sweet Vanilla sweet shop in Spilsby will be a treat for the eyes as well as the stomach!  www.dennetts.co.uk for opening times
Try my homemade raspberry ripple recipe
Of course, now we have a big basket of food we need something glorious to wash it all down with and you're in luck. This part of the Lincolnshire Wolds also has its fair share of drinks producers.  We'll start with a visit to our very own Lincolnshire Terroir in the form of Ovens Farm Vineyard.  Yes, you read that right, a winery in the heart of Lincolnshire. Newly established they are producing young wines but having won a number of awards recently they are well worth the visit where you can have a tasting along with your purchase. Calling ahead is a must but Simon is lovely and very keen to share his joy for wine 07919 320290 or check out the website for more info www.ovensfarmvinyard.com      If you can't get along for a visit, Beaumont's Deli on Bridge Street in Louth stock the range as well as the Red Hill Farm Shop on Bailgate in Lincoln.
If it has to be gin (and when does it not?) then look no further than the epic Pin Gin from the guys at Bottomley Distillery. Set in the middle of Louth, the distillery produces not only a mutli-award winning gin but they've also just created the counties first and only single malt whisky! You can pick up a bottle at the distillery but whilst you're there you can also book a distillery tour and tasting. Details via the website – www.bottomleydistillers.co.uk
Try my Jasmine Gin Fizz recipe
If beer is more your thing then a visit to the counties very own brewery, Batemans, in Wainfleet is a must. Founded in 1874 to supply local farmers, the brewery is now a well respected name on the international craft beer market. Not only can you pick up a bottle of beer or two from their range of 7 but you can also take a tour of their incredible brewery and have a tasting or two. You could even stay overnight as they have a beautiful caravan and tent site on the grounds. All the details are of course on their website: www.bateman.co.uk
Of course, no summer picnic is complete without the obligatory bottle of cider. Just a hop, skip and a jump from Louth is the pretty little village of Skidbrooke where you can pay a visit to Skidbrooke Cider.  Not only do they make a range of traditional ciders but they also make mead and don't forget the freshly-pressed apple juice for the little ones. Call Guy or Kate on 01507 339368 to arrange a visit.
So now, as we stagger will baskets full, to a nearby field or one of the glorious beaches along the Lincolnshire coastline to lay out a picnic rug, settle down and consume our goods, we can be rest-assured that what we're tucking into is the result of the efforts of all the wonderful and hardworking producers we've met along the way on our food trail through the Lincolnshire Wolds.