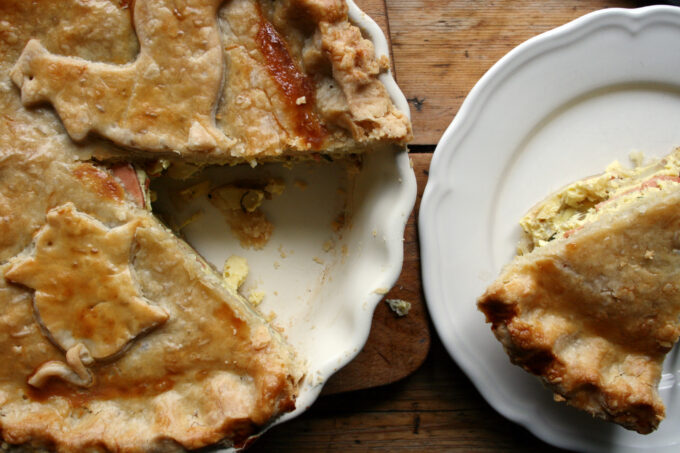 This egg, bacon and potato pie has been inspired by the incredible eggs from the good people at Scaman's Eggs.  A local egg farm to me here in Belleau, their eggs are gloriously free-range.  I actually love driving past the farm and often think that these chickens have the best lives, roaming around the fields and looking out over the Lincolnshire Wolds. I'm actually baking this pie for a picnic that The Viking and I have been invited to.  It will be our first proper outing since lockdown and so I'm making an effort and baking some goodies rather than simply going to the shops. I do love a picnic and they're a great way to see friends and family in the great outdoors, the only challenge is that they, along with another great British favourite, the barbecue, tends to be a very 'meaty' affair.
I've actually been a vegetarian since January and The Viking has been a veggie for over 20 years but we still love the traditional picnic foods; sausage rolls, quiches, pies and scotch eggs – I just try and make vegetarian versions.  This pie uses vegetarian bacon but obviously feel free to use any bacon of your choice. I've also used a vegetarian suet in the pastry.  BuyWholeFoodsOnline.com have a wonderful RSPO certified sustainable palm oil version.  The inclusion of suet in the pastry really makes the pie feel a little more traditional.  Like you'd have at an old-fashioned picnic.  The kind of firm but crusty pastry that holds a pie together so you can pick it up with one hand whilst you carry a glass of something bubbly in the other!
for the pastry (double this if you want a lid on your pie)
240g plain flour
60g vegetarian suet
60g butter
cold water to mix
for the filling
6 small new potatoes – thickly sliced
one medium white onion – halved from root to tip and then thinly sliced
4 or 5 slices of bacon – diced (I'm using Quorn Smokey Bacon)
250ml single cream
4 large free-range eggs
salt and pepper and fresh herbs – I'm using rosemary and oregano
Start with the pastry.  Place the flour, butter and suet in a large bowl and rub together with your fingertips until they resemble breadcrumbs.  Add a dash or two of very cold water and again, using your hands in a claw shape, bring the pastry together into a dough.  You may need to add a little more water to ensure all the bits come together.  The bowl should be completely clean when you're done. (This whole process takes seconds in a mixer.) Wrap the dough in clingfilm and pop it into the fridge for 30 mins. (It will last in the fridge for 24 hours, or can be frozen for 1 month.)
Now we can commence with the filling.
Par-boil the potato slices in water. Roughly 5 mins until just tender. Drain and set aside.
Melt a little butter and olive oil in a pan and sauté the onions until just soft.  This should take about 8 minutes on a medium to low heat. Add in the par-boiled potatoes and turn up the heat slightly.  Stir in the seasoning and herbs then let everything sauté for another few minutes, allowing the vegetables to turn slightly golden around the edges.  Stir occasionally to prevent them from burning.
In a small pan, sauté the bacon until crispy, then stir the pieces into the potato and onion mix. Then set aside to cool slightly.
Beat together the eggs and cream in a bowl, season with a little salt and pepper.
Pre-heat the oven to 170C and butter a pie dish.
Flour your work-surface and roll out the pastry for the base, then line your pie dish with the pastry. (Roll out another piece of pastry if you're creating a lid.)
Spoon the bacon, egg and potato mix into the egg and cream mix and gently fold through, then pour the whole thing into the pie.  Lay the pastry lid on top (if you're using) and brush the top with a little beaten egg and milk.
Bake for 40 mins or until the pastry is golden and puffy.  Set the dish aside to fully set.  You can eat it warm but I prefer it cut into wedges and eaten cold.
Eat and of course, enjoy!