The reason I'm making this slow-roasted carrot, beetroot and tomato soup is that I messed up with the supermarket delivery order again.  Those tricky folk that live in the internet don't make it easy but essentially I thought I was ordering 4 carrots but I actually ordered 4 kilo's of carrots.  I know.
It's really not a big deal.  Carrots are a great vegetable to have too much of.  They actually last for a while if kept in a cool place and I can cook them into pretty much most dishes too, sweet and savoury. This soup is a lovely way to make the most of their flavour as you roast the vegetables first which brings out a wonderful deepness to their flavour.  It also means it's super-easy to make as you bung it all into the baking tray and then from the baking tray into the pot with the stock.  Go easy on the salt though.  I always find that roasting veg brings out their natural saltiness so add it sparingly during the roasting stage.  You can always add more once it's in the pan.
I don't bother peeling my carrots or beetroot but feel free to do so if you want.  There's so much flavour in the skins but it does mean your blended soup won't necessarily be as smooth as it could be.
1kg of carrots (roughly 5) – chopped
1 large white onion – peeled and roughly chopped
4 cloves of garlic – skin on
3 uncooked beetroot – chopped
roughly 1kg tomatoes – chopped (I'm using wonderful heirloom tomatoes from The Tomato Stall
fresh rosemary and oregano
salt and pepper
olive oil
1ltr good quality vegetable stock (made up of 900ml stock and 100ml milk)
Pre-heat the oven to 160C and prep your largest roasting tin
Lay all the chopped veg into the roasting tin, generously drizzle with olive oil, sprinkle with the fresh herbs, pepper and a little salt. Mix it up well. (Your hands are the best tools here.)
Cover tightly with foil and roast for 45 mins, then remove the foil, turn the oven up to 200C and roast for a further 20 mins.
Carefully tip the roasted veg into a large pan, add the stock and let the soup bubble away on a low heat for 15 mins.
Allow the soup to cool slightly before blending well with a hand blender.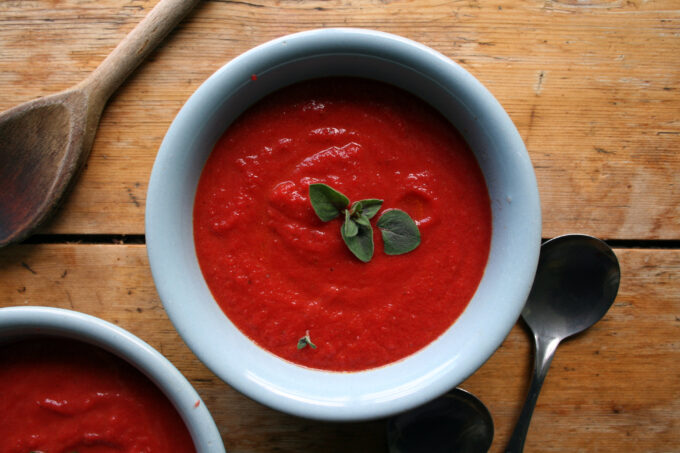 Eat and of course, enjoy!