You just might have noticed that pretty much the whole planet is in lockdown. It's also entirely possible that you've been kidnapped by alien mole-people and trapped in their underground lair for the past 6 months (and strangely only have access to belleaukitchen.com) and so don't know that the planet is in lockdown. So just in case the above applies to you; there's a dangerous virus spreading across the world and we've all been told to stay at home.
Now that we're all safely tucked up in our houses it means we're all having to be very inventive about what we cook and how we cook it. Obviously I want to be as helpful and practical to everyone out there but it's hard to know what people have in their homes and what people can get hold of where they live.  I live quite remotely in a little village up in Lincolnshire and so 'popping to the shops' is always a big deal.  That and my love for cooking means I am quite practical and have a good stock of basics so I thought I'd start making something relatively simple with ingredients most of us should have in our store cupboards or the odds and ends left on the supermarket shelves once the nasty locust-people had swept them clean.
I'm also really fortunate because we have lovely friends and neighbours who all look after each other and try to provide when times are hard.  This week I received eggs from one neighbour and rhubarb from the local Pub.  I adore rhubarb and so set-to baking with it straight away.
You'll see below that I'm mixing up the flours as I want to try and not use all my plain flour in one go.  Obviously use what you have or can get hold of, just make sure the measurements are the same.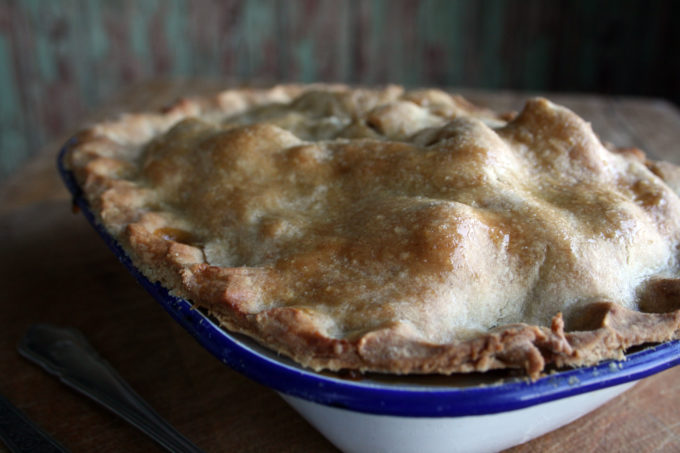 for the pastry
100g plain flour
50g oat flour
50g barley flour (from buywholefoodsonline.com) just FYI they are currently still delivering albeit with a reduced service.
100g butter or margarine
20g sugar – I used icing sugar but any sugar will do
1 large egg – beaten – you could just use water if you can't get eggs
for the filling
5 or 6 stalks of rhubarb (will work with apples or plums – simply take a look at the dish you're making it in and take a call on how much fruit you want to use.)
100g muesli
50g mixed dried fruit (I had some left over from Christmas!!)
50g sugar (any sugar will work)
2 teaspoons cinnamon
a dash of water
I'm using a small oblong enamel pie dish but use whatever you want, a deep plate is nice or an old boot, whatever works for you (maybe not an old boot, it has to be oven-proof!)
We'll start with the pastry.  (This whole process can be done in a large bowl by hand or in a mixer.) Place the flour, sugar and butter into a large bowl and rub the ingredients together until they resemble breadcrumbs.  Do this quickly and lightly with your fingertips.  If you handle it for too long or too heavily it will become tough.
Add a splash of water to the beaten egg and then pour this into the bowl, then with a knife or your hand shaped like a claw, bring the flour together into a ball of dough.  You should be able to pick up all the dry bits in the bowl with the dough and should have a relatively clean bowl.
Flatten the dough into a disk on a piece of clingfilm and wrap it well, then pop it into the fridge for at least 30 mins (can be frozen at this stage too and will last in the freezer for two weeks)
Place the the fruit, sugar, cinnamon and dried fruit into a large pan, add a splash of water, pop the lid on and let it gently bubble away on a very low heat for about 8 minutes, stirring occasionally.  You want the fruit to remain firm. Remove it from the heat and stir in the muesli, then set aside whilst you roll out the pastry.
Pre-heat the oven to 170C and grease your pie dish well with butter.  Place a baking tray into the oven on the shelf you'll be baking your pie on (this tray will help the bottom pastry layer cook well to avoid soggy bottoms.)
Sprinkle your work surface liberally with flour and divide your pastry into two even halves.  Roll out one half nice and thin and lay this into the bottom of your tin, press down and trim off the excess, adding it back into the remaining half.
Roll out the second half of the pastry, ensuring it's large enough to cover the top of the pie and leave it whilst you fill the pie dish with the filling.  Lay the pastry on top and seal the edges by crimping them together.
Brush the top of the pie with a little milk diluted in water , cut two air holes in the pie lid and bake for 25 mins or until the top of the pie is golden
eat and of course, enjoy!