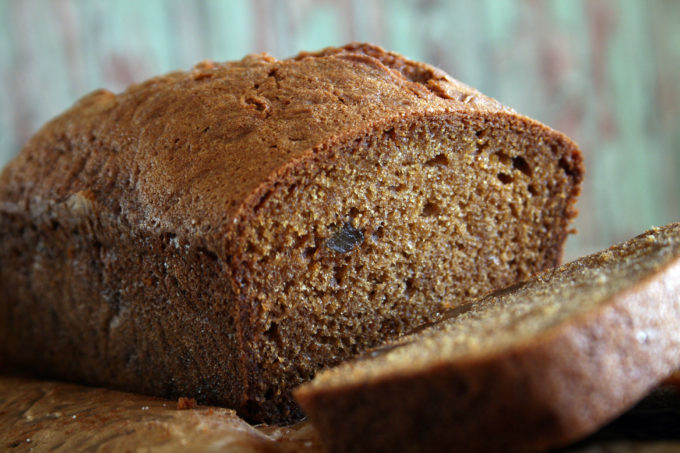 I'm making Grandma Jennie's Ginger Cake this weekend because randomly out of the blue mum dropped me an email with the recipe.  I didn't ask for it.  It was never discussed, it just popped up in my inbox last week.  I love my mum for this, it's almost as if we've had entire conversations in her head and she's simply responding with this email as though I had clearly asked her for it.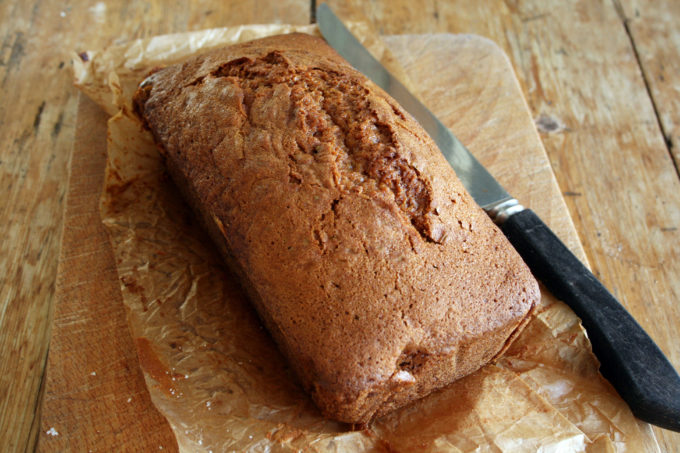 This recipe feels very old-fashioned and I think Grandma probably first started making it in the 50's. It's one of those cakes that packs such a punch in its relative simplicity.  It's not a wet cake like a ginger Parkin (even though it is a very sloppy batter) but it a soft crumb and almost a hard crust, I think due to the golden syrup.  It's also one of those foods that has the incredible power of a flavour-memory that reminds me of my childhood.
Grandma would have served each slice thickly lathered with salted butter and a cup of tea.  That may sound odd but I can tell you now, if you like your salted caramel, you haven't tasted anything until you taste salted ginger cake!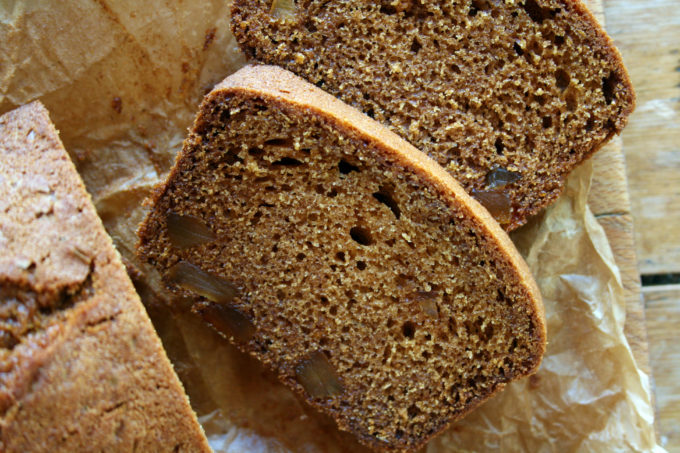 2 large free-range eggs (I used 3 small hens eggs from my lovely neighbour Ann – well, from her hens!)
200g caster sugar
245g self-raising flour
4 teaspoons ground ginger
1 teaspoon cinnamon
1/2 teaspoon bicarbonate soda in half a cup of warm water
3 quarters cup corn oil (I used sunflower oil)
3 tablespoons golden syrup
4 or 5 chunks of glace ginger – cut into small pieces
Grease and line a 2lb loaf tin and pre-heat the oven to 170C
In a large bowl (or the bowl of you stand mixer,) beat the eggs and sugar until pale and doubled in volume, then add the syrup and mix in, then add the oil and mix in, then bicarb in water and mix in.
Fold in all dry ingredients.  It will be a very sloppy mixture but this is how it should be.
Pour into loaf tin and bake for 45 minutes but test after 40 mins, if it's getting too dark, turn down the heat to 160C, you can always place some foil over the top at the end to stop it burning.
It's ready when a skewer or knife inserted comes out clean.  Leave it to cool on a wire rack before serving.
eat and of course, enjoy