This honey, beetroot and walnut loaf was inspired by the wonderful box of goodies I received from BuyWholeFoodsOnline.co.uk. It included some oat flour, beetroot powder and raw honey, three ingredients I've never worked with before, so it's been really exciting. It's an incredibly diverse health-food site. They deliver amazing quality, natural and organic wholefoods and related healthy living products all over the UK and Europe.  What I love about them is that they seems to have literally everything covered and if you're not sure about the organic or natural credentials of a regular ingredient you use, then just pop onto the BuyWholeFoodsOnline.co.uk website and see if they have an alternative.  I did this with the recent dumplings I made for a stew.  I love dumplings but I knew that most suet uses the dreaded palm oil.  So I swapped out my usual brand for the RSPO one I found on their brilliant site.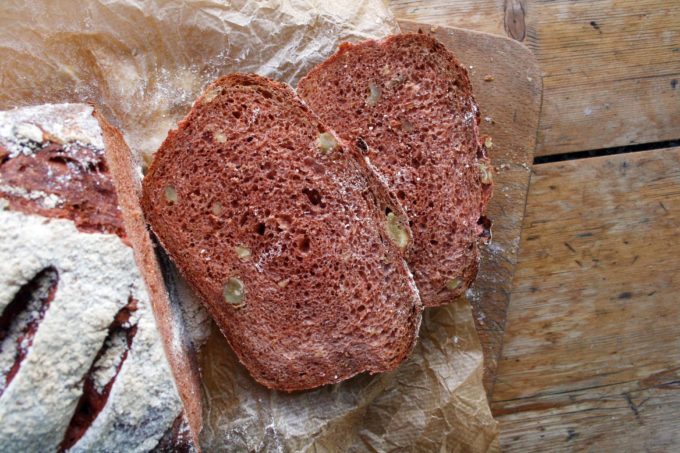 I love baking bread but to be honest I tend to stay safe when it comes to ingredients, so it's nice to be pushed out of my comfort zone somewhat. I'm using 3 different flours, a regular strong white bread flour, a wholemeal bread flour and a wholemeal oat flour which adds a wonderfully nutty flavour.  The beetroot powder adds the incredible colour but it's also wonderfully rich in antioxidants, dietary fiber, calcium, iron and potassium amongst others.  The honey, also included in my box of goodies, is the star.  It's a raw wild flower honey from Bulgaria and it's breathtaking. Raw honey, unlike your average honey, is unfiltered and unpasteurised, so it retains all the precious nutrients which are normally lost through heating and filtering.  The flavour is intense and sweet and very floral.
100g oat flour
100g strong wholemeal flour
300g strong white bread flour
2 tablespoons beetroot powder
1 tablespoon raw honey
1 tablespoon olive oil
100g walnuts – roughly chopped
7g (or one sachet) easy bake yeast
1 teaspoon salt
350ml luke warm water
Place all the ingredients into a large bowl and slowly bring together with a rubber spatula, once you have a big messy ball empty it onto a lightly floured surface and knead for 10 mins. I use my smeg stand mixer with the dough hook on a low setting for 10 minutes.
Lightly oil a large bowl, place the kneaded dough into it, cover in cling film and let it prove for at least 1 hour or until doubled in size.
Once it's risen, knock back the dough by gently punching it, tip it out onto a lightly floured surface and shape it into a ball.  I like to almost flatten it out, then fold over the top to the bottom, turn it 90 degrees and then fold again, before forming it into a ball.
Place the ball into your loaf tin.  Im using a wide baking tin but this could work in a casserole dish or a regular loaf tin, whatever shape you like.  Cover with some oiled cling film and set aside for the second rise for at least 30 minutes.
Turn your oven on to at least 200C, if not 220C
After 30 mins, dampen the surface of the dough (I do this with a wet hand) and then throw a little flour on top and smooth it down.  Slash a pattern into the dough.
Bake the bread for 45 mins or until it's gloriously risen and makes a hollow sound when you tap its bottom.
eat and of course, enjoy!