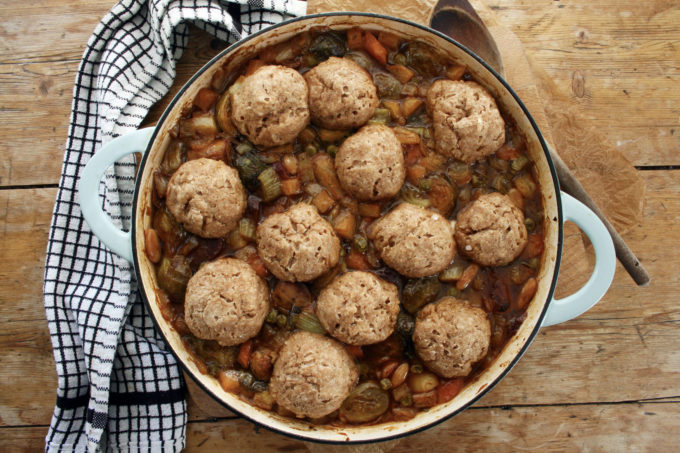 I'm making this sausage & brussels sprouts stew with cheesy wholemeal dumplings because the cold weather has suddenly swept across the nation and there's nothing like warming the cockles than a hearty stew.  Something that sits on the hob for a few hours, warming the kitchen and sending glorious aromas around the cottage.  This is a proper cold snap too.  We woke this weekend with a stunning frost that made the view from the cottage window look as though the whole landscape had been sprinkled with iridescent glitter.  The sun is shining however so it's all taken on the most glorious golden hue.  The perfect winters day.
Looking back through the blog I've made numerous stews in a multitude of ways with a plethora of ingredients but over the years I feel like I've begun to hone down the ingredients I love the most that make a nice hearty winder stew.  Firstly, whilst beef or lamb are always good, a sausage has so much in it that adds flavour to a stew and there are so many good quality sausages around you're bound to find one that pleases all.  Secondly the veg.  I like some decent root veg in there; the obvious onions, carrots and celery but swede also adds variety and a good strength of flavour. I'm not so keen on squash however as I find the texture too mushy for a stew.  I also always love to add a starch, often it will be potato but a grain such as quinoa or pearl barley is divine but the ultimate is the butter bean.  So rich and creamy.  I wouldn't normally add a green leaf but cabbage, or as I've used here, Brussels sprouts are robust enough to make the grade and work wonders in this dish.
As I'm making this for our family weekend meal I'm making it so everyone can eat it, so I'm using vegetarian sausages and a vegetarian suet for the dumplings but a word of warning about veggie suet.  Most veggie suet is made from the dreaded palm oil so make sure you find one that is made from RSPO certified palm oil such as the lovely stuff I used from my new favourite foodie website buywholefoodsonline.co.uk – not the catchiest brand name but it does what it says on the label!
for the stew
6 sausages – I'm using Quorn – cut into large pieces
1 large onion – roughly chopped
1 large carrot – roughly chopped
2 sticks of celery – roughly chopped
1 fennel bulb – chopped
1/2 swede – cubed
120g brussels sprouts – halved
2 teaspoon tomato paste
1 tin of butter bean
100g frozen peas
200ml of white wine
1 litre good quality vegetable stock (I used 2 teaspoons of Bisto gravy powder too)
olive oil and butter
salt and pepper
fresh rosemary, thyme and oregano
for the dumplings 
200g wholemeal self-raising flour
100g veggie suet
50g strong cheddar cheese – coarsely grated
salt and pepper
i've used my 30cm shallow casserole dish with a lid but any casserole dish would work – pre-heat the oven to 150C
heat some live oil and butter in a pan and fry off the sausages until brown – set aside
sauté the onions, carrots and celery until beginning to soften, then stir in  the fennel and swede and let them all sweat for 5 mins, season well with fresh herbs, salt and pepper, then add the Brussels sprouts, butter beans, tomato paste, frozen peas and browned sausages and stir well.
pour over the stock, place a lid on and pop in the oven on 140C for 1 hour
now make the dumplings.  Place all the ingredients into a large bowl and season well,  then add a little cold water whilst bringing together with your hands until a light soft dough is formed.  Keep it all light and quick and try not to over-handle the dough.
split the dough into roughly 10 little balls and place them onto the top of the stew.  Place the lid back on the stew and into the oven for 15 minutes with the lid on and 10 minutes with the lid off for a crispy finsih
eat and of course, enjoy!