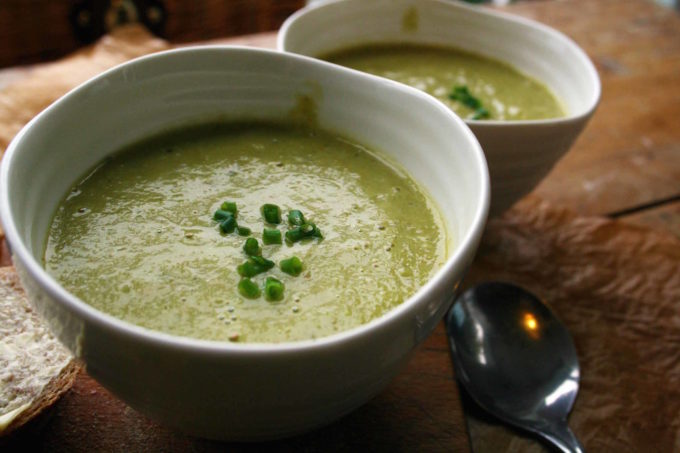 Back at the cottage this weekend which always makes my heart sing and even though the weather is horrid this pea soup is perfect for warming the soul.  It's been a long old week down in London and I forgot it was half-term so when I got onto the short train to Skegness it was teaming with people.  There seemed to be children everywhere, climbing the walls, hanging over the backs of seats and generally over-excited about being on a train.  It was lovely to see so much pent-up excitement although the whole carriage was way too stuffy and smelt rather of soiled nappy, which is never particularly a nice thing to tolerate for an hour an  a half.  But tolerate it I did and now i'm home.  It's chilly and windy this weekend and I believe that soup is the answer.
Soup is such a basic staple but it's quite incredible how many people either don't know how to make it or don't realise how easy it is to make.  Plus most soups are also ridiculously cheap too.  Pret-a-Manger create a Pea & Mint Soup on a Tuesday which is lovely but costs £3.25 a pot.  I think my whole soup costs under £5 and will last for at least 4 servings and can be frozen in portions to take to work.  The great thing is that you can make soup with basically any old vegetables you have in your fridge – 'back-of-the-fridge' soup is an often-made and all-time favourite here at Belleau Kitchen – it's just about having a few basic steps up your sleeve.
I always start with an onion, which adds a nice depth of flavour, then I like to layer on the vegetables.  The soup i'm making today has a fennel bulb and some potato to add thickness (this can also be done with cauliflower if you're trying traduce carbs.) The mint goes in close to the end for a final burst of flavour and mint compliments peas so beautifully.  I like a blended soup but with this one I don't go completely smooth as I like the texture to be a bit more substantial.
butter and olive oil
2 banana shallots – finely chopped
1 fennel bulb – finely chopped
1 small carrot – finely chopped
3 small new potatoes – finely chopped
1 clove of garlic – crushed
1 teaspoon fresh thyme
2 teaspoons fresh mint – finely chopped
salt and pepper
400g frozen peas
1ltr good quality vegetable stock
4 or 5 mint leaves – finely chopped
melt some butter and olive oil in a warm soup pan (i'm using my 32cm shallow casserole dish but a deep soup pan would work well.)
add the shallots, stir well and let them soften gently for about 5 mins, then add the fennel, stir and saute gently for another 5 mins.
stir in the carrots, potatoes, garlic and thyme and season well with salt and pepper and let them saute again for another 5 mins.
add the peas and 1 teaspoon of the chopped mint, stir well and place the lid on and with the heat quite low let the whole lot sweat for 5 minutes until the potatoes are soft.
pour in the stock and let it gently plop away for 15 minutes then take it off the heat and let it cool for another 10 minutes before blending – I use a stick blender as I don't want it completely smooth, stir in the 2nd teaspoon of fresh mint just before you blend
eat and of course, enjoy!