Well we were supposed to be sunning ourselves in Mallorca this week but we arrived there last Thursday and the weather was turning… from good to bad and it didn't end there.  It was grey and rainy and cold.  Now as you know, we are very fortunate and often go to Mallorca as my family have a house there.  It's a beautiful place and is only a 2 hour flight from London.  it's quite a diverse island with breathtaking mountains along its Northern stretch, stunning beaches, warm seas, incredible places to eat and beautiful old towns that are packed with history.  I've been going there since the 80's and The Viking and I now consider it our 'go-to' holiday destination when we want a proper break.  No discovering local caves, or worrying about where to get a good meal.  We arrive, we un-pack and switch off.  It's also pretty much guaranteed sunshine and warmth 80% of the year and when its not it's usually just a crazy shower that passes over for a few minutes.  Until it's not and then it's miserable.
However the one thing we've learnt after many decades together and many decades of travel is that if you're not enjoying yourself or something has gone wrong, don't wait to change it or wait for it to change, do it immediately.  Act now or you'll forever be waiting for something that may not happen and this can ruin your holiday.  So we checked the long term weather report from 3 different sources (cold and wet) and then checked the weather report back home (hot and sunny) and called the airline to change our flights.  £35 and half a day travelling later and we were back at the cottage laying in the garden in the glorious British sunshine!

asparagus, cheddar and butterbean pottage
that was the weekend… today it's beautiful but a thunderstorm is on the way.  You can feel the vibrations in the air.  I'm currently sitting in the kitchen with the doors wide open onto the garden and I can feel a change is coming.  It's as though everything had gone quiet and still, birds hiding under bushes and insects holding their breaths!  I declare that it's the perfect weather for soup although The Viking is not so sure.  He insists it's too warm but I tell him that the thunderstorm is on it's way so we'll enjoy something comforting shortly.
This soup is one of those classic 'throw-it-all-in' types of dishes that's almost a stew but not quite.  I believe 'pottage' is the correct term as it will take anything and you can eat half of it for lunch and then add more stuff later to bulk it up for dinner… bits of leftover lamb or duck would be divine, or some pasta or rice equally good. I adore butterbeans for their creaminess and of course there's lots of wonderful British asparagus in the shops right now. The strong cheddar added at the end lifts the whole thing to another level of gorgeousness.
a little butter and olive oil
4 banana shallots  (or one medium white onion) – finely chopped
2 sticks of celery – chopped
1 large carrot – chopped
1/2 small swede – finely diced
1 large leek – halved, quartered and then sliced
6 stalks of asparagus – chopped
150g frozen peas
1 x 400g tin of butterbeans – drained
1 litre good quality vegetable stock – I use the Kallo organic vegetable stock cubes
100g strong cheddar cheese – finely grated
I used my large round shallow casserole dish but any large pan would work
Place the pan on a medium heat and gently melt half a tablespoon of butter with some olive oil and add the onions, celery, swede and carrots, stir well and let them sweat gently for about 7 minutes until beginning to soften, then throw in the leek, stir again and cook for another 5 mins
Add the butterbeans, asparagus and frozen peas, stir well, place the lid on and let the whole thing sweat for another 7 mins, then add the stock, place the lid back on and let the whole thing gently simmer for 15 minutes, then remove the pot from the heat and stir in the cheddar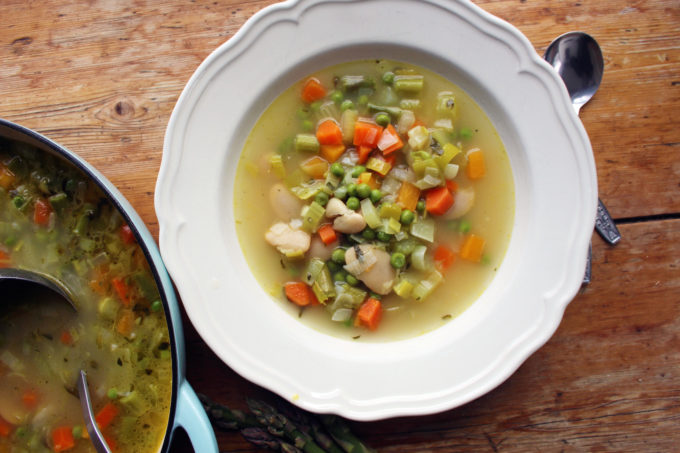 serve warm, eat and of course, enjoy!