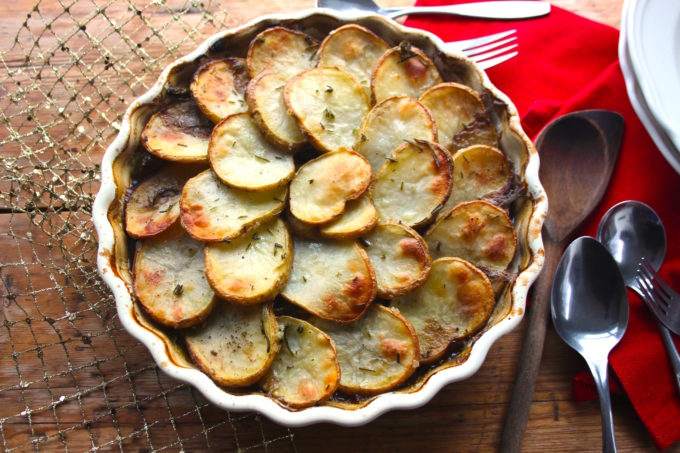 I'm enjoying a few days alone at the cottage this weekend and after last weekends Friendsmas madness I feel it's well deserved.  We've got a hell of a week ahead next week down in London as we wrap up the year but we're literally going until the last moment with an exciting live activation in Kings Cross station of all places!  If we survive it will be a well deserved break. I continue to forget how sick I was and occasionally it comes up and bites me like last nights terrible attack of leg cramps that literally floored me and I had to ride it out for a good 30 minutes before it went away.  So i'm chilling.  Occasionally looking at recipes and thinking about different types of festive things that will feed us over the next couple of weeks.  This hot-pot uses up the vegetables that didn't make it into the Friendsmas dinner.  A few carrots, some mushrooms and half a bag of sprouts that didn't have much life left in them but I really didn't want to throw away.  I've pepped it all up with some vegan sausages, making the whole dish vegan-friendly.  If you have vegan or vegetarian friends coming for the holidays I actually think you could serve this as a big family meal or even on Christmas Eve and everyone would be happy.
The dish starts on the hob, browning the vegetables toad depth of flavour but then the whole thing is finished on a very slow roast in the oven, allowing the potatoes time to tenderise before crisping up to a beautiful golden glow. I borrowed a tip from the lovely Nigel Slater by adding some mustard to the gravy mix, which adds such a lovely bite. It also freezes really well so you can make ahead and bung it straight from the freezer into the oven. Quite frankly it's a perfect meal.

vegan sausage and brussels sprouts christmas hot pot
2 medium white onions – peeled and thickly sliced into wedges
6 sausages (I've used the Cauldron vegan sausages) – cut into thick chunks
100g mini portobello mushrooms – thickly sliced
3 carrots – roughly chopped
a handful of brussels sprouts – halved
a handful of green beens – chopped
1/2 litre good quality vegetable stock (kallo do a very good vegan, gluten-free stock)
1/4 litre white wine (most white wines are vegan-freindly but check the label first)
2 large potatoes – thickly sliced
1 teaspoon english mustard
fresh rosemary and thyme, salt and pepper, olive oil
in a shallow casserole pan, heat some olive oil on a medium heat, then add the onions,and sausages, along with a couple of sprigs of rosemary and gently saute them for a good 10 mins until both get some colour and the onions and beautifully soft.
next add the mushrooms, season well with salt and pepper, pop the lid on and gently sweat the veg for 5 mins, then remove the lid, turn the heat up and let the mushrooms and sausages take on some more colour
add the rest of the veg and stir well then pop the lid back on again and let the whole lot sweat for another 8 minutes
pour in the stock, wine and mustard, stir well, bring to a simmer and then turn off the heat
pre-heat the oven to 150C
slice the potatoes and place them in a bowl, sea well and drizzle with a generous amount of olive oil… I've also thrown in some fresh thyme and rosemary too… mix well so the potatoes are fully cited on both sides
if you're using a casserole dish that can go from hob to oven then simply layer the potatoes onto the top of the stew, if like me you want to freeze the hot pot then transfer the stew into a pot and then layer the potatoes on top.
bake on 150C for 30 mins and then turn up the heat to 200C for a final 15 mins
chill entirely if you want to freeze, or serve whilst piping hot
eat and of course, enjoy!