… unless you've been living under a rock for the past millennia you'll know that we're very close to Halloween.  Should you have peeped out of said rock and happened to have stumbled upon my blog you'll also know that I adore this festival.  It's probably the only day of the year I wish i'd had kids or that we lived in some cute suburban street in one of those 'all-American' towns where they embrace this holiday with gusto.  Whilst living out in the middle of nowhere in the Lincolnshire countryside can be most definitely scary at times it isn't quite conducive for hoards of costumed families to come trick or treating.  There will no doubt be festivities at the pub and i've seen some epic costume idea on social media this year.  I however have decided to come down with a stinky cold.  In the fact the household has well and truly caught the lurgy with the poor Viking having had some kind of nasty bug all week.  We're not happy bunnies.  So think of us as we carve our pumpkins in a sullen, spooky sulk…


pumpkin and honey loaf cake
so a simple yet tasty recipe for halloween this year from me… some would say even slightly sophisticated and whilst it's a lot less visually impactful than last years Halloween Pumpkin and Cinnamon Buns, this loaf cake packs a spooky punch in the flavour stakes.  Funnily enough, when I look back at the post for last years Halloween bake I see I was down with a cold then too.  I think that was my only cold last year so one cold, once a year really isn't too bad…
… this loaf cake uses that very un-British ingredient of pumpkin puree.  I'm sure my American friends will gasp is horror to learn that us Brits simply don't really use the stuff.  With Halloween only having recently become a major player in the holiday stakes over here pumpkin puree just never became shelf-worthy.  You could always get it at health-food and artisan shops but it's never been an autumn basic as it is in the states. I purchased mine on Amazon and it works very well in this cake although I have also bakes it using chestnut puree and it also tastes divine, if maybe slightly more Christmassy… but the addition of honey and golden syrup make it deep and rich and caramely and of course the ginger and cinnamon give it a warming kick.  It's also one of the easiest cakes in the world to make, is dairy and refined-sugar free so it's a win win all round. Simple, delicious and smells incredible when baking.  What's not to love?
the recipe is adapted from an American cook book so the measurements come in cups but quite frankly it's such a simple, all-in-one bake that by the time I converted the measurements i'd have made another cake!
2 large free-range eggs
1/2 cup of vegetable oil
1 cup pumpkin puree
1/3 cup honey
1/3 cup golden syrup
2 tablespoons water
1 and 3/4 cups of wholemeal flour
1 teaspoon cinnamon
1 teaspoon ground ginger
1 teaspoon vanilla pean paste
1 teaspoon baking powder
grease and line a 1lt loaf tin and pre-heat the oven to 170C
place all the ingredients into a large bowl and gently bring together with a whisk, then once combined whisk briskly for 30 seconds
pour gently into your loaf tin and bake on 170C for 40 – 50 minutes until risen and golden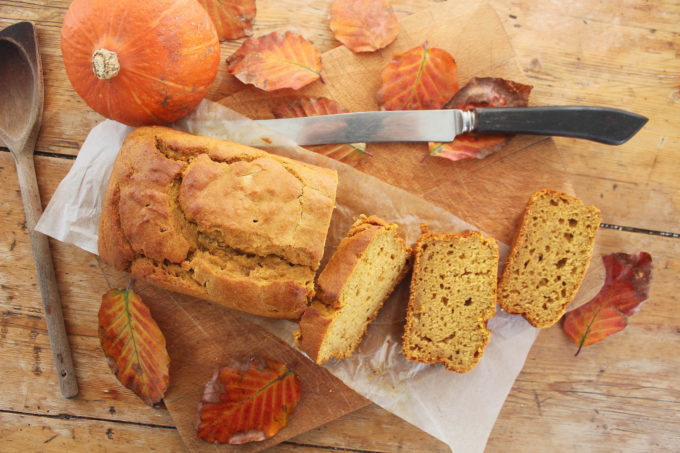 eat and of course enjoy!