… so i'm in the park at 7am this morning for my first session of the new year with the lovely Gareth, my personal trainer, who is breaking my flabby old bones on 'the wall' and to add insult to injury it starts snowing.  OK not proper thick, thick snow but it's snowing nonetheless and all I can think of is crawling back to bed… anything must be better than this.  I've been delaying the inevitable.  Blaming the jet-lag and lack of sleep but this morning I could hold back no longer and so I dragged my tired arse out of bed.  Of course now it's the afternoon and i'm slightly more awake i'm walking around like the bear with all the honey, feeling very pleased with myself, although I can already feel the aching in the legs.  I love the days when I train.  It gives me a certain joy for life and an un-writen rule that I can eat with impunity.  This isn't true of course, I have to be careful but I think one reaches a stage in your life when you're pretty much the shape and size you're always going to be and so maintaining 'slightly overweight' actually means you HAVE to eat cake… that's what i'm telling myself anyway…


pineapple upside down cake
this is your classic, no frills, upside-down cake, although I added a handful of blueberries to the cake mix just because they were in the fridge staring at me… it suddenly hit me that I haven't baked a cake since December 23rd – nearly a whole month and so last weekend I asked The Viking what kind of cake I should bake he suggested pineapple upside down cake because a) he's from the 70's and so a bit of nostalgia always makes him smile and b) we had half a fresh pineapple in the fridge.  Now, if you've ever made pineapple upside down cake you'll know that it usually calls for tinned pineapple and theres a reason for this which is the glorious syrup the pineapple slices come in which should be added to the cake to give it extra fluffiness, plus there a sweetness to tinned pineapple that fresh pineapple doesn't always have.  I used apple juice instead which worked a treat but I think orange juice would work too. I'm not saying the cake didn't taste lovely, it just didn't have that sweet, nostalgic taste that we so longed for.  It was a damned fine cake regardless… so the choice is yours…
butter (for greasing)
2 tablespoons coconut sugar (or regular dark brown sugar)
6 slices canned or fresh pineapple in juice (plus 3 tablespoons of the juice)
glace cherries (probably 9)
220g self raising Homepride flour
220g butter at room temp
220g caster sugar
3 large free-range eggs
preheat the oven to 180°C. and line and grease a 23cm cake tin – make sure you use a solid tin, no loose-bottoms nor springform or all the juices will ooze out.
sprinkle the 2 tablespoons of coconut sugar on top of the buttered base, and then arrange the pineapple slices to make a circular pattern then fill each pineapple ring with a glace cherry, and then dot one in each of the spaces in between.
put the flour, butter, caster sugar, vanilla and eggs into a mixer and beat until the batter is smooth. Then pour in the 3 tablespoons of pineapple juice to thin it a little – if you're using fresh pineapple like me then try using orange or apple juice for a similar effect
Pour this mixture carefully over the cherry-studded pineapple rings; it will only just cover it, so spread it out gently.
Bake for 30 minutes, then ease a spatula around the edge of the tin, place a plate on top and, with one deft – ha! – move, turn it upside-down.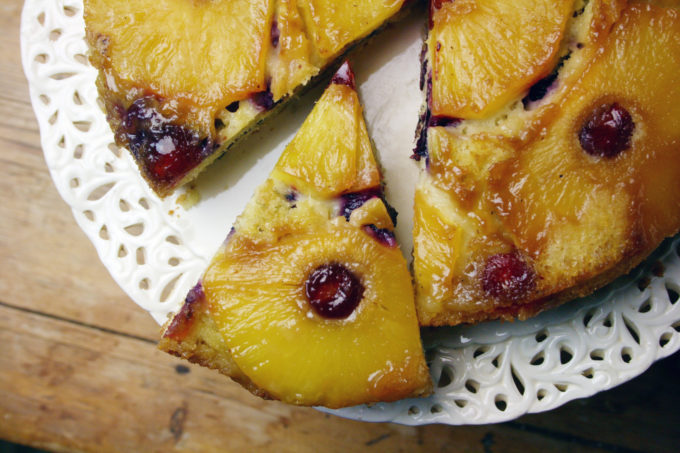 eat and of course, enjoy!