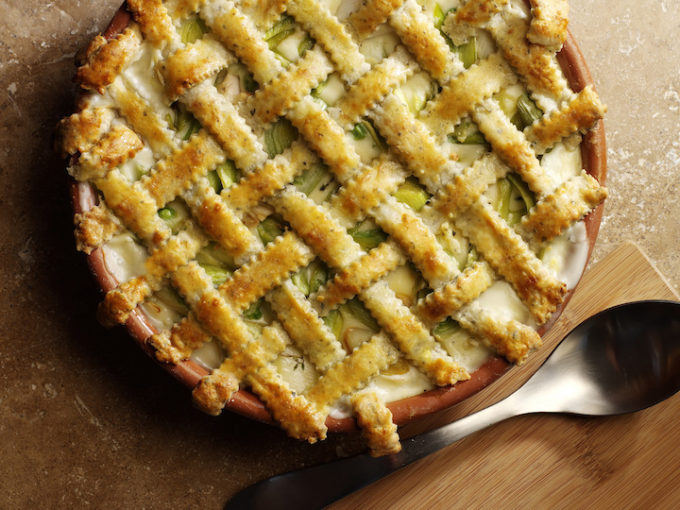 creamy chicken, leek, pernod and pea pie
… well hello folks and Happy New Year… I realise we're nearly half way through January but The Viking and I have been sheltering in California over the new year ad we've only just got back.  California was wonderful.  It's still there, despite the rumours of wanting to detach itself from the rest of the United States of Trump and it's still such an exciting place to visit.  It is of course the home of Hollywood and the magic of the movies which will always hold a special place in my life and of course my father lives up in the Sonoma valley which as we all know has some incredible wine but I also absolutely love the food.  The American's certainly know how to eat and every eating experience comes with the most incredible ritual of questions and answers from the choice of eggs to the variety of bread, from how you'd like your potatoes to how much of 'everything' you want including in your sandwich.  I kid you not… we were in one deli, aptly named 'The Gherkin' and upon ordering the Turkey and Bacon with Everything, was duly handed a separate list of exactly what 'everything' included which, for your information was; avocado, lettuce, sprouts, mayo, tomato, and probably quite a few other sauces I couldn't even name if my life depended on it… I of course asked for everything!
The other thing we learnt was that the humble Brussels Sprout is the new Kale.  They were on every menu in every style of restaurant and prepared in ways that would cause your average Christmas brussels sprout to blush.  Like everything American they can't just serve them simply, they were saluted and baked and drizzled with maple syrup and deep fried and chopped and in salad and stuffed into chickens… they were Mexican and Indian and Italian and Californian and sometimes they were delicious but mostly they were a bit odd and made us chuckle a lot.
So of course I will be creating some Californian inspired recipes very soon but in the meantime, what with this miserable and cold weather that we seem to be in the grip of continues I thought i'd share my favourite Winter Warmer recipes from my blog and from around the blogging world… I hope you enjoy!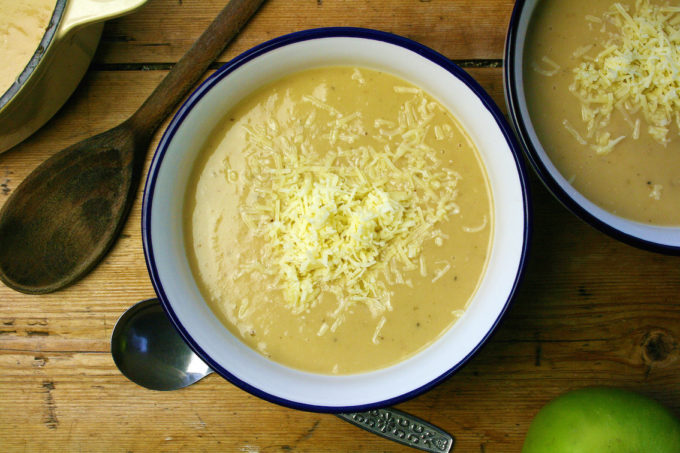 this really is the soup to end all soups (even if I do say so myself.)  It's sweet and sharp and earthy and warming… rich and thick enough to give you that wonderful 'comfort food' quality but also has that glorious roast apple twang that takes it to another level. Plus it has enough cheddar to bring on a heart attack which in my opinion is the best way to go…

there is only one blogger I would turn to when it comes to classic Scottish comfort food and that's lovely Janice from Farmersgirl Kitchen… a true Scot and this is a true Scotch Broth. Pearl Barley, Lentils, Carrots, Celery… job done… warm, hearty, healthy.  Beautiful.
this stew means 'home' to me… it incorporates the wonderfully fragrant Lincolnshire sausage (which of course is the sausage of my home county) and butter beans which are natures warm blanket… plus the addition of the herby dumplings, like oh so many soft and fluffy pillows, turn this simple stew into a warming pot of hugs…
there really couldn't be a list of winter warmers without a mac n cheese and I think Sue from The View from Great Island has landed on a classic here… the perfect blend of Gruyere and Emmental to make that rich and velvety sauce and the soft soft pasta baked to perfection, like swallowing so many forkfuls of happiness… this would keep us going in front of a log fire in the depth of winter…
a roasted vegetable makes for a very flavoursome soup and the pumpkin – or any squash, makes for a wonderfully velvety soup.  This veggie alternative to the classic corn chowder will have your vegetarian friends oohing and aahing over its flavour and its comfort-food quality… plus if you serve it as i've done here in its own edible toasty bread bowl you're essentially creating edible crockery which if you ask me is the most wonderfully warming gift there is…
so we adore pizza here at Belleau Kitchen and if you love bread as much as we do and you find comfort in making dough then a pizza really is perfect winter fodder… all that glorious heat coming from the baked dough, then topped with velvety sauce and bubbling cheese.  Any pizza is great but these three varieties of skillet pizza from Lucy at Super Golden Bakes take the comfort element to the next level.  Baked in a pan they have that added pan-fried crunch' that makes them so perfect for snuggling in front of an old black and white movie in the depths of winter… and I think the blue cheese and pancetta pizza is the ultimate for storing up those much needed winter calories…
this beauty is essentially your favourite Sunday lunch roasted into a Yorkshire Pudding… just like a toad in the hole but with chicken thighs and roasties and veg all mashed together… of course it also contains my favourite chicken thighs but just look at them nestled in their duvet of batter – couldn't you just join them in there?
so for me, a decent sandwich is the ultimate in comfort food and this pulled pork pita sandwich comes very close to heaven… the pork is cooked to slow perfection in a sweet coconut broth that turns the meat into mouth-melting glory and so there's really very little to do with it other than shred it and shove it between your favourite bits of bread…
this dish is the kind of dish that I would bathe in if I were a potato (which sometimes I dream I am) and is brought to us by the queen of rustic home-cooking, Karen from Lavender and Lovage and I just had to include this dish here because not only does it warm my tummy it also warms my heart and soul… chicken, artichoke, potatoes and cheese… so much wonderful creamy cheese… one can only imagine the incredible aroma's that this dish permeates through your home when you bake it… my mouth is actually watering…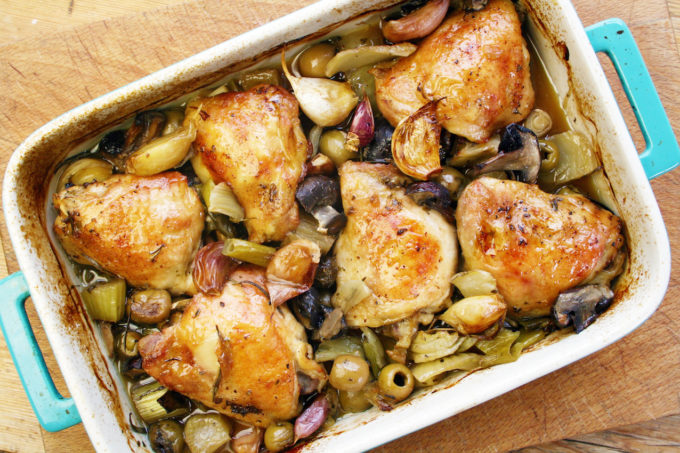 this list really wouldn't be complete without one of my classic chicken thigh recipes and after all comfort food should be as easy as possible and there's nothing easier than turning the oven on and throwing everything into one tray… this one is packed with flavour with a lot of garlic and fresh herbs plus the mushrooms and olives add a lovely earthy tone to the whole dish… you could bung some small new potatoes in there or serve the whole thing with some creamy mashed potatoes – either way you're onto a crowd pleasing winter warmer winner!
… and that, my friends, should take us through January at least with some warm thoughts for heart and soul… and I promise some new classic recipes of my own coming your way very soon, until then
eat and of course, enjoy!