… so cold and flu be done! I went for a training session with the lovely PT this morning and even though I had to drag my tired and sorry arse out of bed and I really didn't feel like it at all it actually did me the world of good.  I feel alive for the first time in weeks.  It's quite amazing how healing it can be when you actually get yourself motivated… I almost wish i'd done it sooner.  Usually it's food that makes everything good again.  What better cure for a malaise is there than a glorious bowl of hot, clear chicken soup… what better way to cheer the day up than with a naughty, triple-layered chocolate cake… and what can be more wonderful for the soul than the smell and taste of freshly baked bread?  The issue is that when you have a cold and a blocked nose you really can't taste anything and I hate a wasted calorie if I can't taste the lovely food.  So my new solution is to get the body moving.  Don't sit around for too long because when you get to a certain age it all starts to seize up and that's no fun for anyone…
…Denby have recently launched a new range of cast iron cookware and they have very kindly sent me this beautiful 30cm round shallow casserole dish to test-drive.  Denby is a classic British tableware brand, founded in 1809.  They've had something of a revival recently, updating their traditional ranges with some stunning contemporary designed tableware that has a clear nod to the brands roots whilst enabling them to not get left behind in the marketplace by newer, style-led companies.  I've been genuinely impressed with their collections and this new addition to the Denby family of stunning and colourful cast iron is more than a welcome.  I love cooking with cast iron. If you've never owned a piece then I implore you to go out there and invest.  Cast Iron is versatile, strong and easy to use, cast from molten iron and then enamelled, this multi-layered manufacturing process means the post heats up faster and stays warmer longer making them brilliant for all kinds of meals and the brilliant thing is that they can go from hob to oven and back again without a worry which means they're ideal for 'one-pot' cooking… I love the weight and solid quality Cast Iron brings.  There is nothing more comforting and warming to the soul than a slow-cooked casserole being delivered to the table is a beautiful, enamelled dish.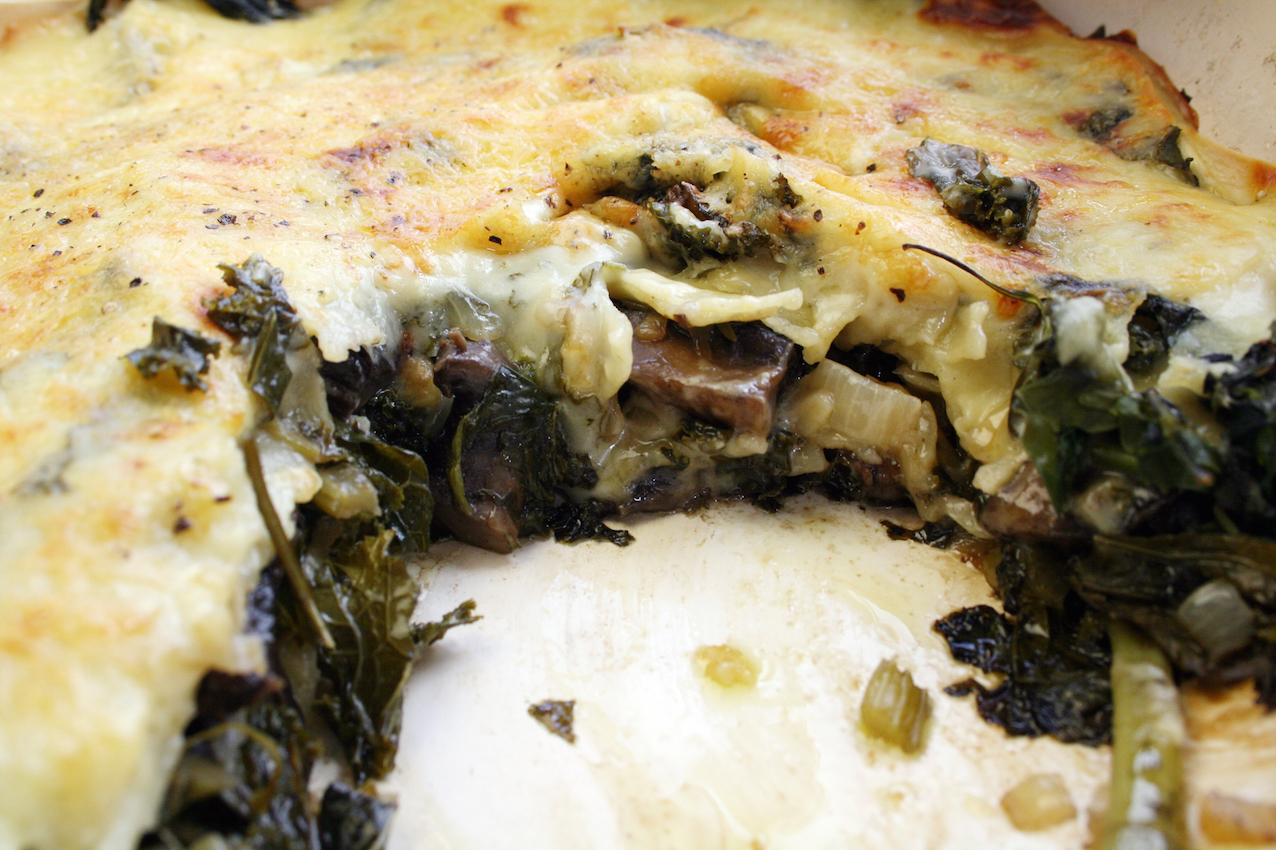 mushroom and kale white lasagne
probably not the most classic of dishes to cook in this shallow casserole but then that's another thing that I love about cast iron is that they are so versatile and you can really do what you like with them… I adore this dish.  I love a white lasagne with all that wonderfully velvety cheesy sauce. So creamy and rich and warming.  It's as close to a 'one-pot' meal as I could make it but I had to make the cheesy sauce in another pan or I think i'd have gone slightly mad.  This is a great sharing dish for a manic family meal but it also lasts a couple of days and is rather divine eaten cold, sliced into wedges which is exactly what The Viking and I did, eating it over the weekend for lunches and snacks.  Kale of course is the trendy option for the green in this lasagne but you could use any kind of green leaf from spinach to watercress to nettle, it's entirely up to you.
1 medium onion – finely chopped
2 stalks of celery – finely chopped
2 cloves of garlic – peeled and crushed
150g bag of chopped kale
150g bag of mixed leaves – I used rocket, watercress and spinach
4 portobello or field mushrooms – thickly sliced
fresh rosemary and fresh thyme
1 large teaspoon of orgeno – dried or fresh
olive oil and butter
salt and pepper
roughly 10 sheets of your favourite lasagne
for the cheesy white sauce
550ml full fat milk
200 good quality vegetable stock
75g unsalted butter
2oz plain flour
250g strong cheddar – freshly grated
salt and freshly ground pepper
pre-heat the oven to 170C
start with the white sauce by boiling the kettle to make the vegetable stock, then pour in the milk and stir together so that you have 750ml of liquid… then take a medium sized pan and melt the butter, then remove from the heat and stir in the flour with a wooden spoon until you have a thick paste. Put the pan back on a gentle heat and cook the flour, stirring continuously for about a minute
take the pan off the heat again and add a little of the milk, continuing to stir. Adding the milk slowly and stirring like this will ensure no lumps form. Continue to add the milk a little at a time until it is al incorporated, then return the pan to the heat and cook until the sauce comes to the boil, season, turn down the heat to its very lowest and cook gently for another 15 minutes, making sure to stir often… it should thicken nicely to a smooth thick sauce, then add the grated cheese and stir until melted. – set aside whilst you make the filling…
in your shallow casserole dish, heat some olive oil and butter and then saute the mushrooms with a little oregano, rosemary and thyme until soft, use a medium heat and let them really gently sweat down, after about 10 minutes add a lot of freshly grated pepper and then cook for a further 5 mins or until soft and golden – remove from the dish and set aside
add a little more olive oil to the pan and throw in your celery, garlic and onion and let them gently sweat until soft – roughly 8 minutes, then remove and mix with the mushrooms in a bowl.
turn the heat to very low, add 2 tablespoons of water to the pan and pile your greens in – pop the lid on and let them soften for about 5 mins – remove and set aside.
now it's time to construct the lasagna… I started with a layer of kale followed by a layer of  mushrooms and onions, then a layer of lasagne pasta, then béchamel and then repeated until used up… finish off with the béchamel and perhaps a sprinkling of grated parmesan or cheddar
bake in the oven for 30 mins until piping hot and serve immediately
eat and of course, enjoy!