… is there anything better than a cup of tea… quite frankly I think not.  Whilst The Viking is a coffee fan (and when I say fan, I mean more of an addict,) I am most definitely a cup of tea person.  For me it goes all the way back to childhood, being at home with the family and I guess mum being a good northern lass, it seems that all of the worlds problems were solved with a decent cuppa.  Of course with my mum it couldn't be any old cup of tea it would always have to be the real deal, tea-leaves, the whole ritual from warming the pot to the fine china mugs and this was for all eventualities not just special occasions.  I even remember writing a very important essay when I was about 10 years old on the origins of tea, it had hand-drawn pictures and everything!  I start my mornings with a very strong cup of tea, with milk, no sugar and it's only when that cup is finished that the day can properly start.  So it's a good thing that the folk at Twinings have been kind enough to share with me two of their most wonderful teas so I could create an advertorial with them; the English Strong Breakfast and the Earl Grey, both of which happen to be my favourites and with Twinings you know you're getting a beautiful cup of tea because they are a quality tea brand with over 300 years of experience so you can really taste the care and attention that goes into every cup!
I can't eat cake without cup of tea.  This may sound like a very British thing to do but somehow it doesn't seem right… it makes the cake taste better, like a warm hug on a cold night… and we're a fussy lot us Brits, we like our cakes just right and much like baking a cake, making tea is a step by step, complex process but then this is what helps deliver such a great cup.  The brilliant thing is that i've been encouraged by Twinings to use their tea in my recipes, so it's like the ultimate double whammy – tea and cake in one!  I've made two glorious bakes, one with the Earl Grey which I shall share in another post but for this post i've used the English Strong Breakfast.  Strong by name, strong by nature.  Bold and full of flavour. The Twinings Master Blenders have travelled the world to find the perfect balance of leaves from the best tea gardens in Assam, Africa and Sri Lanka. Of these, the African teas grown to the East of the Great Rift Valley make it particularly special. East of the rift, African teas get the perfect amount of sun and rain. They add a real brightness and character to this blend.  For a bold lively taste – the perfect cup if you like your breakfast tea a little stronger like me!
english strong breakfast tea, tear and share sticky buns
this recipe may seem a little simple but I wanted to keep it that way so that you could really taste the tea… so i've eliminated any spices and kept the flavours clean and it's worked really well… the sultanas have a good hour to really soak up the tea and they add moisture, flavour and plumpness to the buns, each one bursting with a wonderful tea taste…  and to top it all off i've even used milk in the icing so these buns really are like a classic cup of tea…
for the sticky buns
500g strong white bread flour
250ml luke warm water
100ml milk
7g (1 teaspoon) fast action yeast
7g (1 teaspoon) salt – I use regular table salt for bread baking
1 tablespoon melted butter
for the filling
2 twinning english strong breakfast tea teabags
100ml boiling water
100g sultanas
100g almonds – roughly crushed
100g hazelnuts- roughly crushed
100g dark brown sugar
for the glaze
150g icing sugar
2 or 3 tablespoons milk
place all the sticky bun ingredients into a large bowl and bring together with a rubber spatula until roughly combined then tippet onto a lightly flour-dusted surface and knead well for 10 minutes – this can be done easily in a stand mixer with a dough hook attachment for 15 minutes
once beautifully glossy, place into a week oiled bowl, cover tightly with clingfilm and set aside for the first prove during which it should double in size – roughly one hour.
meanwhile place the sultanas into a bowl along with the teabags and cover with boiling water and let this steep for at least an hour
pre-heat the oven to 200C, oil and line a 22cm loose-bottomed cake tin
place a large rectangle of greaseproof paper on your work surface and lightly rub an oiled hand over it, then tip you proven dough onto the paper and gently tease the dough into a rough rectangle shape.  your should be able to get it easily to 30cm x 15cm
sprinkle this surface with dark brown sugar, followed by the sultanas and crushed nuts ensuring you have an even coverage all over the dough
carefully,using the greased proofed paper as leverage, roll up the dough from the long edge… I find it easier to roll backwards away from myself then cut the long sausage into 6 even rings, placing each one into your cake tin to create a pretty flower shape with one ring in the centre and the other five evenly around it – cover with cling film and set aside for 30 mins to prove
bake for 10 minutes on 200C followed by 25 minutes on 180C or until beautifully golden, once it's out of the oven brush with a little honey and let it cool completely in the tin
to make the icing simply whisk the milk into the sugar… you want a thick paste that can be literally drizzled all over the bread.
… excitingly this post doesn't just end with me eating cake and gloating about tea… no, you guys get the chance to win some lovely Twinings tea too… I have 1 box of Earl Grey with 100 tea bags, 1 box of Spicy Chai with 20 envelopes and 1 box of English Strong Breakfast with 80 tea bags to give away to one lucky Belleau Kitchen reader.  All you have to do is answer the simple question given in the little widget below…
a Rafflecopter giveawayhttps://widget-prime.rafflecopter.com/launch.js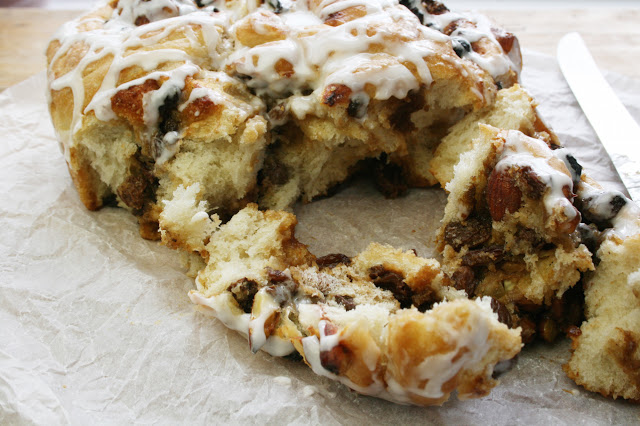 eat and of course, enjoy!