… so I thought i'd pick up the sugar-free baton again now that we're getting closer to my very exciting collaboration with Leisure Range Cookers – more on that later in the summer but  I need to get into practice and there's nothing I love better than spending the weekend pottering in the kitchen, testing recipes and trying new ingredients.  If i'm honest, when I started trying our sugar-free recipes I really wasn't convinced i'd last and anyone who can recall the rancid sugar-free chocolate cake I made a month or so back will probably be aghast that i'm even attempting this trend again but here I am and having done much more research and quite a bit of purchasing I've found two recipes which i've adapted that I am supremely pleased with…
…the first is a basic brownie recipe by the delightful John Whaite, he of Great British Bake-Off fame.  It uses divinely sweet medjool dates to replace the sugar and a banana for extra sweetness.  I've added the fennel seeds for a sophisticated aniseed hit along with some almonds and ground almonds for some crunch.  It's not 100% what you'd call a 'clean' cake because it uses butter but let's face it, a brownies true purpose in life, its foundation if you will, is butter so I have to forgive this recipe and they really did taste wonderful…
… the second brownie recipe is by my new favourite chef turned food-writer Henrietta Inman who's brilliant book Clean Cakes has been a revelation to me.  It doesn't condescend and explains things in a clearly considered way.  It is very worthy but unlike the Deliciously Ella's of this world, Henrietta's work comes from years of experience as a pastry chef so you get the impression that she knows what this shit is supposed to taste like and not replacing sugar with brick dust.  I've messed around with the original recipe slightly, adding desiccated coconut and banana again which I think has made them a little less rich. There are a LOT of ingredients i've had to purchase just to even try the most basic of recipes so it is more complicated and probably unlikely that you'd have this stuff in your average store cupboard but again the results were pretty phenomenal, if a little less traditional tasting…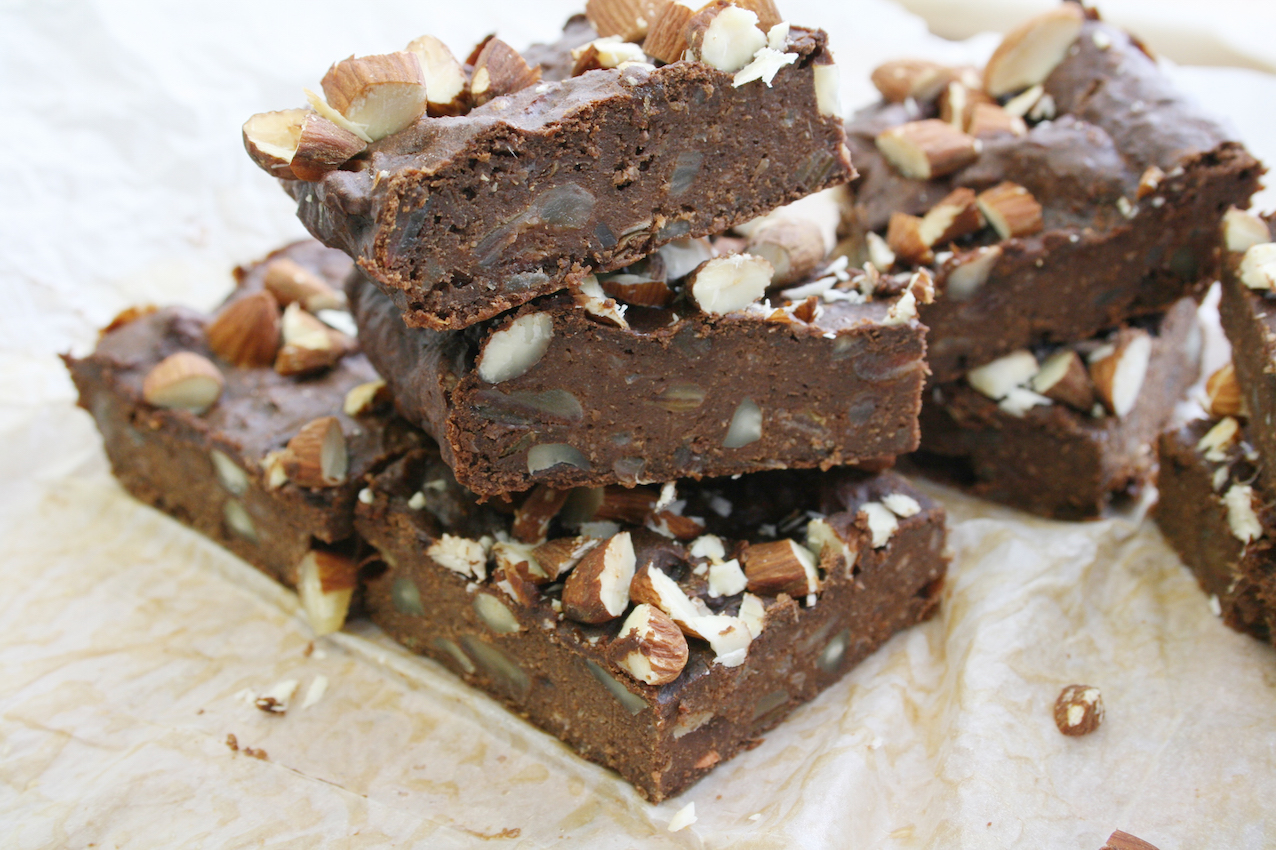 sugar-free date, almond, fennel seed and banana brownies
it's undeniable that sugar-free baking can sometimes be a little complex with lots of ingredients needed to enhance the texture and flavours that you lose from not using refined sugar. It's not that those ingredients are rare it's just that they're not your usual 'store cupboard' regulars and so I was keen to go back to basics with this recipe and try and knock-out something that was pretty simple to do, had mostly ingredients that you'd be likely to have in your cupboards already but that was still sugar-free and of course ultimately tasty. These brownies really hit the spot and not only are the divine but they are super-easy to make!
200g pitted medjool dates – chopped
100ml boiling water
1 very ripe banana – mashed
50g wholemeal rye flour
25g ground almonds
75g unsweetened cocoa powder (or raw cocoa powder)
130g unsalted butter, melted
2 teaspoons fennel seeds
2 large free-range eggs
1 teaspoon vanilla bean paste
100g almonds – roughly chopped
preheat the oven to 180C/160C fan/gas mark 4. Grease and line the base and sides of a 20cm square cake tin
place the chopped dates in a bowl and pour over the boiling water and leave to soak for about 15 minutes
gently melt the butter in a small pan along with the fennel seeds so they infuse into the butter
after 15 minutes, spoon the dates into a blender or food processor along with the banana and blitz until they are shredded, then pour in the melted butter and fennel seeds and add the rest of the ingredients, except for the chopped almonds and blitz again until you have a thick glossy paste
stir in 2/3'rds of the chopped almonds and then spoon the mixture into the brownie tin and sprinkle the remaining almonds on top
bake for 15 – 20 minutes until the top is firm to the touch – set aside on a wire rack to cool completely in its tin, then cut into squares
chocolate, coconut and banana truffle brownies
these are very special and you can tell by the way Henrietta writes about them that they're going to be special so I was very excited about making them… of course I wanted to compare them to the less complicated versions above but I also used ingredients I already had and added a few of my own and as I say above the results really are rather wonderful and with their fudgey richness a complete contract to the others which makes me more than happy…
100g raw virgin coconut oil
150g raw cocoa powder
250g coconut sugar
1teaspoon sea salt flakes
4 large free-range eggs – beaten 
1 ripe banana – mashed
1 teaspoon vanilla bean paste
80g brown teff flour
50g desiccated coconut
50g coconut flakes
100g pecans – roughly chopped
preheat the oven to 170C and grease and line a 30cm x 20cm brownie tin
add the sugar, salt, flour, half the pecans and desiccated coconut to a large bowl and stir together
in a small pan over a very low heat, melt the coconut oil then add the cocoa powder and stir in until you have a glorious shiny liquid, then pour this over the coconut sugar and flour mix until combined then add the beaten eggs, vanilla and banana and stir vigorously together
pour into the brownie tin and sprinkle over the remaining pecans and the coconut flakes
bake for 15 to 20 minutes until the flakes are toasted and a skewer inserted comes out clean then cool on a wire rack.  serve in small slices as this is very very rich…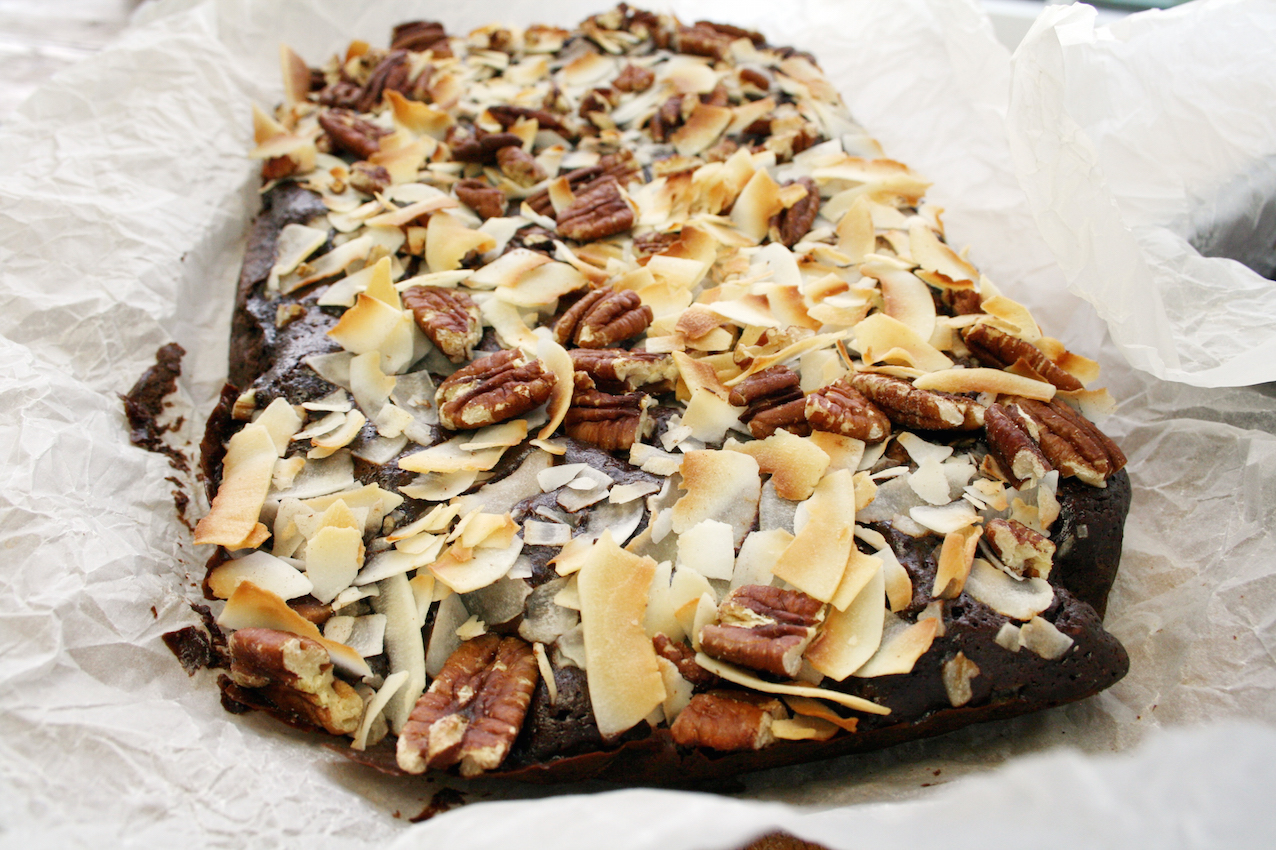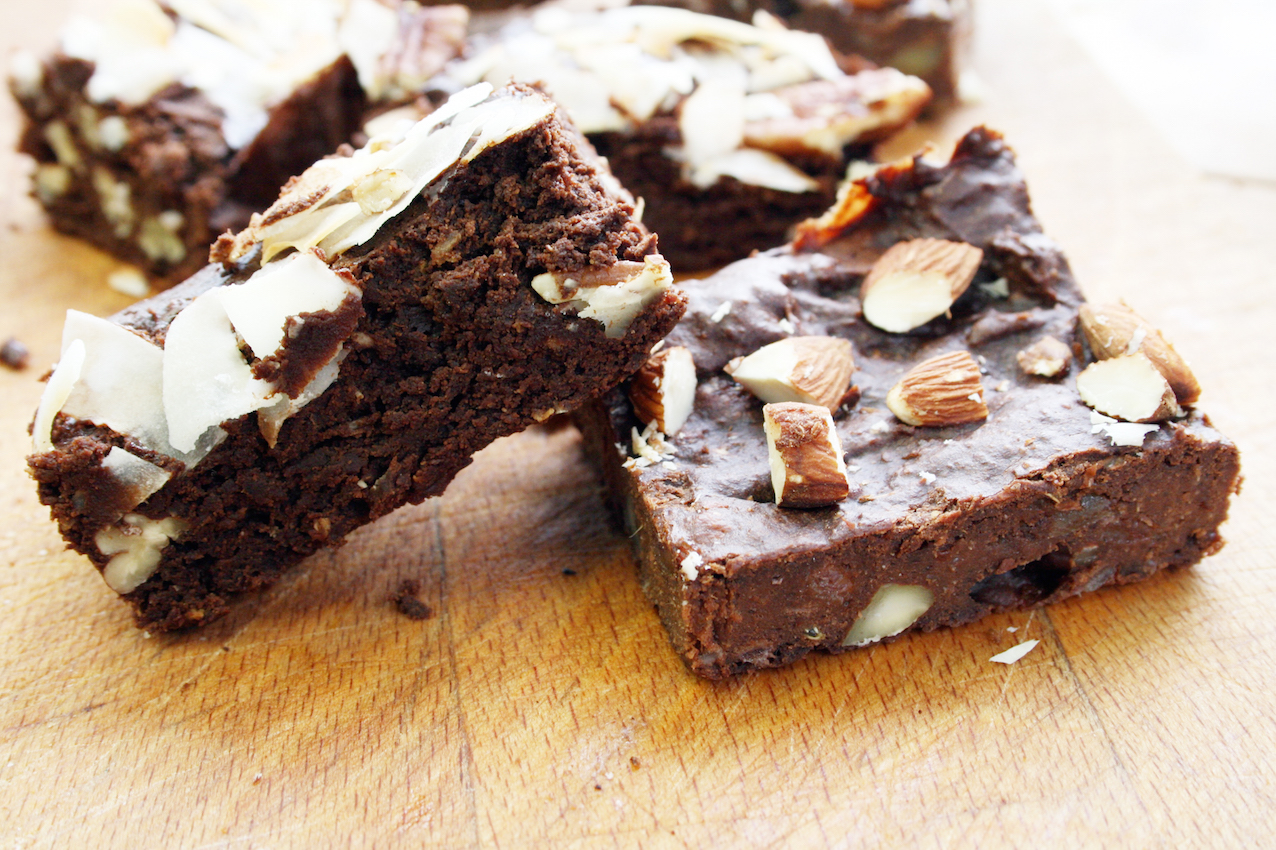 i'm entering these chocolate brownies into the brilliant
we should cocoa
link-up which has been so expertly hosted by Choclette from
Tin and Thyme
over the years that it's become something of a bloggers institution and I encourage you all to take part if you can, particularly this month as the theme is the very free and easy 'anything goes'
eat and of course, enjoy!