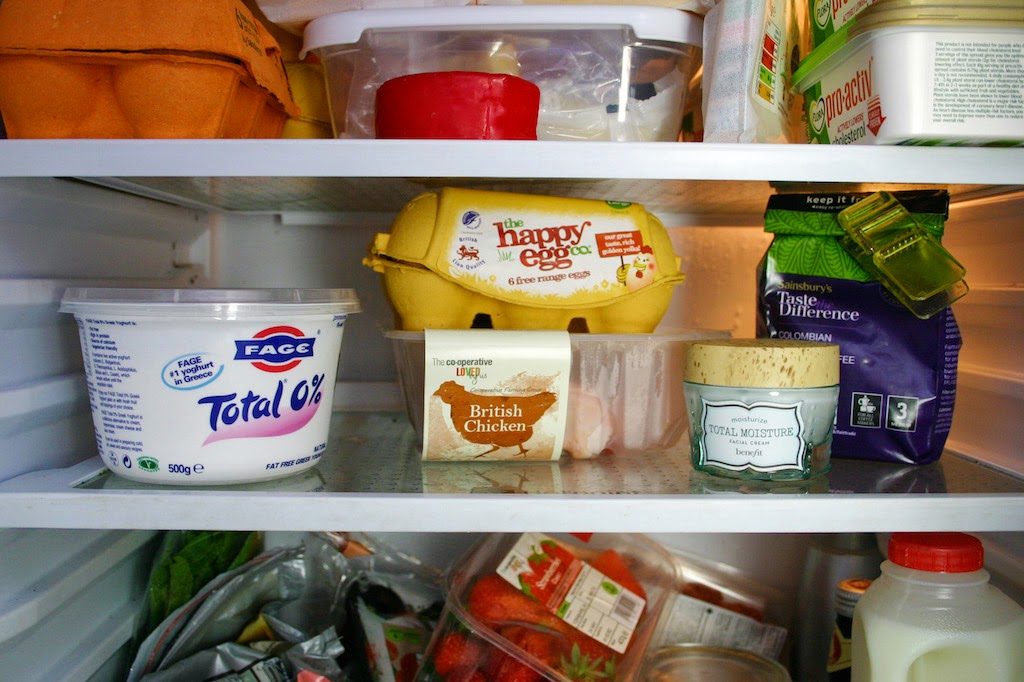 … last year I had an enjoyable time sharing my top 10 store cupboard ingredients.  It was actually a cathartic experience and one I know made many of you think about your 'can't-live-without' items… this year the good people at Beko, who make a wide range of superior fridges, freezers and fridge-freezers have asked me to name the top 5 things in the fridge that I simply must have… besides milk and butter, we all have those essential items in the fridge we can't live without, the kind of things we grab when all else fails and you realise that with these items you could rule the world… or at least knock up a delicious meal without having to leave the house.  They're also the first items I would purchase and stock a new fridge with or a fridge in a new or holiday home.  They make me feel confident that at least one thing in life is covered and should the hoards descend or the zombie apocalypse finally happen, things will be OK…
… so, without further ado here are the top 5 things in my fridge I can't live without…
I never used to be a big fan but The Viking is a coffee fiend and I guess it just rubbed off on me.  I think if we were stranded on a desert island this would be the number one luxury item we couldn't live without.  It's a total addiction and whilst I don't consider myself to be a fresh coffee snob I have most definitely not drunk instant coffee for close to 10 years… Like all fresh products it needs to be kept in the fridge.  I'm not really a brand queen when it comes to coffee and who needs to be when you can purchase the Sainsbury's Taste the Difference, Fairtrade Columbian and the Co-opertive Fair-trade Ethiopian which are both very good indeed.
There is only one Greek Yoghurt and that is TOTAL made by Fage.  They do a few different varieties and i'm not fussy.  This moth i'm all about the 0% which is perfection.  I use it in so many things from scones to sauces to soups to smoothies to just eating it directly from the tub.  It feels like a treat because it's so thick and luscious and it peps up so many dishes yet I can also serve it alongside a slice of chocolate cake and it feels so sophisticated.  I guess I could live without it but i'd be a very grumpy boy.
Benefit Cosmetics Total Moisturiser
bit of a tough call between this and cheese but cheese is such a large category and I can't really rub cheese on my face for younger-looking skin.  Ever since my good friend and ex-model Jenny told me that she keeps much of her beauty regime in the fridge i've been doing the same with my moisturiser. I don't know entirely how true it is but I believe it lasts longer and there's nothing better than applying a cool cream to your face in the morning… this Total Moisturiser by Benefit is truly brilliant and yes, I do work for them but I still choose to buy the stuff myself because I know results when I see them.  Many people are un-aware they even do a skincare range but this stuff has one numerous awards.   It's super-thick and in fact I don't use it every day so keeping it in the fridge extends its shelf life for sure.
of course no Belleau Kitchen Top 5 would be complete without the chicken thighs… I haven't always been cooking with them but since I discovered how inexpensive and tasty they were about a decade and a half ago i've never looked back.  Chicken thighs are simply heavenly.  They have an incredible balance of meat to fat ratio that's not really found anywhere else on the bird and therefore take a long slow roast really well.  They impart their gorgeous juices into any veg that you cook them with and you can serve up a pretty impressive, filling and tasty one-pot meal with very few ingredients in the house.  All the major supermarkets sell them in packs and they really are so cheap you can afford to buy the best quality free-range chicken, so no excuses… make sure they're skin-on and bone-in for extra flavour… and of course I have over 25 chicken thigh recipes on my blog!
Free-range Eggs – large
… I love eggs. One of my favourite simple pleasures is a fried egg on toast, the white a little crispy at the edges and the yolk firm yet just runny enough to ooze its golden gloriousness all over the buttered toast and probably my chin.  Like all food eaten in moderation eggs are good for you. Eggs are one of the most nutritious foods money can buy – they are a natural source of many nutrients including high quality protein, vitamins and minerals, plus a medium egg contains less than 70 calories which is a win win if you ask me. Eggs are naturally rich in vitamin B2 (riboflavin), vitamin B12, vitamin D, selenium and iodine. They also contain vitamin A and a number of other B vitamins including folate, biotin, pantothenic acid and choline, and essential minerals and trace elements, including phosphorus.    I'm loving the gorgeous Happy Egg Co eggs at the moment as they believe in the welfare of those chickens and of course a nice cosy farm-life means tasty eggs…
fyi i've not included cheese in this list as quite frankly that would take up the entire list and deserves it's own list… it's own post… oh heck, it deserves a dedicated blog… you get the point…
and there you have it… I wonder what your top 5 fridge essentials are?
… oh and fyi to any PR people out there who are developing ideas to work with food bloggers.  The above post is not usually the kind of thing that would appear on Belleau Kitchen but I chose to take part in the campaign purely because the email I received from the PR agency was one of the most genuine and honest emails i'd ever received.  The sender didn't patronise me by telling me they were fans of my blog, they introduced themselves and got straight to the point.  A point that made sense and had genuine synergy with the blog of someone who likes food.  They also offered me a voucher for a decent high-street department store with a pretty nice monetary value that felt like they'd actually planned their budgets properly and been honest to their clients…
eat and of course, enjoy!