… back in the big smoke for a meeting or two and I think we're now very sadly well and truly past the summer here in the UK.  We've still experiencing some warm sunny days but I think those lusty heatwave days of June and July are behind us as there is most definitely a chill in the evening air… and yes it is more than possible that we'll recover from this and have a glorious Indian summer in September but let's not kid ourselves here… we had it good and now it's over.  Let's pack up the bikini's and the skimpy shorts, pull out the duvets and the warm baggy jumpers and get on with Autumn like good boys and girls.  I for one am glad all the sweating, sucking-in and salad eating is over and The Viking and I can finally pull on the elasticated pantaloons and eat proper food…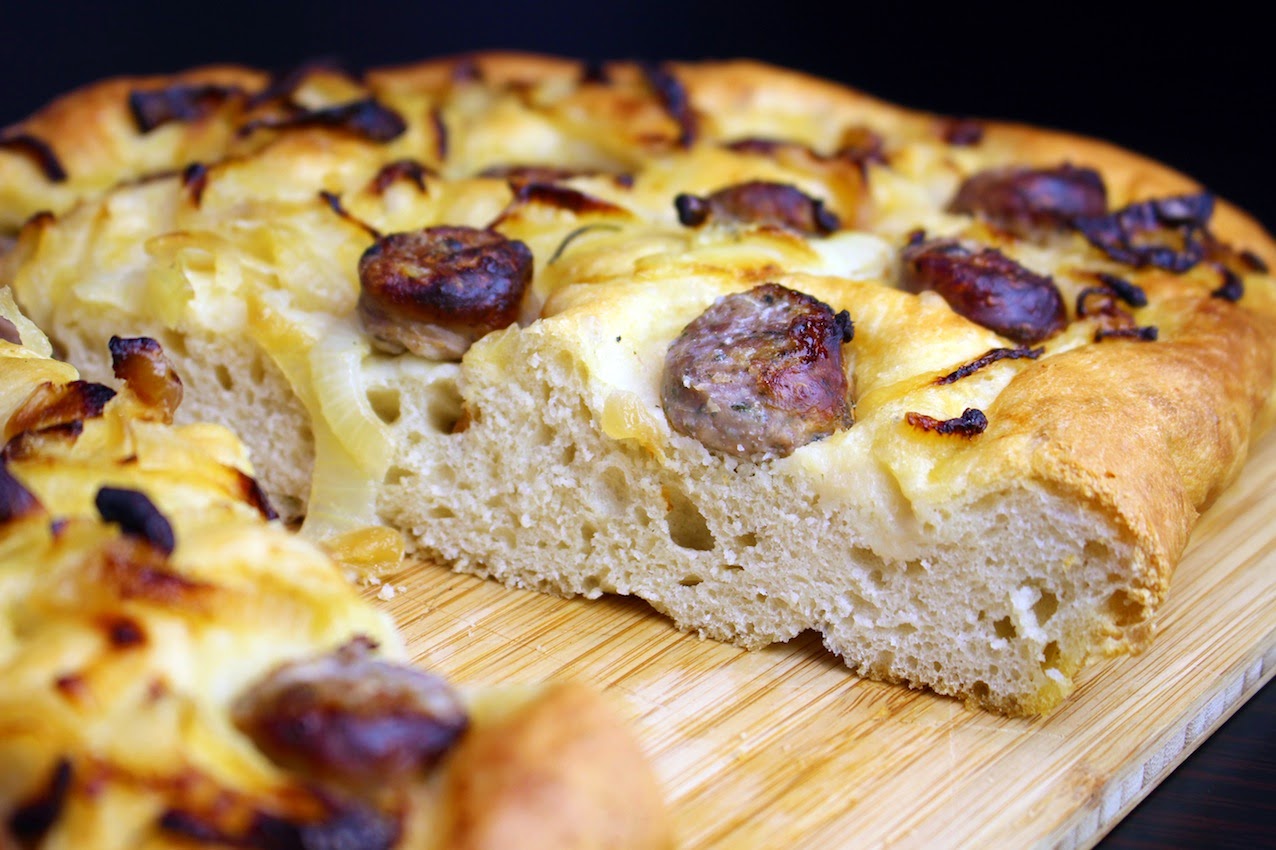 sausage and caramelised onion focaccia
the fine people of Edinburgh may be up for a laugh at this time of the year but they're not giggling so much when it comes to sausages which they take very seriously… particularly the incredible Crombies who very kindly sent me a selection of their infinitely superior sausages… and yes I thought, like you're probably thinking, how can one sausage really be so much better than any other but believe me, these are particularly good sausages.  Old-fashioned in the good kind of way – they split beautifully down the middle when baked – yet firm enough to sit nicely on a fork or make it into a sandwich. Most of the sausages they sent me didn't get any further than breakfast but I saved the Pork with Caramelised Onion and the Piggy Black (made with black pudding) for these focaccia bread pizza's…
the viking just had to have his with an egg this morning
… being the good boy I am I also made a veggie version for The Viking using Quorn sausages…
makes 2 focaccia loaves in two 30cm x 20cm baking trays
for the focaccia
800g strong white bread flour
650 ml water
2 teaspoons easy bake yeast
2 teaspoons salt
plenty of extra virgin olive oil
2 or 3 large sprigs of rosemary
plenty of sea salt or kosher salt flakes
2 very good quality sausages (or veggie sausages) of your choice – thinly sliced
for the caramelised onions
3 large white onions – halved and thinly sliced
olive oil
butter
seasoning and fresh rosemary
start with the onions… heat the oil and a generous amount of butter in a pan, then turn down the heat to a low-medium, add the onions, stir and let them gently caramelise for at least 30 minutes.  Stir regualry so they don't catch and season half way through with salt and pepper and some rosemary… you don't want them completely golden, more a pale gold as they will go darker in the oven – set aside
I have a step by step photo guide to the low-knead method 
here
 but it's not too hard to follow with these notes:
place the flour, yeast and salt into a very large ceramic bowl and then pour over the water and bring it all together with a rubber spatula until you have a sticky mess – clean the spatula as you'll need it again shortly, then cover the bowl with a tea towel and set aside for 10 minutes
drizzle a generous amount of oil onto your work surface and spread it around with your hand, then with the oiled hand remove the dough from the bowl and place it onto the oiled surface, use the spatula to scrape out the bowl.  Take some oil and drizzle into the bowl and wipe around the inside of the bowl.  Now knead the dough 8 times then place back into the bowl, cover with a tea towel.
repeat this twice more then cover the bowl in cling film and set aside for an hour or until the dough has doubled in size
oil your surface one final time and remove the dough from the bowl and punch it down, fold it over itself and punch down again, turn one quarter, fold and punch, repeat twice more and set aside
sprinkle some olive oil into both baking trays and spread around with your hands, now cut the dough in half and place each half into one of the baking trays and push it out to the edges… it won't fully cooperate but play with it quite freely and it will stretch, then set aside for 30 mins and during this time it will fill the trays and rise a little
oil your finger and push regular indents into the dough, and spread each focaccia with the onions, then the slices of sausages – I then drizzled the veggie version with a little more olive oil before it went into the oven
bake on 190C for 20 mins or until it starts to turn golden then remove from the oven and generously drizzle the top of each focaccia with more olive oil and then sprinkle with salt… you can be as generous as you like here, I like it very salty but the viking was not so keen
set aside to cool for a few moments before tearing apart with you teeth
the veggie version… just as good
eat and of course, enjoy!