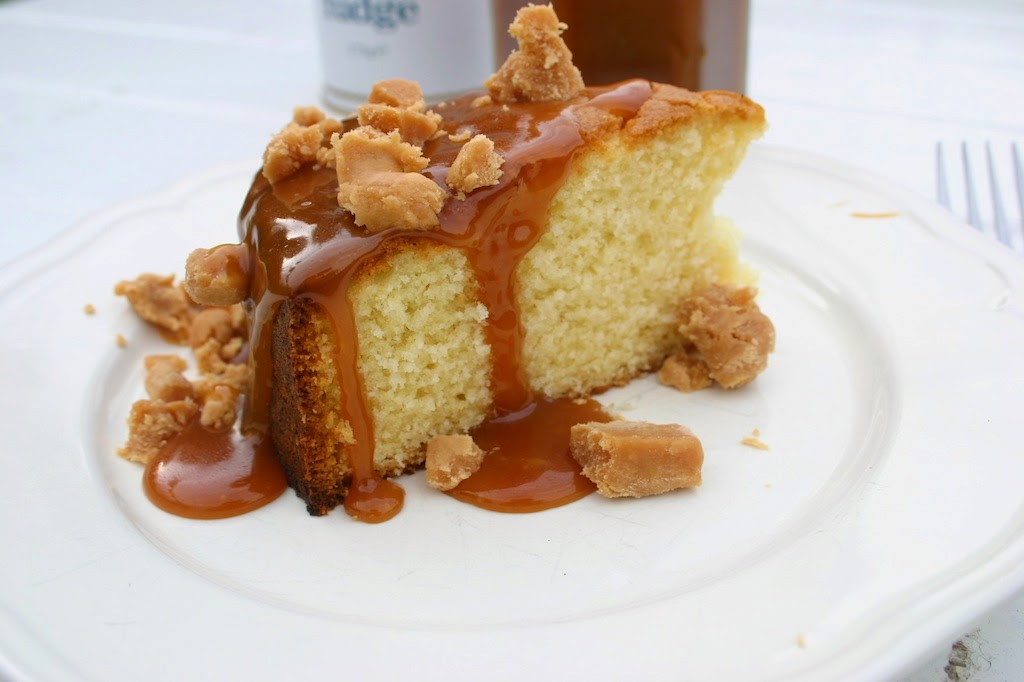 … with the local Village Show still bitterly burning a hole in the back of my mind I can't help thinking about what really constitutes the perfect scone.  Who are we to say that one scone recipe is better than the other and how can we be judged on that one teeny slither cut by a little old lady from the WI particularly when we all know that the humble scone is merely the vehicle for jam and clotted cream.  Ok, there may be a few of us who like the odd nibble of a scone naked, fresh and still warm from the oven but you can't beat it smothered in butter, spread with raspberry jam and topped with something thick and creamy… and of course if you're striving for perfection there is only one place to go to for the best in clotted cream and that is of course the wonderful, the traditional, the classic, the very Cornish… Rodda's.  I've been a fan for years and I know that many of you out there are also fans, so hopefully you'll enjoy this little post and giveaway…
clotted cream cake with clotted cream caramel
to celebrate the creation of their gorgeous new video highlighting the beautiful cornish landscape and the origins of the traditional cornish cream tea the good people at Rodda's have commissioned me to work with them to develop some simple and delicious recipes… as you can imagine I found this process dreadfully difficult to partake in, the things I have to put myself through in the name of this blog… but I struggled through the mounds of thick, fresh, clotted cream and came out the other side to deliver you this stunning cake for starters… I also think I invented the clotted cream custard ganache by pure accident, although as in all things food, i'm sure there's someone out there who may have got to this first…
… plus (as if giving you pictures of this cake isn't enough) because the kind people at Rodda's don't want me to be the only one relishing in all things creamy, they've been good enough to offer one lucky reader of my blog the chance to win a hamper stuffed to the gills with yummy Rodda's goodies, including the new clotted cream custard so you can have a go at inventing your own ganache too!  All you have to do to be in with the chance of winning the hamper is watch the beautiful film and answer a simple question which you'll find in the rafflecopter gadget below.
for the cake
2 large free-range eggs
225g white caster sugar
2 teaspoons best quality vanilla essence
1 x 225g tub of Rodda's Cornish Clotted Cream
A large pinch of salt
200g self-raising flour – sieved twice
I used a 20cm loose bottom cake tin which I greased and double-lined with parchment paper (this cake is very pale and turns golden quickly)
for the salted clotted cream caramel sauce
200g sugar
80g salted butter
100g clotted cream
60ml double cream
2 tsp sea salt flakes
start with the caramel sauce by gently heating the sugar in a large pan (choose a pan larger than you would imagine you need) and stir it constantly until it melts completely and begins to turn a caramel colour
next add the butter and the clotted cream and stir – be careful at this point as the butter will make the sugar bubble up the pan… stir until the butter and cream have melted then slowly pour in the double cream and stir all the time
allow the caramel to come to a boil for one minute or so and then remove from the heat and stir in the salt – set aside to cool
pre-heat the oven to 170C
remove the clotted cream from the fridge – it needs to be room temperature before you use it
put the eggs, sugar and vanilla into a large bowl and whisk until you get a very pale very fluffy consistency and the eggs begin to thicken, then add the salt and whisk in
spoon in the cream followed by the flour and then, using a rubber spatula gently fold the mixture together until thoroughly combined… don't knock the bowl, you want to keep the air in the eggs.
pour into your cake tin, smooth the top and bake in the oven for 40 – 50 minutes until golden and risen and a skewer inserted comes out clean – set aside on a wire rack to cool
serve by pouring the clotted cream caramel course over each slice and crumble over some clotted cream fudge… enough clotted cream?
a Rafflecopter giveaway//widget.rafflecopter.com/load.js
eat and of course, enjoy!