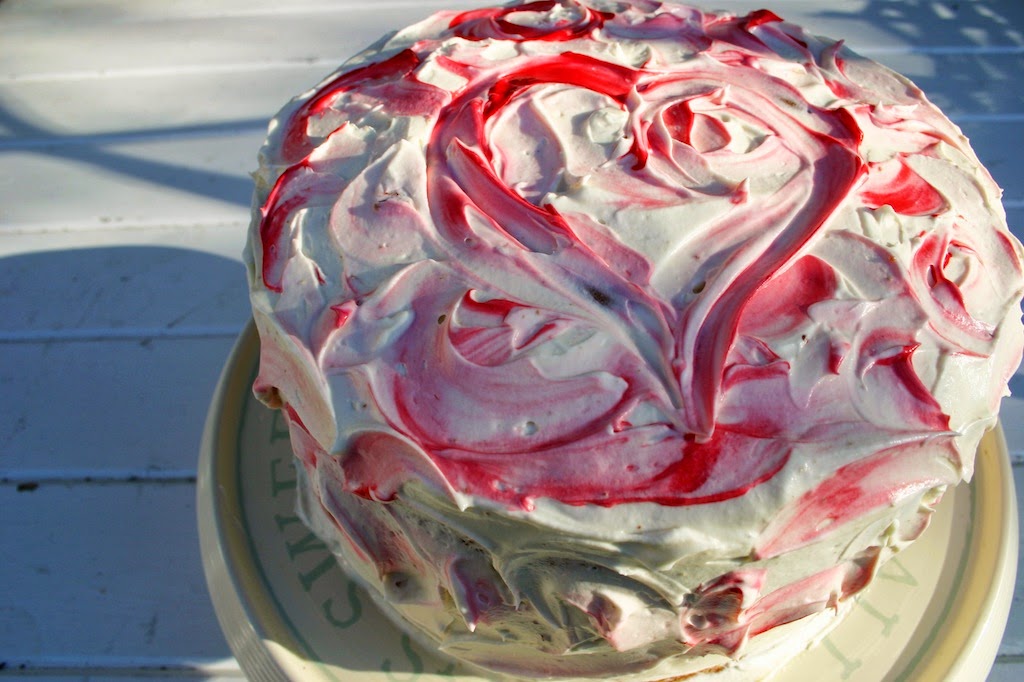 … one of the wonderful things about living in the middle of the countryside is that when you find your community they tend to stick to you like family and like any family there are those cousins you love, those annoying uncles you'd rather not have to sit next to at the family gatherings and those brothers or sisters who are more like best friends and whatever you think about them and however flaky you can be they're still there for you through thick and thin… sometimes in fact they can easier than real family as there's no guilt involved and no 'must-do's' and 'have-to's'… also, like all families and unlike one's contemporaries, there's no age barrier whatsoever.  The age-range of our little community starts with the newborn Gracie and reaches all the way to 92 year old John… I think it's amazing that my amongst my very good friends I can count Tina and Mick who are my age alongside their son Mathew and his fiance, new 'family' member, Hayley…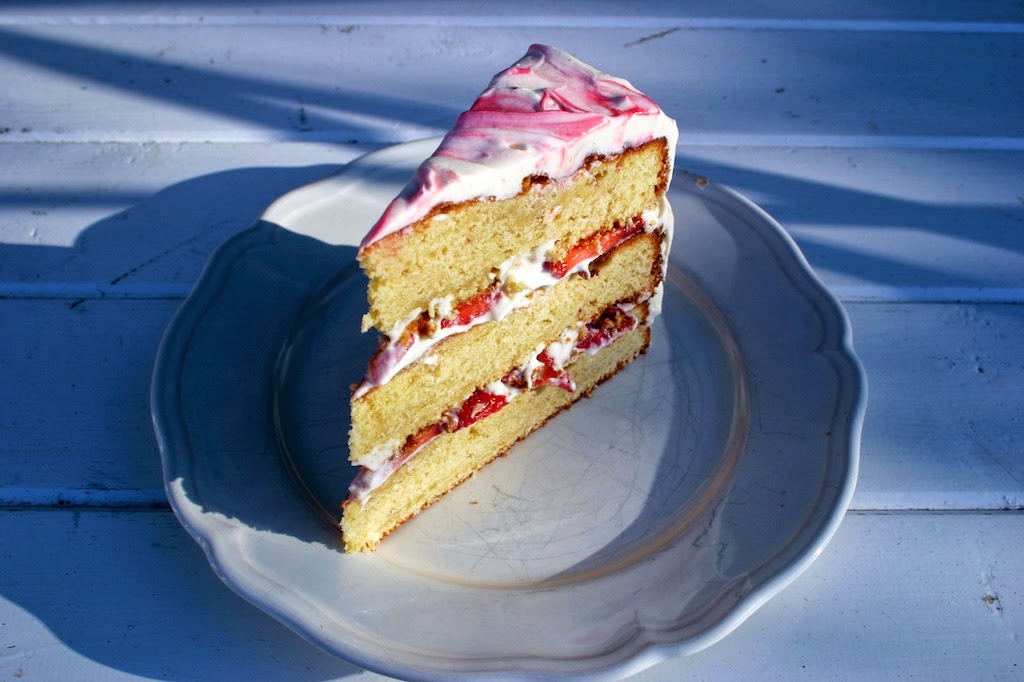 triple layer strawberry jam cake
to celebrate Matt and Hayley's engagement party I was asked to bake a cake… always happy to oblige but I knew i'd only have a few hours to get the baking in so it had to be a simple tried and tested recipe… I went for this swirly jam cake as I thought it was impressive enough for photo's a little bit fun whilst also having that touch of romance about it… it went down very well and I apologise for the pictures but the sun came out as I was taking the shots and ruined my ambience and I quite literally had to run it over to the happy couple with seconds to spare…
… honourable mention goes to my neighbour Tracey for suggesting I use a little red food colouring to add the swirls when I was running out of time and the strawberry jam simply wouldn't do the trick…
for the sponge
6 large free-range eggs
400g slightly salted butter – room temp
400g sugar
400g self-raising flour
3 tablespoons smooth strawberry jam
2 teaspoons rose water essence
fresh strawberries

for the icing
200g full fat cream cheese
a little red food colouring
fresh strawberries – sliced
to make the sponge, place the butter and sugar in a very large bowl and beat with a wooden spoon until light and fluffy (this can of course be done with a stand mixer or electric whisk.)
add two eggs and beat in until combined, then follow this with a third of the flour, again beating in until combined.  Continue adding eggs and flour alternately until it's all gone and you have a smooth batter.  Add the jam and the rose essence and beat in again.
divide between the three lined and greased cake tins and bake on 170C for 25-30 mins or until golden and risen.  Take them out of the oven and cool on a wire rack for 5 mins before turning out to cool fully.
to make the icing simply combine all the ingredients except for the red colouring and whip until thick and spreadable
place one sponge on your cake stand and spread a nice thick layer of the icing evenly on the surface and then cover with sliced strawberries, place the second cake on top and repeat the process and then finally place the third cake on top. 
now spread the remaining icing roughly onto the cake tower then take a small knife and swirl teeny drops of the red food colour into the white icing for a pretty finished look.

this cake makes the perfect entry for this month's tea time treats bloggers challenge founded by Karen from Lavender and Lovage and hosted this month by Jane from The Hedge Combers as the theme for this month is Decorative Cakes.
eat and of course, enjoy!