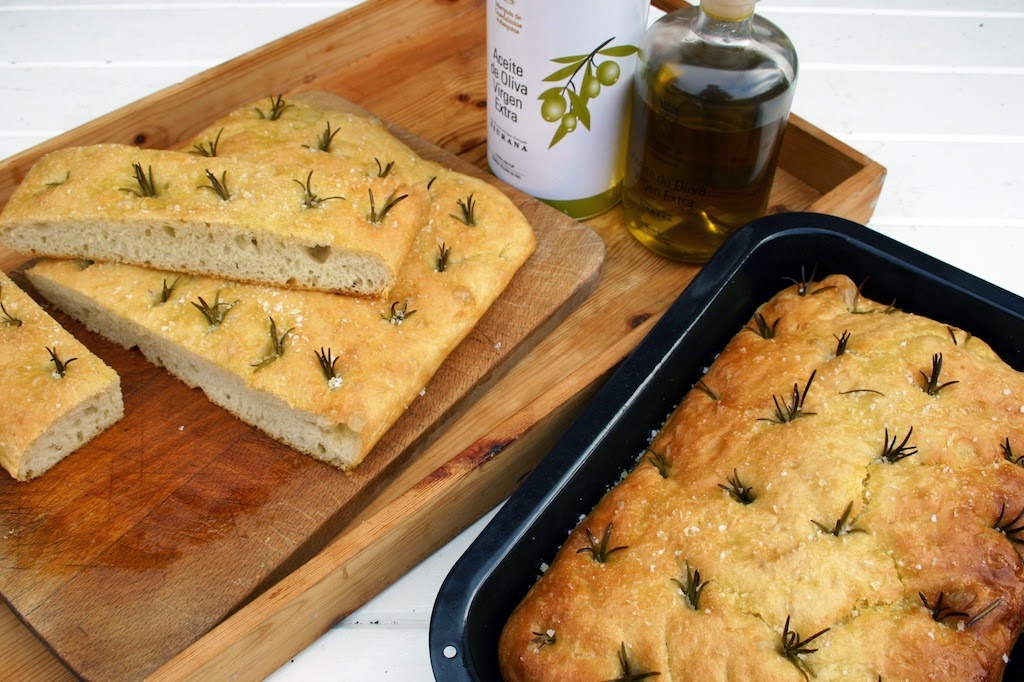 sometimes it's the simple things in life that are the best and whilst I've sung praises about the low-knead bread baking method on numerous occasions I love it so much that it's now my 'go to' method for all bread types.  It produces a wonderful, natural airy quality to the finished loaf that I have found a struggle to achieve using the regular full-knead method that I simply don't bother now.  One of the great things about this method is that the wetter you dare to allow the flour to get the more 'Italianesque' the finished loaf will be, you can really go to town with additions such as olive oil and herbs too.
I always think the best focaccia bread has a cakey, pizza dough quality to it and it's one of the only breads that you can eat directly from the oven, after it's been drenched in oil, so you get that instant pizza-base hit that I adore… not genius for the waistline but who counting?
rosemary focaccia
sometimes when you know an ingredient is so good you really don't want to mess with it too much in order to fully appreciate the taste… this is how I feel about this glorious bottle of Marques de Guadalmina extra virgin olive oil which is why this simple, rustic focaccia was the first thing that came to mind when I tasted the divine liquid.  The oil has a grassy quality to it that I love in an olive oil, yet it doesn't taste acrid or too ripe, there's a depth of favour that makes this the perfect oil to use as a condiment rather than just a cooking aid…
makes 2 focaccia loaves in two 30cm x 20cm baking trays
800g strong white bread flour
650 ml water
2 teaspoons easy bake yeast
2 teaspoons salt
plenty of extra virgin olive oil
2 or 3 large sprigs of rosemary
plenty of sea salt or kosher salt flakes
I have a step by step photo guide to the low-knead method here but it's not too hard to follow with these notes:
place the flour, yeast and salt into a very large ceramic bowl and then pour over the water and bring it all together with a rubber spatula until you have a sticky mess – clean the spatula as you'll need it again shortly, then cover the bowl with a tea towel and set aside for 10 minutes
drizzle a generous amount of oil onto your work surface and spread it around with your hand, then with the oiled hand remove the dough from the bowl and place it onto the oiled surface, use the spatula to scrape out the bowl.  Take some oil and drizzle into the bowl and wipe around the inside of the bowl.  Now knead the dough 8 times then place back into the bowl, cover with a tea towel.
repeat this twice more then cover the bowl in cling film and set aside for an hour or until the dough has doubled in size
oil your surface one final time and remove the dough from the bowl and punch it down, fold it over itself and punch down again, turn one quarter, fold and punch, repeat twice more and set aside
sprinkle some olive oil into both baking trays and spread around with your hands, now cut the dough in half and place each half into one of the baking trays and push it out to the edges… it won't fully cooperate but play with it quite freely and it will stretch, then set aside for 30 mins and during this time it will fill the trays and rise a little
oil your finger and push regular indents into the dough, then take a small sprig of rosemary and place it into each hole
bake on 190C for 20 mins or until it starts to turn golden then remove from the oven and generously drizzle the top of each focaccia with more olive oil and then sprinkle with salt… you can be as generous as you like here, I like it very salty but the viking was not so keen
set aside to cool for a few moments before tearing apart with you teeth
eat and of course, enjoy!