… this will be the fourth of my sous vide supreme trial posts and to be perfectly honest it is also only the fourth time i've used the machine.  Whilst the results are without doubt faultless I still find the whole process a little alien, slightly faffy and dare I say it 'anti-cooking', I simply don't see the point of it.  I'm sure if I ate more meat and I wanted to serve perfect steaks then yes, I would use it but to keep it out all the time is too much and I much prefer the hands-on approach to the cooking i've always done… i'm sorry but 6 hours to cook a steak is a pain in the arse, no matter how good the results…
… saying all this, the kangaroo fillet is breathtakingly tender and melts in the mouth like butter, so what do I know… as you can imagine i've never cooked kangaroo before although I have eaten an incredible carpaccio of kangaroo way back when The Viking used to run and bar and restaurant in London called Saint.  We had a lovely antipodean chef called Neil who was often experimenting with pacific rim flavours and back in the 90's was one of the forerunners of what has now become a very popular food style.  The kangaroo came to me from Kezie Foods as an exotic meat whilst the blackberry vodka came to me as a christmas present from lovely Lady Ann from the village who made it herself and is made with far less exotic, local blackberries.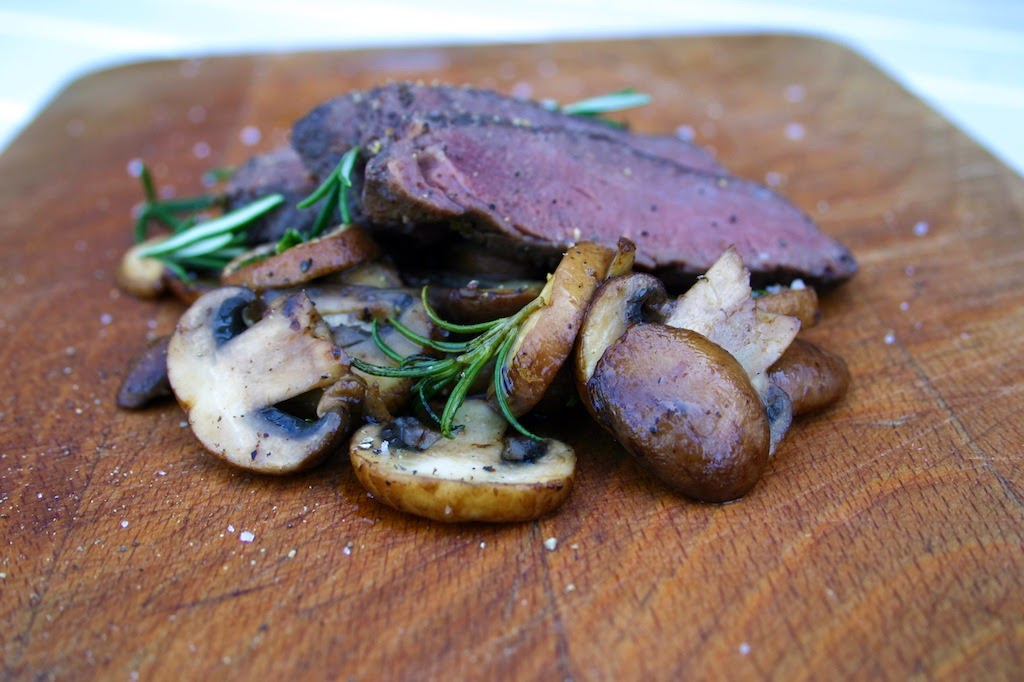 sous vide kangaroo with rosemary mushrooms and blackberry vodka
for the Cooking with Herbs challenge this month Karen from Lavender and Lovage has given us Rosemary as the key herb… when I think of rosemary I automatically think of mushrooms, I just think they were made to be cooked together, not only do they compliment each other beautifully on a plate but the incredible aroma of mushrooms sauteing in butter with the grassy fragrance of rosemary is simply stunning… if I could bottle it and sell it, I would.
serves 2:
1 x 225g kangaroo fillet
2 tablespoons blackberry vodka (any berry vodka would work – or sloe gin)
1 tablespoon olive oil
salt and pepper
200g chestnut mushrooms or small brown mushrooms – thickly sliced
2 springs of rosemary
butter and olive oil
salt and pepper
pre-heat the sous vide to 55C
place the kangaroo fillet into a vacuum seal bag along with the vodka olive oil and seasoning and seal.  once the sous vide is up to heat place the kangaroo into the sous vide and set the time for 6 hours
once your meat is ready, heat a large griddle pan or frying pan and melt some olive oil and butter
throw in the mushrooms and rosemary and gently saute for 10 mins, turning regularly, then season well with salt and pepper and once soft and starting to brown scoop out and set aside
increase the heat on the pan and once very hot cut the kangaroo out of the vacuum bag and tip the contents into the pan.  seal on both sides for roughly 3 mins then set aside on a cutting board for a few minutes whilst you plate up
eat and of course , enjoy!