… even though I enjoy a cup of coffee i've never been one of those 'must-have' coffee drinkers… for instance, the viking quite literally cannot get moving in the morning without a cup of the strong stuff and his is the kind of cup you could stand a spoon up in… I can function without that first cup and I believe that this makes me appreciate the taste just a little more – whilst the viking is simply after the caffeine I am happy to relax into a glorious cup of toasted, roasted beans… I appreciate the biscuity aroma of a pure arabica coffee but I don't need it injected direct into the vein…
… the good people at Carte Noire have launched a new range of capsules exclusively for use in Nespresso* machines, which is fantastic for those like the viking who simply can't wait for their coffee and even the thought of having to stand and wait for the process of kettle brewing, coffee steeping and cafetiere plunging is just too much!  There are four distinct flavours and each espresso comes with its own special character, luckily for my lack of caffeine addiction I can distinguish between these flavours and share my thoughts with you…
No3 – Elegant 
pure arabica beans that deliver a classic smooth taste… for me this is the ultimate breakfast coffee as the aroma is reminiscent of biscuits, oats and cereals… the easiest to drink and enjoy cup after cup.

No5 – Delicat
again a pure arabica but this one has a sourness to it that wasn't to my liking… it describes itself as fruity and silky but I wasn't so keen although the viking was more than happy to quaff…

No7 – Aromatique
for me, this was a clear favourite with a distinct 'machiato' naturalness to the taste reminding me of eating chocolate digestives by an open log fire… perfect for baking into a cake you'll find…

No9 – Intense
as the name suggests this one has a bit of a kick to it but not in a horrendous aggressive way, this has one of those chili type heats that builds on each delightful sip – again great for baking into cakes and confectioneries…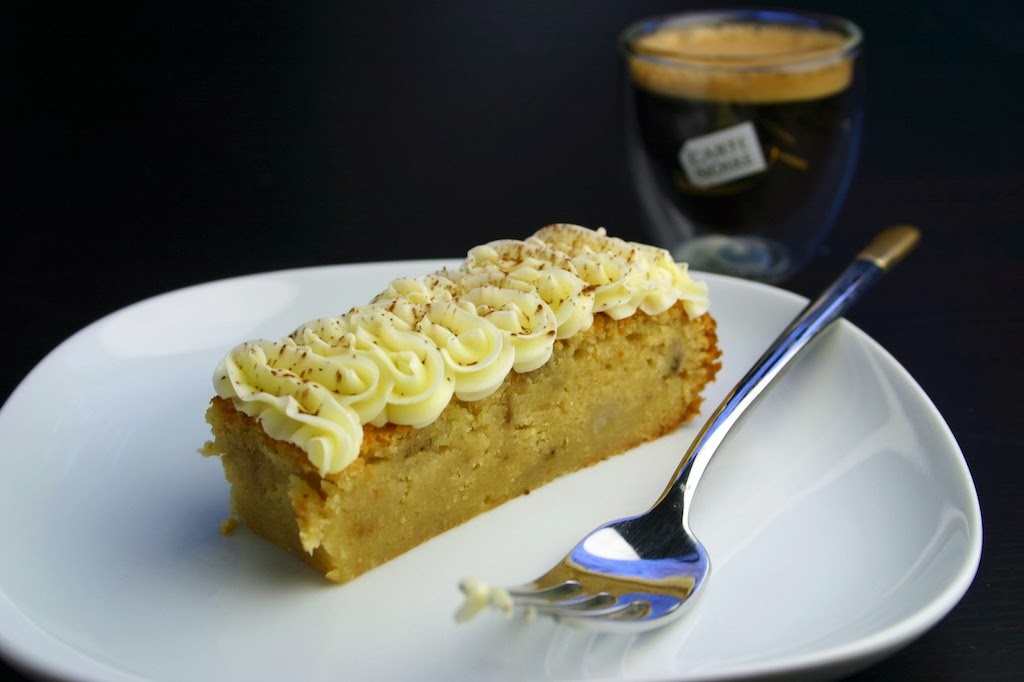 coffee, banana and white chocolate cake slices
being the food blogger that I am I couldn't simply provide you with a review, it would only be honourable of me to give you a coffee-based recipe too… something sweet and simple to accompany that first cup of coffee, or at any time of day to be honest.  The coffee is plunged last-moment on top of the cake before it goes into oven and swirled through so it blends beautifully with the banana and vanilla in the white chocolate… to me each slice is like an extra creamy sweet latte…
for the cake:
250g slightly salted butter – cut into cubes
250g white chocolate -green and blacks do an amazing one with vanilla
250g light brown soft sugar
3 large eggs
250g mashed banana (roughly three)
150g plain flour
2 teaspoons baking powder
1 espresso cup Carte Noire Aromatique coffee
for the icing:
200g icing sugar
200g butter – softened
1/2 espresso cup Carte Noire Intense coffee
2 tablespoons TOTAL Greek Yoghurt
you will need a shallow baking tray roughly 25 x 20cm.  I actually used an old pyrex dish I normally use for lasagne which I lined with parchment paper and this worked fine
place the chocolate and the butter into a large oven-proof bowl and place it into the oven then switch the oven on to 180C and allow the butter to melt into the chocolate for roughly 6 to 8 minutes although check after five and give it a stir with a spatula
in another large bowl beat the eggs into the sugar with a whisk then pour in the melted chocolate and whisk together
sieve the flour and baking soda into the mixture and gently fold in, then add the banana and fold in.
pour into the baking tray and pour 1 cup of Carte Noire Aromatique on top and using a knife, swirl into the cake – then bake for 20-30 minutes
once out of the oven set aside till cooled and then pop into the fridge to chill for at least an hour
to make the icing beat the softened butter into the icing sugar and greek yoghurt and pour over 1/2 cup of Carte Noire Intense – do this in stages as you want to get a nice, thick consistency – you may need to add more icing sugar to reach the desired thickness
slice the cake into fingers and then pipe little waves of icing onto the slices using a flower-shaped piping nozzle – sprinkle with cocoa before scoffing
This post is an entry in the Foodies100 Espresso Collective Challenge, sponsored by Carte Noire. Each box of Carte Noire Espresso capsules contain 10 single servings and are available in supermarkets at an RRP of £2.79 and are available in four intensities. To find out more about the new Carte Noire Collection Espresso click here

*Nespresso® is a registered trademark of a third party without any link with Mondelez International group. Compatible with all Nespresso®* machines bought before July 1, 2013. After that date, compatible with most Nespresso®* machines bought. For additional information regarding compatibility, please see UK: www.CARTENOIRE.co.uk/compatibility

eat and of course, enjoy!