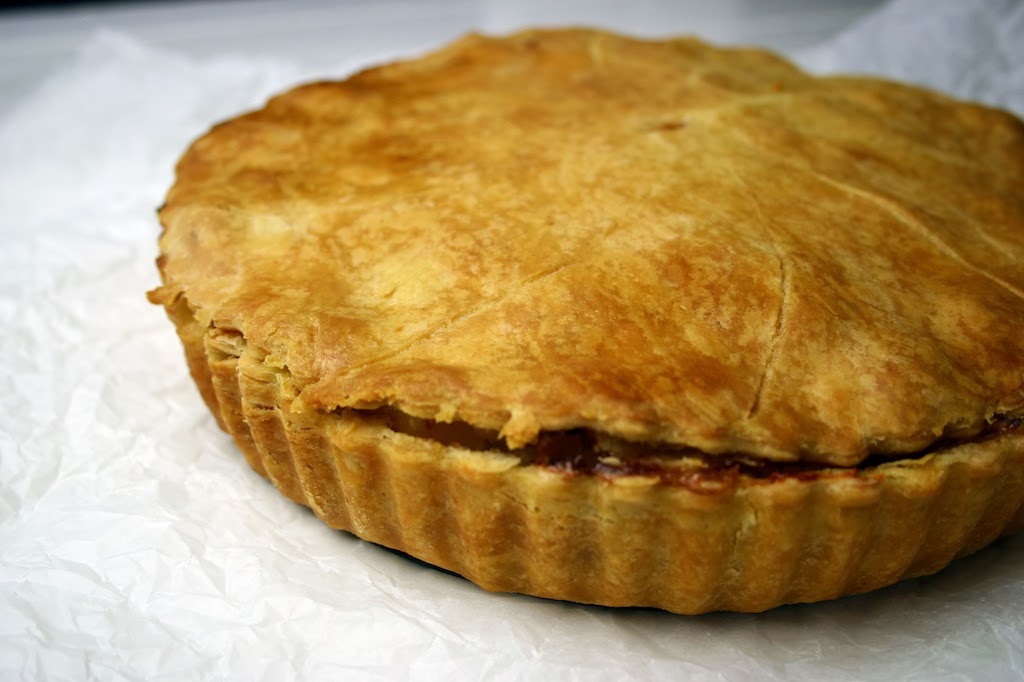 … I do love it when a random recipes challenge turns out beautifully… I find it hard to follow recipes and that's why I think the challenge works so well because it forces you to work with what you've selected and if you're ruthless about it, it can pay off in dividends… on occasion however I will sometimes stare at a recipe and think you must be kidding… as happened with this pie recipe taken from Dayelsford – A Love For Food the book I received for Christmas.  Firstly the measurement of flour they gave for pastry was so ridiculously huge it would have made me 14 pies, it was nearly a sack-full… secondly they suggested using 600g grated cheddar.  Now I am a cheese lover but that is a LOT of cheese… I halved this amount and even though I used exactly the suggested sized flan tin I still had to squeeze the ingredients in, so I can't imagine what i'd have done with the full 600g…
… fortunately the pie turned out superbly and was gorgeous both piping hot directly out of the oven and cold the next day from the fridge…
cheddar, potato and onion pie
I often say it but sometimes things just seem to fall in place so neatly in this blogging world of ours and as if by some kind of culinary magic I was recently sent some Pilgrims Choice cheddar to review… i'm quite lazy when it comes to 'basic' cheeses such as cheddar and double gloucester and tend to buy the supermarket-own variety but I do sometimes spoil myself with a little 'farmhouse' extra mature cheddar.  I favour a Davidstow as I love its texture and the fact that it doesn't make your eyes water and whilst i've seen Pilgrims Choice on the shelves I have never tried it… I adore cheese though so i'm more than willing to give it a try and their range of cheddars is quite extensive… in some kind of crazy attempt to make this pie slightly healthier I've used their extra-mature lighter cheese which has 30% less fat but really doesn't suffer in the taste department and melted beautifully in this pie.
for the filling
500g potatoes – cut into 2cm cubes
2 medium onions – chopped
300g cheddar cheese – coarsely grated (the original recipe called for 600g)
3 medium eggs
for the shortcrust pastry
330g plain flour
150g butter
1 egg – beaten
a pinch of salt
a little cold water to mix
you will need a flan case 25cm round and roughly 5cm deep – butter it liberally.
start with the pastry… I used my classic shortcrust pastry which i've used before in many a quiche but added a little egg… place the flour and butter in a large bowl and crumble together into breadcrumbs, then add the egg and a tablespoon of water and bring it together with a knife, it should start to form a dough at which point use your hands to bring it into a ball, add a little more water if you feel it's a little dry.  Wrap in cling film and place in the fridge for at least an hour.
next, place the potatoes into a pan with water and bring it to the simmer for 5 minutes, then add the onions and bring it to the boil for another 5 minutes, then drain and set aside
flour your work-surface, take 2 thirds of the pastry and roll out into a thin circle and gently lift into the flan dish, press into the flanges.
mix the cheese into the potatoes and onion and once stirred together pour into the flan, then roll out the remaining pasty and make a lid, pushing down the sides so they join with the edges of the pastry in the base of the dish, place the whole thing in the fridge for 30 mins.
pre-heat the oven to 170C and then take the pie directly from the fridge to the oven and bake for 40-50 mins or until the pastry is golden and the filling is piping hot
i've had some amazing entries so far and the round-up for random recipes will be here on my blog on the 29th January… you still have a couple of days to take part, the details for entry can be found here.
eat and of course, enjoy!