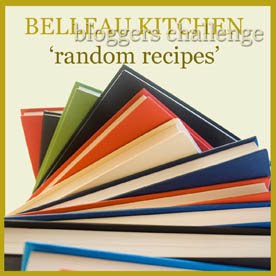 … let's begin with wishing you all the most tremendous new year… may it be a happy and healthy one for you and for all those you love… and so we've been down this road before but not for a year or two so i've decided to revisit an old favourite as there's nothing we love more than cooking from our new cookbooks and i'm almost certain that being food lovers we all received cookbooks from those we loved this year… oddly enough I only received one cookbook this christmas… I think people are scared to know what I have and what I don't but the one I did receive is beautiful… Daylesford – A Love For Food packed with recipes from the fresh food delivery company who are dedicated to growing, producing and cooking 'real' food… i've been oohing and aahing over it since christmas day but not had a chance to cook from it yet, so thankfully this gives me the excuse I need…
… and as I reach down to pick the book up to randomly pick a page the book opens itself naturally on page 184 and a rather glorious looking Cheddar, Potato and Onion Pie… I am very excited…
1. randomly select a book from your new books… you can do this any number of ways, I like to count them all, assign each one a number and then randomly draw a book out of the hat but you could throw them all up in the air and select the one that hits you… I leave the selection process to you
2. take that book and open it at a random page
3. 
cook the recipe on this page… and don't cheat… do it with a friend in the room who will make you stick to it… it's a challenge after all and you're only cheating yourself… this is specifically designed to take you out of your comfort zone…!
4. you may change the recipe for dietary or monetary or seasonal availability reasons only
5. post it up on your blog, with a link to this page and then email me with a link at dominic(@)belleaukitchen.co.uk so I know you've joined in, you can also attach the badge to show people you're taking part.
6. tweet your entry including the hashtag #randomrecipes and I will retweet all I see
7. challenge deadline is Jan 28th.
eat and of course, enjoy!