… i'm very honoured to have been asked to take part in the fabulous Mr Todiwala's Bombay blog tour… a series of 6 food bloggers who have, this week, been cooking from this excellent new book all about the beautiful food of Mr Todiwala's Bombay… the book is more of a food travelogue mixed with an autobiography with some authentic recipes and stunning food photography thrown in.  I actually spent close to a month deciding what to chose to cook as part of this tour because it's one of those kind of books that you get really absorbed in and forget you're supposed to be looking for a recipe… there is an amazing chapter on Bombay Street Food that i've fallen in love with and plan to cook everything from but I finally went for this recipe as it's quite simple, very quick to cook yet packs a punch with flavours… the rice dish is also an adaptation of the vegetable rice from the book…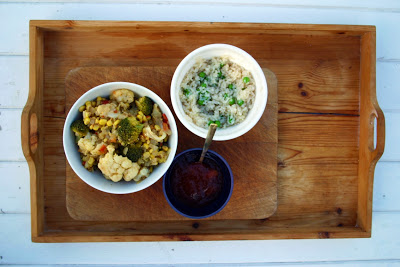 cauliflower and broccoli florets with sweetcorn
i've used broccoli here which was not in the original recipe but works superbly well with the cauliflower… the dish makes for a delicious side-dish for a meaty meal or eaton on its own as a veggie treat.
1tsp cumin seeds
2tsp coriander seeds
1 onion – chopped
1 tbsp ginger and garlic paste
1 tsp dried flaked chilis
200g frozen sweetcorn
1 cauliflower cut into florets
120ml water
2 tomatoes – chopped
3 tbsp TOTAL Greek yoghurt
a bunch of coriander leaves – chopped
i'm using a very interesting rice substitute made from a vegetable called Konjac from a company called Slendier, who have only recently launched in the UK… it's been developed as a healthy, gluten-free alternative to regular rice… it tastes like regular rice but is a great source of fibre and is low in calories, it's something i'd not considered before but as a former Atkins dieter in the years when this kind of stuff was never available, I prayed for a low-carb rice or noodle alternative, so I can see how attractive this product is.

… it's the last day of the tour tomorrow but you can see who took part in Mr Todiwala's Bombay blog tour throughout the week:
Monday: http://www.rachelphipps.com/
Tuesday: http://nr11blog.wordpress.com/
Wednesday: http://www.saladandsequins.com/
Thursday: http://culinaryadventuresofthespicescribe.wordpress.com/
Friday: https://www.dominthekitchen.com/
Saturday: http://thebotanicalbaker.wordpress.com/


… one lucky person is also in with the chance of winning a copy of Mr Todiwala's Bombay… to enter simply send an email to stephanievizard@hardiegrant.co.uk by Sunday 10th November, UK residents only

eat and of course, enjoy!