… probably topping my list of foods that i've never cooked before is octopus and if it wasn't for the lovely people at Finish Quantum I doubt very much i'd ever have been able to place it there…
I was very kindly invited and paid to attend an amazing masterclass with Florence Knight who is head chef at one of London's most succsessful new restaurants Polpetto.  She was an absolute inspiration and at the tender age of 28 she has achieved a breathtaking amount of incredible stuff that made me feel rather old and desperately under-done…14 food bloggers crowded into one of those magazine-shoot style kitchens in south London where Florence took us on a mini regional tour of Italian cooking covering some of the most classic dishes served at her restaurant… which started with a stunning tiramisu and ended with a beautifully rustic veal meatball and tomato sauce… and of course included the polpo itself… octopus.
… as I say, i've never cooked an octopus before, although I have had the pleasure of sitting in a cafe on the cobbled streets on a Greek island or two where the local fishermen climb out of their boats, octopus in hand and proceed to whack them, whip-like, onto the sea wall to tenderise them… and then of course eat them greedily, grilled and smothered in garlic butter so when Florence pulled two beauties out of a bowl I was intrigued and a little surprised by her method to cook them… but wonderfully happy to eat the fabulous results and I thought I ought to share this with you lovely people and hopefully encourage you to try this wonderfully simple, healthy and rustic dish…
sauted octopus with chilli and new potatoes
so they say you learn a new thing every day and one of those things for me this day was that if you want your octopus to be beautifully tender it can be cooked one of two ways… very fast or very slow… and never in between… Florence's technique includes simmering the beauties in stock for 45 minutes to thoroughly tenderise them and believe me they were absolutely incredible…
… I foolishly didn't take notes… well actually i was too busy eating to take notes so I may have left one or two things out but here's how I think I remember it was done…
1 medium onion – finely chopped
2 cloves garlic – crushed
1 medium red chilli – de-seeded and finely chopped
1 sprig of rosemary – finely chopped
1 sprig of fresh thyme – leaves removed
1 octopus
1 kg new potatoes
extra virgin olive oil and seasoning
take your octopus and freeze it whole at least 24hrs prior to cooking… the freezing process helps it keep its shape and ensures the skin doesn't peel off during the cooking… you may even be able to purchase whole frozen octopus in your local fishmongers or grocers… defrost and then simmer gently covered fully in some vegetable stock for 45 mins.
You will need a lid on a large pan as the octopus tends to rise to the surface…
cut your new potatoes into nice mouthful chunks and gently boil until just tender, then drain and set aside
meanwhile in a large heavy pan gently fry the onions until translucent but not coloured, adding the garlic, chilli and herbs halfway through the cooking process
once the octopus is cooked take it out of the stock and let it cool slightly before chopping it into pieces
take a large roasting tin, one that can be used on the hob and gently heat some olive oil in it, then add the onions, potatoes and squid and lightly sauté the whole lot for a few minutes, ensuring the whole dish warms through and some of the potatoes catch slightly with colour… then simply serve…
Florence and a gaggle of food bloggers…
I will share the rest of the stunning recipes with you in another post but in the meantime I must, once again, thank the good people at Finish Quantum for inviting me to this incredible experience… I spent the whole day laughing with some of my favourite food bloggers and it's these kind of special events that bring us out of our little web-holes, blinking into the sunshine and it's just so lovely to meet some of the faces behind the blogs I read every day… and even though this next bit may seem just a little cheesy, the great thing about the product is that it actually works and as we all know, in this day and age when we really can't afford to spend good money on bad products it's nice to know that when I bung stuff into the dishwasher… which I do… and I do mean everything… it will come out clean, because after-all that's its job right?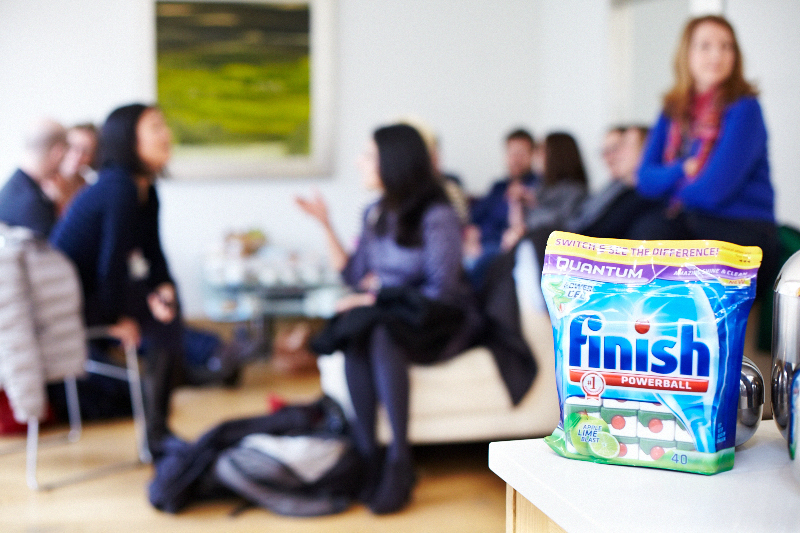 the new finish quantum apple and lime blast…
 and the gaggle of food bloggers waiting for the food!
i'd also like to thank Charlotte for the beautiful photo's from the day, which also meant I could spend more time paying attention… and eating…
eat and of course, enjoy!