… I will admit i'm finding it really hard to control my weight and not eat cake.  I think the issue is less that I don't have the will power to do it but more that I honestly love baking cakes… I can think of nothing better to do on a cold and wet Saturday afternoon that being in the kitchen and being creative… and as a person of artistic bent, this is my outlet.  I don't paint any more and my fashion designing days are well behind me and whilst I get to be creative at The Persuaders it's constrained by the whims of my clients, who in this careful age of recession, is more practical than magical…
… plus when the lovely chaps at George Wilkinson sent me fabulous cake tins from their Great British Bakeware collection it didn't help the cause… of course I could have just used the vintage-inspired duck-egg blue, 8inch loose bottomed cake tin as a new kitchen ornament (and believe me, it matches my blue kitchen so perfectly it now sits on display on top of the cupboard) but I felt I ought to at least take it for one short spin…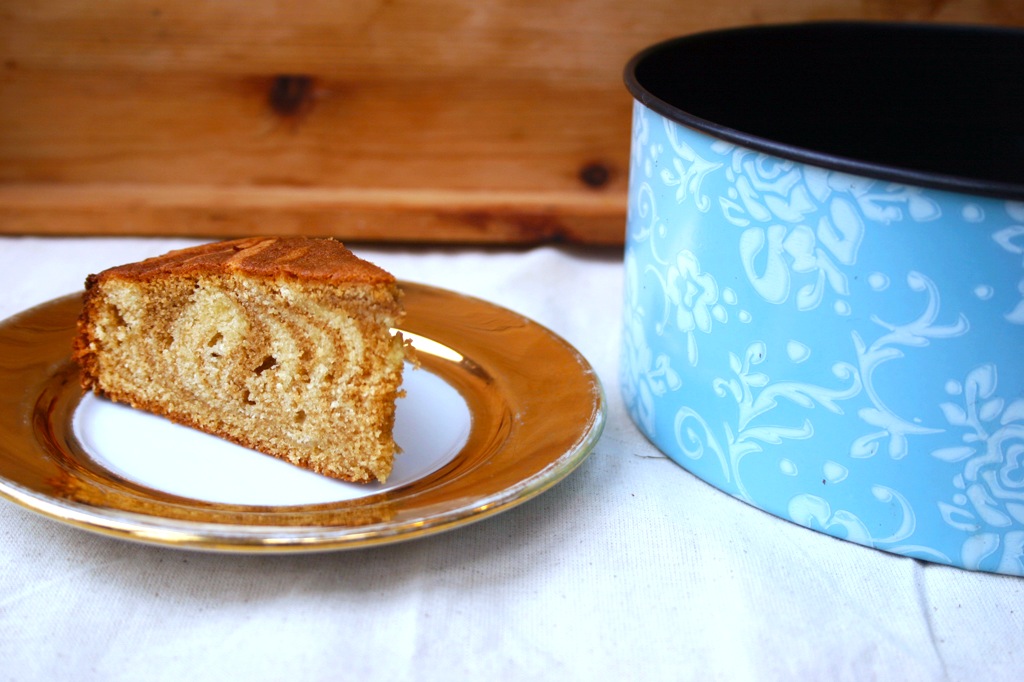 salted caramel and coffee swirl cake
surely this must nearly be my last salted caramel post, I hear you cry. Well yes, the jar is very close to completion but there are one or two tablespoons left and I have at least one final trick up my sleeve… i've used the currently popular zebra cake method here but because the colours are so subtle it's not quite as impactful as it could be but I do think it creates a pretty and rather chic pattern to the cake and you can truly taste the coffee caramel too, which is just heavenly…
I'm using the 'weigh the eggs' method, which I love for an easy, light cake and then split it to add the caramel and coffee flavour to one half.
3 eggs
7oz self raising flour
7oz caster sugar
7oz softened butter
3 teaspoons of salted caramel – which can be bought in most good supermarkets or specialist deli's. (I will show a method for making this soon, I promise…)
an espresso cup of strong black filter coffee
In a large bowl cream the butter and the sugar with a wooden spoon until light and fluffy, then add one egg and beat in followed by a third of the flour and again beat in, scraping down the sides of the bowl to incorporate all the mixture… continue this method until all the eggs and flour is gone.
divide the mixture into two bowls and add 3 teaspoons of the salted caramel to one bowl and a little of the cold coffee and beat till smooth
add a teaspoon of the plain cake mix to the bottom of the cake tin, followed by a teaspoon of the coffee/caramel mix and keep going.  As it piles up it will begin to spread out but don't worry if it spills or slips, this will only add to the pattern.
Once all the mix is used bake in an oven on 180C for 30 mins or until golden and risen.
I've left this cake quite plain as I love it like this and you can really taste all the flavours
eat and of course, enjoy!