day one: 14stone (196lbs) and something's gotta give… now that 2013 is fully in the swing and i'm back from my glorious trip to California it's time to gather myself together and sort out the one thing that has been plaguing me for about a year now… my weight…
…writing a food blog is all very well and good but it means that a lot of food needs to be consumed so that I can write and share with you my dear friends and i've been doing this with gay abandon over the past couple of years… cakes and bakes… stews and roasts.. sweets and pastries… they all add up to a waste line that has become un-fathomly grotesque and if the lithe men of California have taught me anything it's that this 42 year-old body can look bloody fabulous and I need to do something about it now before it all gets too late…
…now i'm no fool, I know it's not going to be as easy as it was 10 years ago when I previously lost a lot of weight following the Atkin's Diet and i'm not keen to follow that regime as closely as I did last time as I fear it wasn't as healthy as I thought… plus I also don't want to deprive you lot with endless salads and grilled chicken but I will be eating a lot less cake and a lot more wonderfully healthy and fresh food… i'll also continue to take part in all my favourite blog challenges, just adapting them to suit my diet… and I have many beautiful blogs such as Lavender and Lovage and Tinned Tomatoes who have extremely creative and healthy recipes to turn to for inspiration… plus, if my trip to California taught me anything it's that you can still be healthy whilst being wildly creative… i will also need your help as i'm going to be very open about the weight-loss… and inevitable weight gain… I have even taken a before picture of me in my pants but believe me, you really don't want to see that… I may share it with you once the weight begins to drop significantly… but this may take a huge amount of alcohol to persuade me…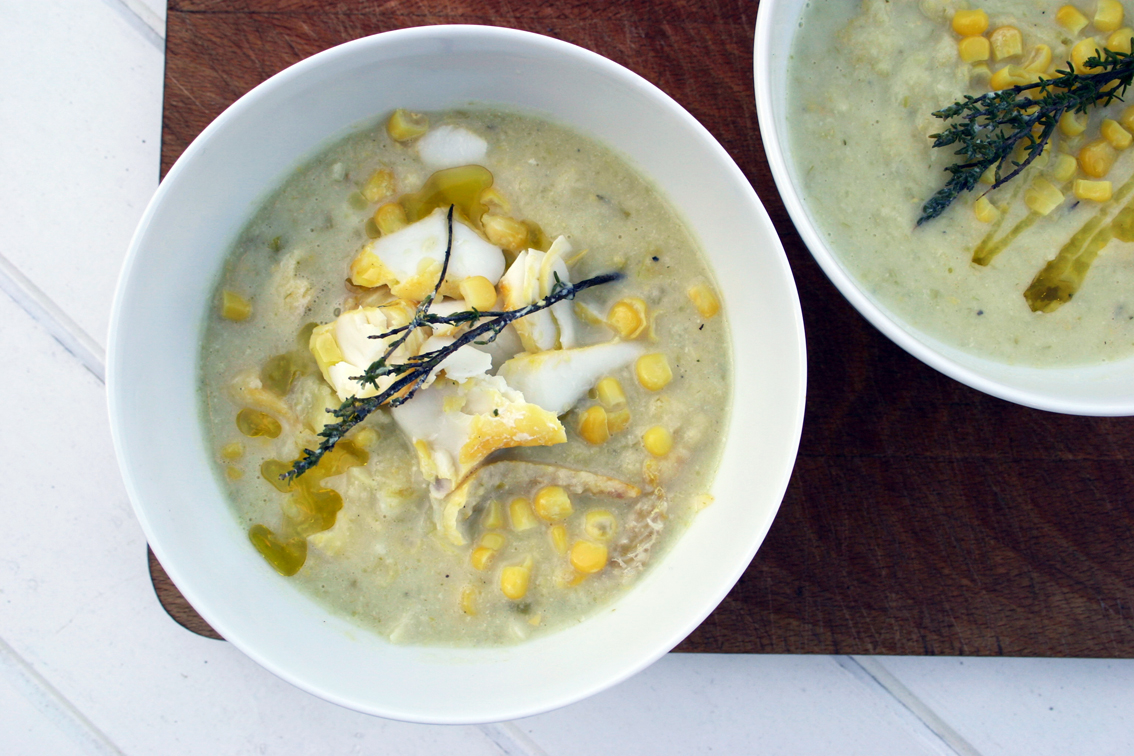 smoked haddock and sweetcorn chowder
and so to start and also prove that diets don't have to be boring i'm making this rich, thick and creamy soup, inspired by my visit to San Francisco… to reduce the carbs i'm using cauliflower instead of potatoes to thicken but essentially the recipe is the same as a classic clam chowder although it has a little twist as I can't get hold of any clams… i've also made a very simple veggie version by eliminating the fish but following exactly the same process in every other way…
1 medium onion – finely chopped
1 medium cauliflower – finely chopped
2 small leeks – finely chopped
1 stick of celery – finely chopped
1 cup of frozen sweetcorn kernels
450g smoked haddock
1 pint of vegetable stock
1 pint of skimmed milk
salt and pepper
fresh thyme
place the haddock in a large saucepan, cover with the milk and fresh thyme and let it gently simmer for 2 or three minutes. Let it cool then remove the fish, reserving the liquid.
using the same pan (sans fish and milk) add a nob of butter and a little olive oil and gently saute the onions and garlic until soft, then add the leeks, cauliflower and celery, place a lid on a sweat until all the veg are soft
add half the cup of sweetcorn, the milk from the fish and a little stock until the veg are covered and let it simmer for 10-15 minutes then blend with a hand-whizzer thingy until just blended
add the flaked fish, stir with a little more olive oil and let it cool slightly before serving.
eat and of course enjoy!