day four: 14stone (196lbs) – no movement but I doubted anything would be so quick…

… it's a tricky time to start a healthy eating plan with this dreadfully cold weather not inspiring me to eat anything but stodgy food and my jet-lag, which fully kicked in today… why your body waits a few days before it hits you with that 3am 'wide-awake' thing I will never know… doesn't really add up to the greatest start but these are all excuses really and I recon that if I can get over this hump I can do anything… and actually i'm currently quite enjoying the challenge of taking recipes I love and really want to eat and warping them slightly to fit in with the diet… 

… i'm employing a lot of tricks I learnt on the Atkin's but trying to use them in a healthy and sensible way… reducing carbs being one of the things I know my body reacts well too and my 3am wake up this morning wasn't such a terrible thing as I turned on the light and poured my way through one of my lovely Christmas presents from The Viking, Nigel Slater's The Kitchen Diaries II… a simply divine book of literature and food… it's an inspiration to read and so lovely in fact, to pick it up on January 15th and read a recipe that he prepared on January 15th knowing how wonderfully this would work for all of us in this British winter… a concept that isn't entirely lost on Janice from Farmersgirl Kitchen or Sue from Heaven on a Plate who have come together to create a new bloggers challenge called Dish of the Month… no this doesn't refer to me… silly… it's all about cooking from this wonderful cookbook each month and it's going to be so exciting as the seasons change, watching how it develops through the year…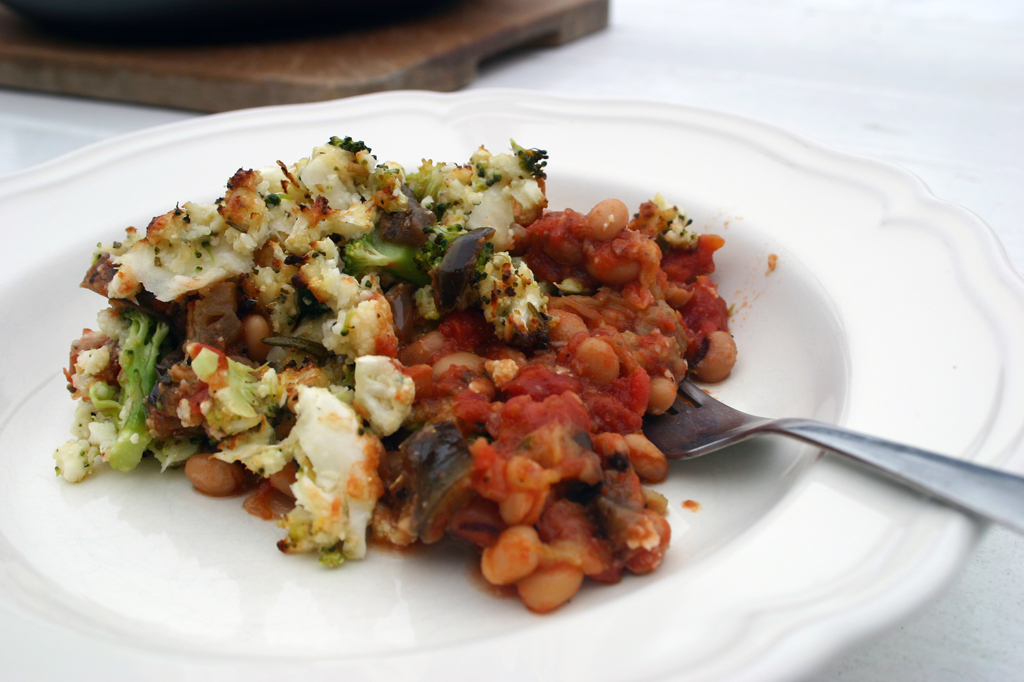 aubergine and bean hot pot with a cheesy cauliflower and broccoli crust
now this is my version of the dish… i've changed the recipe slightly to fit in with what i had in the kitchen and i've completely changed the topping from a breadcrumb crust to a cauliflower and broccoli crust, to fit in with my low-carb regime… the great thing about this dish is that I wanted to make a big pot that would last a few days so that I don't need to leave the house whilst this snow storm passes over head… if you want Nigel's original version I urge you to go out and buy the book or rent it from the library… or buy it on-line… you will not regret it…

for the hot pot
2 400g tins of beans – I used 1 tin of haricot and 1 tin of black-eyed
1 aubergine – chopped into large chunks
olive oil
1 large onion – medium chopped
2 garlic cloves – finely sliced
3 sprigs of rosemary
1 tablespoon dried rosemary
1 and a half tins of chopped tomatoes

for the cauliflower and broccoli crust
1 medium cauliflower
2 broccoli heads
1 clove of garlic – finely chopped
100g strong cheddar finely grated
the grated zest of one lemon
3 sprigs of rosemary – leaves finely chopped
1 teaspoon dried oregano
3 tablespoons olive oil
you will need a large pan or casserole dish with a lid – pre-heat the oven to 190C fan
to make the hot pot, first take the cut aubergine and gently fry it in a large pan with plenty of olive oil until golden and soft – you will get a more even result if you do this in two batches – set aside to drain on some kitchen paper
using a little more oil, gently fry the onions until soft, adding the sliced garlic, rosemary and oregano half-way through… the onions should be very soft with no colour
add the chopped tomatoes and once gently boiling, add the beans and aubergine.  Fill one of the empty tomato tins with water and add this to the pan too, let it come back to the boil, then cover and place it in the oven for 45 minutes.
to make the topping, remove the florets from the top of the cauliflower and broccoli and chope them as finely as you can… a second in the food processor would do it
place the cauliflower and broccoli crumbs in a bowl, add the rest of the ingredients and mix gently until combined
after 45 mins take the hot pot out of the oven, spoon the topping on top and place back in the oven, uncovered for about 20 minutes or until the top is golden and crisp
eat and of course, enjoy!