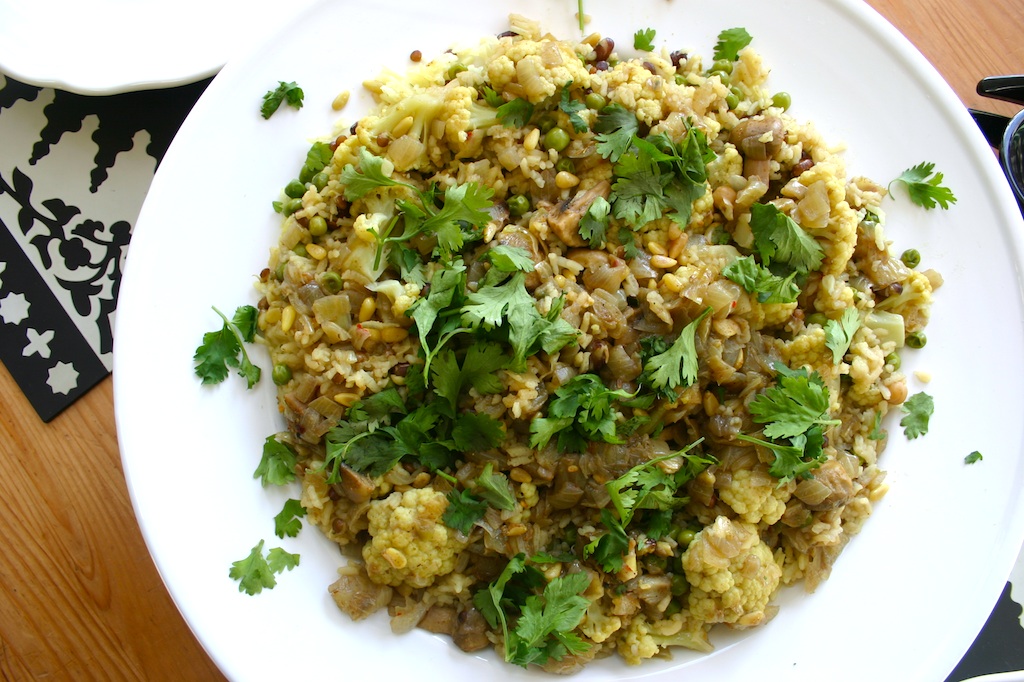 … the lovely people at bloomsbury books have sent me a copy of Joanna Weinberg's new cookbook – cooking for real life… it's an 'everyday' cooks book that is packed with family-friendly but really rather delicious recipes that are written in an open and knowing style that comes from someone who has clearly been in the situations we've all been in such as the surprise of friends suddenly dropping by, or feeding a family with what's in the larder… I like the 'ordinary-ness' and no-fuss of the recipes and as Joanna says herself, 'not every meal has to shine'… the photography is charmingly retro and occasionally as basic as the concept and there are also some cool '60's inspired graphics that head up each chapter… followed by some neat 'instant tips' also done in a retro style…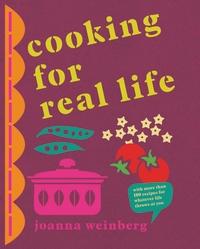 … I've always liked Joanna's writing, she writes a weekly column for The Times, so it's great to see her work in one place and it's also nice to hear a new voice out there…
… as always when I review a book I like to cook something from the book itself and I actually had real trouble choosing… I wanted something simple to reflect the quality of the book but I also wanted something that I didn't have to go out and shop for… so always in stock in my cupboard is rice…
vegetable pilaf – taken from the daily grind chapter of the book
1.5 lt vegetable stock
240g basmati rice (I used regular long grain as that's what I had in…)
40g butter
1 tablespoon vegetable oil
1 large onion – finely chopped
250g cauliflower, broken into florets
75g cashew nuts (i used pine nuts as I had them in the larder)
1/2 teaspoon ground cumin
1 teaspoon ground coriander
1/4 teaspoon ground cardamom
1/4 teaspoon ground turmeric
1/4 teaspoon hot chilli powder
pinch saffron threads
100g frozen peas
100g tinned, drained chickpeas
– bring the vegetable stock to the boil, add the rice and boil vigorously for 5 minutes, drain and set aside
– in a large pan melt the butter and oil together and fry the onions until turning golden, add a pinch of salt, the cauliflower, cashews and the spices and fry for a couple of minutes until everything is coated in oil and spices
– push the veg into a low mound in the middle of the pan, stir the chickpeas and peas through the rice and then pack this mixture around and on top of the veg and nuts
– pour over 325ml boiling water, wrap the lid of the pan in a tea towel and place on the pan so that no steam can escape.  Set over a high heat for 3 minutes and then a low heat for 10 minutes until the water is absorbed.
– switch off the heat and let it rest for 2 mins
– remove the lid, place a plate upside down over the pan and invert both in one movemnet so that the rice lands on the plate with the vegetables and nuts on top – scatter over the coriander leaves
… I have very kindly been given a copy of the book to give away to one of you lucky readers.  All you have to do is leave a comment below… you can also enter again by tweeting I've entered @belleaukitchen 's cooking for real life book giveaway, you can too: http://belleaukitchen.blogspot.co.uk/2012/05/vegetable-pilaf-book-giveaway.html  and then let me know you've tweeted by leaving another comment… simple! I will announce the winner at the end of the month…
eat and of course, enjoy!