… have you ever started out making one thing but then finished up making something else entirely…?
… don't ask because frankly I couldn't tell you if i tried… it was like that classic scene from Friends where Rachel makes a traditional British Trifle but the pages of the cookbook stick together and she uses layers of minced lamb that should have been for a Shepherd's Pie… except it was web site pages that were digitally stuck that got me confused as I hurriedly combined recipes… so these are part classic almond macaroons and part almond cookies… but mostly splodges… which I don't really care about at all because they taste completely and utterly heavenly… crunchy yet fluffy… light yet with a pleasingly natty snap!
… of course I am entering these beauties into this months we should cocoa challenge usually hosted by either Chele from Chocolate Teapot or Choclette from Chocolate Log Blog but this month guest-hosted by Laura from How to Cook Good Food, who picked the theme of almonds…
… now I just have to remember what I did…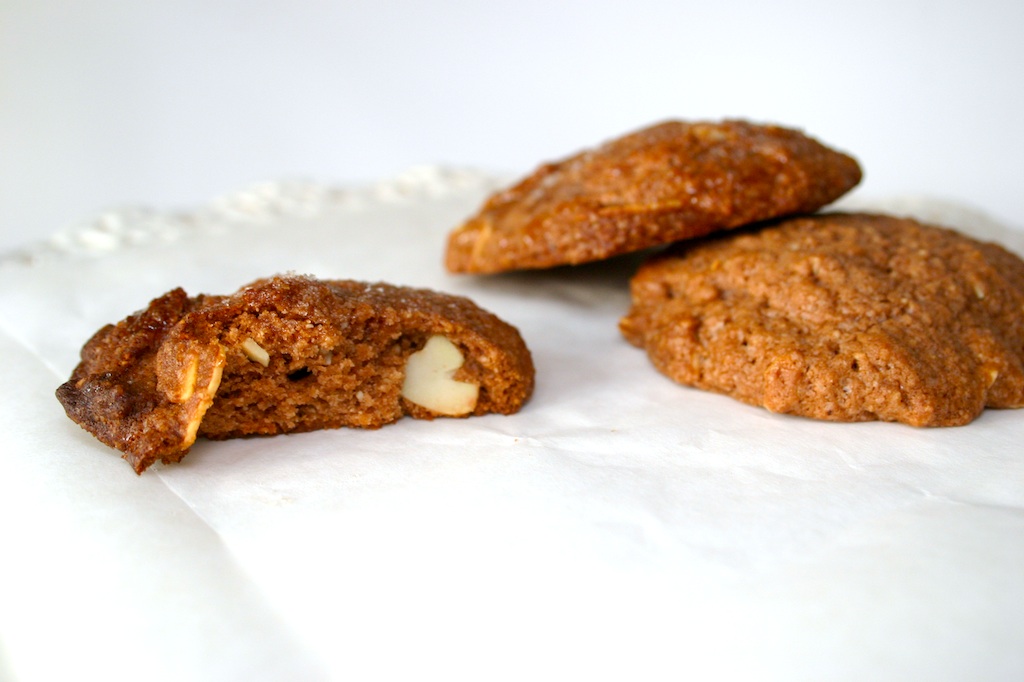 chocolate and almond spoldges


200g caster sugar
200g butter
250g plain flour
150g ground almonds
100g flaked almonds
2 egg whites
1 teaspoon vanilla extract
1 tablespoon cocoa powder
some runny honey
– place the butter and sugar in a bowl and cream them together until light and fluffy, add the vanilla and mix a little more
– mix the dry ingredients and sieve half onto the butter/sugar mix and beat in with a wooden spoon
– whisk the egg whites to a gently frothiness and then fold this all into the mix
– sieve in the remaining dry ingredients followed by the flaked almonds and combine
– using a teaspoon splodge roughly onto baking trays and bake on 180C for 20 minutes
– cool on a wire rack during which time you should paint each one with a little honey
eat and of course, enjoy!