oh yes dear bloggers, you did read that right…!
this month the lovely and very busy mamma Jac from Tinned Tomatoes and I have teamed up to bring you a double-headed challenge whammy… Random Recipes does No Crouton's Required!
and it's all about soup… as you know, I am a keen advocate, particularly during these cold winter months… oh… well, it may have been the warmest October on record in the UK… but it's cold and damp somewhere… i'm sure!
Jac has been running the excellent No Crouton's Required challenge with Lisa's Kitchen, since the internet began back in the 1950's… or something like that… and it's a very successful and genius challenge, asking bloggers to create a vegetarian soup or salad with a different theme each month… and so to shake it up a bit, this month she will ask her bloggers to pick their soup or salad randomly… and i'm asking all of you to do the same… and there are lots of ways to pick… a lot of cook books have dedicated chapters for soup, many have the soup recipes at the start of the books or, like me, you may have an entire book of soups…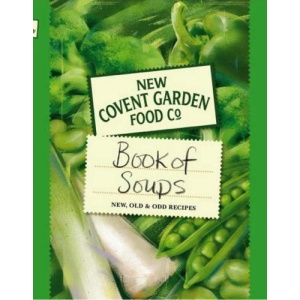 I have a copy of the brilliant New Covent Garden Food Company Book of Soups from which I have just randomly selected a White Bean, Tomato and Sage Soup, which is one of their rare soups that they no longer make due to its complicated and un-predictable recipe… I can't wait to make it!
now onto the rules…
… you can take part on either (or both) of our blogs depending on your  whim or fancy, so do pop over to Tinned Tomatoes for a shifty…
… your soup should be vegetarian or at the very least vegetarian friendly (no, i'm not sure what this is either, I just made it up…)
… post your recipe by the 29th of November and email either myself at dom@thepersuaders.co.uk or Jac at tinnedtomatoes@googlemail.com
… link your recipe back to our blogs and use the excellent joint logo when you post.
… there will be a winner announced, chosen by Jac and myself on the 30th.
… i think that's it… oh yes… eat and of course, enjoy!