oy gevalt..!
… for a nice Jewish boy from North London you'd have thought that the very idea of Christmas would turn my stomach… or at the very least boil my skin or something medieval like that… but as you probably know, dear reader, I just love it… always have… always will… and it's not like we were deprived as children, we all celebrated Christmas, like most good Jewish families I knew, in style, with plenty of food!
… what I am really bad at is food as gifts… I know I should be better, particularly as food is my thing, it's just that all that preserving and jar filling seems to slip me by… I have tried this year buy purchasing some lovely Kilner jars… that was a month ago and as yet, even though the lovely Karen from Lavender and Lovage has been kind enough to send me a dozen recipes for preserving, I have done nothing…. they sit empty on a shelf… (fabulous new bamboo shelf mind you…)
… this year, dear Vanessa from Prepped has created a very sweet blogger challenge called Let's Make Christmas where she has invited fellow bloggers to create gifts for Christmas, she is even hosting a wonderful 'real-time' event at my favourite shop in the world, Fortnum and Mason's in London, which I have been privileged to be invited to and produce an item for… the idea is that we all bring at least one item which we swap for someone else's at the end of the event… like a kind of giant 'bring and buy' swap sale… such fun… and Fortnum's is THE place for that Christmas spirit… if ever you're feeling down or in anyway un-Christmassy then one second in this glorious store and your faith in Christmas will be restored!
… but what to make…?
well, I wanted it to be something that was different and not quite run-of-the-mill and that perhaps reflects my heritage in some way… and so I thought of Cinnamon Balls, which are a traditional Jewish biscuit served at Passover, due to their lack of flour… but I think the shape, cinnamon and icing sugar are the very definition of edible Christmas… they truly are tasty little treats and will keep the young and young at heart happy for the entire festive season…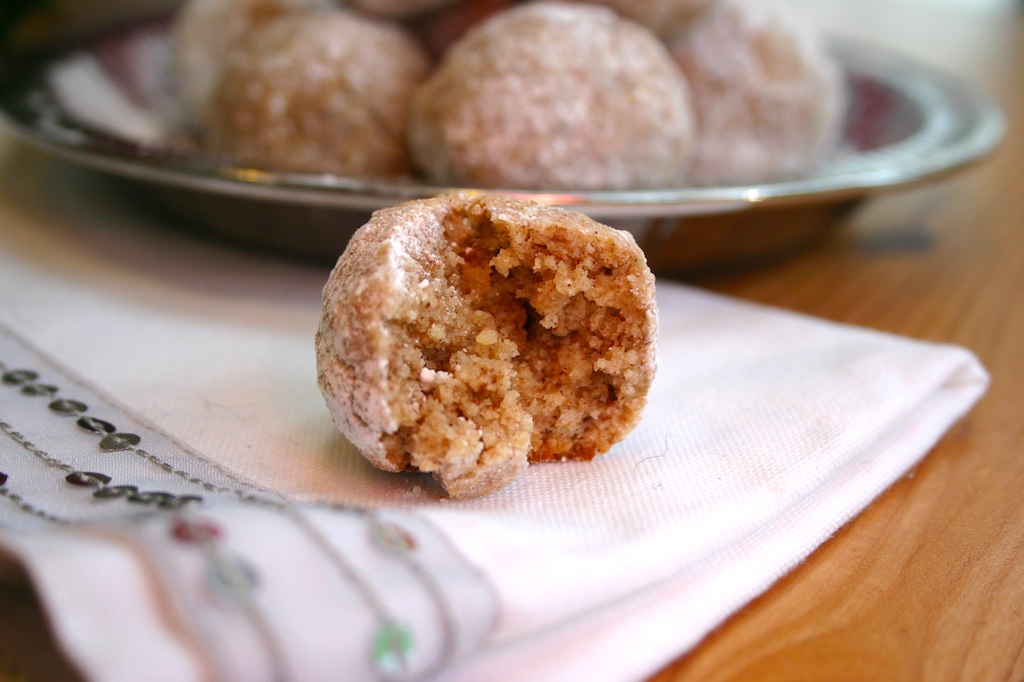 Cinnamon Balls
this recipe is adapted from Evelyn Rose, the doyen of Jewish cooking, the recipe says it should make 24 but I got 16 out of it…?
2 Egg Whites
4 oz Caster Sugar
1/2lb Ground Almonds
1 Level Tablespoon Cinnamon
– beat the egg whites till stiff 


– gently fold in all other ingredients


– make into small, walnut-sized balls with very wet hands!


– lay on a baking sheet in the oven and bake on 160C for 25 mins or until just firm and beginning to crack


– roll in icing sugar whilst still warm



… i'm planning to find some small white chocolate boxes for these to go in, perhaps 6 per box… adorable!… eat and of course, enjoy!