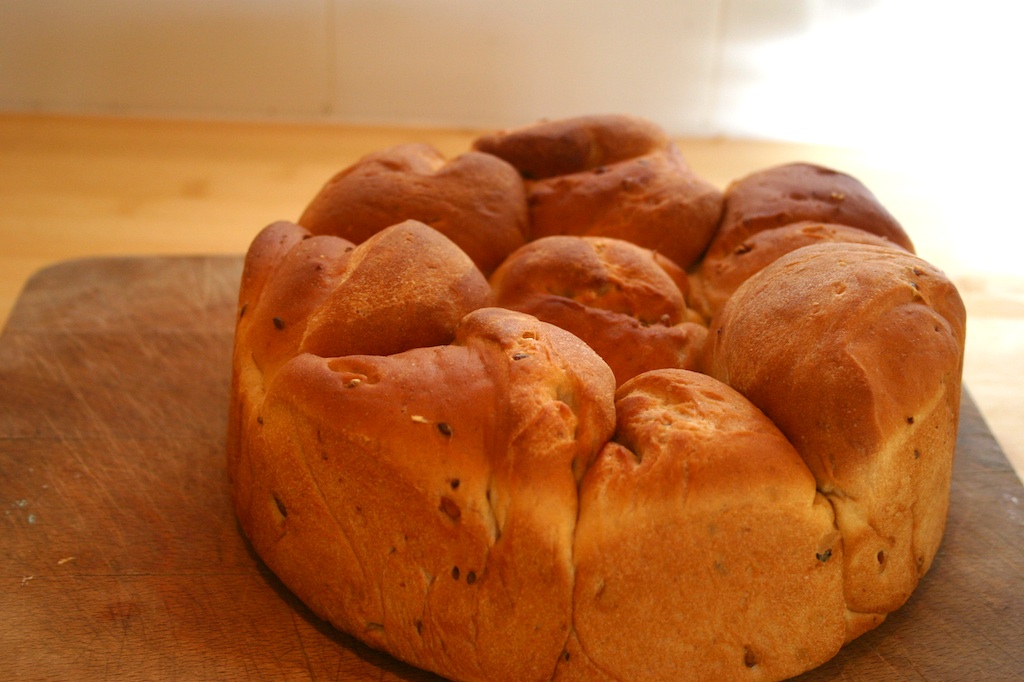 … or a cluster loaf to you and I…
… I wasn't too happy with my recent Pumpkin Cluster Bread, even though it looked so good it suffered from the curse of the pumpkin… blandness… I was under the misguided impression that the added parmesan would give it the saltiness it needed but I was mistaken.  The pumpkin is such a dull vegetable it really needs extra salt and sugar to enliven it and even though Victoria from 21st Century Urban Housewife made it recently and said it turned out perfectly fine, I was not happy with mine…
… I really love the whole cluster bread idea though so I thought i'd try again but this time with a normal loaf without the added vegetable… I had a little of the delicious wholegrain flour left over from my last loaf which i've added to some regular strong white bread flour… and it was a great success… it's one of the most satisfying breads to make… so soft and doughy and the end result really does look like a lot of fat bottoms squished into a tin…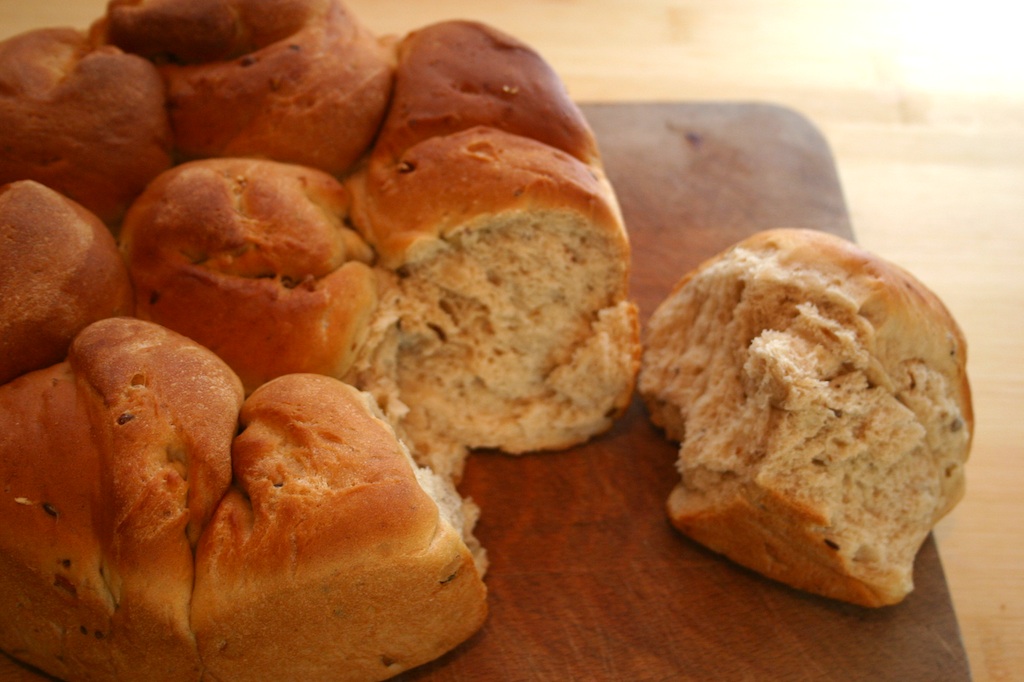 Cluster Loaf


500g strong white bread flour
250g wholegrain flour
1 sachet (7g) of instant yeast
3 teaspoons salt
3 teaspoons honey
2 tablespoons olive oil
half a pint of milk
– combine the flour and salt in a large bowl, drop in the honey and oil
– warm half the milk in the microwave and whisk the yeast into it, set aside for 10 minutes
– add the yeasty milk to the flour and start to combine (I use a rubber spatular and then my hands) and add more milk until it forms a dough – you may not need all the milk.
– tip the dough out onto a lightly floured surface and knead for at least 10 minutes until nice and soft, then place the dough into an oiled bowl, cover with cling film and let it rise for an hour or until it has doubled in size. (mine goes into the airing cupboard)
– once the dough has risen, tip it out onto your work surface and whack it around a bit, then gently roll it out into a fat sausage, with a sharp knife, cut it in half, then in half again and again until you have 8 even sections, roll these into balls
– grease and line a 20cm loose bottomed, springform cake tin and place the balls into the tin, starting with one in the centre and the rest around the outside.
– cover with clingfilm again (oiled this time) and let it rise once more for at least 45 minutes
– bake in a hot oven (190c) for 20 minutes or until it is golden… you may want to remove it from the tin after 20 minutes and place it back into the oven for a crusty crust
eat and of course, enjoy!