… a couple of weeks ago I was invited to take part in series two of Perfect, a cookery show from the producers of Market Kitchen in which two chef's go head-to-head to create the perfect food for different themed occasions whilst a panel of 'food experts' judge their attempts at culinary stealth… I was one of these food experts and had a wonderful day whilst Allegra McEvedy and Paul Merrett made 6 wonderful dishes under the theme of 'Food for Friends'…
… alongside me on the panel was the terrifically talented and ridiculously too-young-for-his-own-good Ben Ebrell from Sorted Food, a most excellent and enviable food website for students… and the delightfully charming Bea from Bea's of Bloomsbury fame.  If you don't know (and you really should) Bea's of Bloomsbury is a chic little tea room in London offering a wonderfully sweet line in tea, cakes and fancies… it should be your only destination for tea next time you're in the big smoke.
meeting both Bea and Ben was an inspiration, I always find it both exilirating and slightly intimidating meeting successful foodie people and often come away feeling like a cheat but Ben and Bea were both so lovely and very open to offer ideas and suggestions for me and my burgeoning attempt at world domination…
… Bea was kind enough to give me a copy of her book Tea with Bea… it is utterly delightful with both photography and recipes a triumph in teaography… really worth the purchase, not only for the intriguing cakes and obsession over tea but also for the recipe for her infamous doughnut muffins… sublime!
Described as the Ultimate Afternoon Tea Scones,  I had my suspicions but they really are a cut above the rest, light, airy, perfectly sweet and just the right side of crumbly… and you know how I am about my scones… let's just say its all about keeping the butter cold between each stage… and it bloody well works!… and will work for your own scone recipe too…
600g plain flour
75g caster sugar
1/4 teaspoon salt
5 teaspoons baking powder
240g butter – cubed and chilled
2 eggs
120ml milk
150ml whipping cream
– put the flour, salt, sugar and baking powder in a large mixing bowl and stir until well combined (i did this with a large balloon whisk)
– add the cold butter and rub it into a sand-like consistency, then pop in into the fridge for 10 minutes
– put the eggs, milk and cream in a bowl, beat lightly and again refrigerate for 10 minutes
– pre-heat the oven to 180c
– fold the egg mixture into the and mixture until just combined and no dryness remains, do NOT overwork it, fold gently… the dough will seem very wet but this is ok, and again refrigerate for 10 minutes
– flour your work surface, your hands, oh heck flour everything and then tip the dough onto the work surface and liberally flour the top of the dough
– gently flatten the dough to the depth of your scone cutter… you could use a rolling pin but what's the bother?
– dip the cutter into the flour and then cut out the scones, placing each one on a parchment-lined baking sheet.  keep going till all the dough is gone and you've re-balled and re-flattened the dough
– put the scones into the oven for 8 minutes, then turn down the heat to 170c and let them bake for a further 9 – 10 minutes.  The scones are done when they are a lovely golden colour, will have risen quite a bit and will spring back when pressed lightly… divine!
… and i'm fortunate enough to be able to give away a copy of this lovely book to one of you lucky bloggers…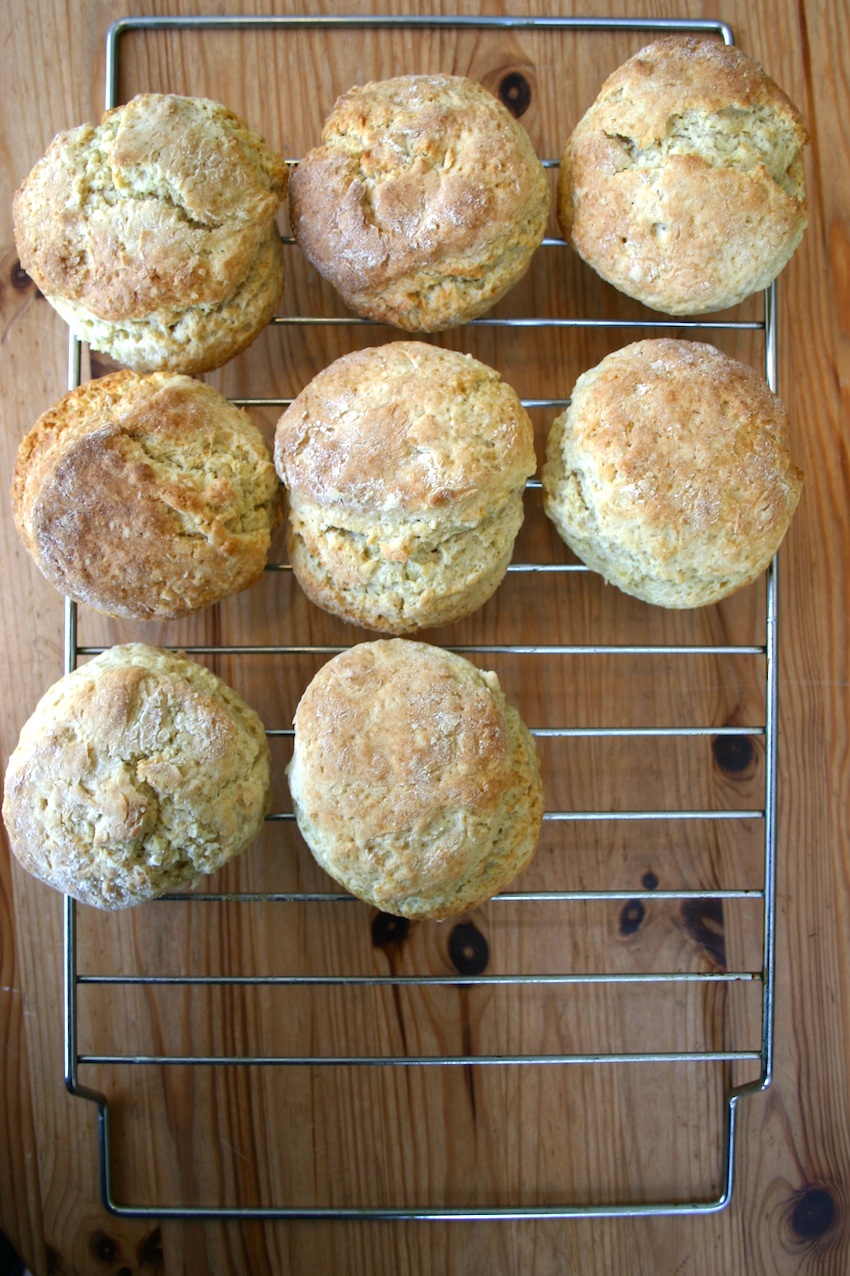 … there are a few chances to win… all you have to do is leave a message below telling me if you say 'scone like gone' or 'scone like cone'…
… you can also follow me on twitter and then tweet the following message: 'i've entered the Tea with Bea book giveaway @belleaukitchen https://www.dominthekitchen.com/' and then leave another comment here to let me know you've done so.  You can also enter via facebook, simply become a member of the Belleau Kitchen facebook group and then let me know you've done so. A winner will be picked at random in 7 days time.
Good luck and don't forget to eat and of course, enjoy!